International Business Machines Corporation (NYSE:IBM) reported decent Q3 results in October: IBM's operating EPS came in at $3.99 (up 10% y-o-y) and beat analyst estimates by $0.03. IBM also maintained its high margins throughout the year: Its gross margin for the third quarter came in at 49.1% and the net income margin at 18.5%.
IBM is not only a high-margin business with solid performance in core segments such as Business Analytics but is also a free cash flow strong business that is likely to get further cash boosts from high-growth service lines such as Clouds. IBM achieved $16.1 billion in LTM free cash flow and funneled $15.1 billion back to shareholders in form of share repurchases ($11.1 billion) and dividends ($4 billion) over the last year.
IBM's quarterly dividends have been increasing from $0.55 per share in Q1 2010 to $0.95 in Q3 2013: A quarterly growth rate of 3.7%. IBM's current dividend yield stands at 2.16%.
IBM shares tanked after Q3 results were released because investors were overly focused on IBM's revenue miss. Analysts expected $24.9 billion in Q3 revenues whereas IBM delivered $23.7 billion - a revenue miss of 5%. The trading day left a near $10 gap in IBM's chart although the company managed to beat EPS estimates and upheld its full-year EPS guidance of $16.25 or higher.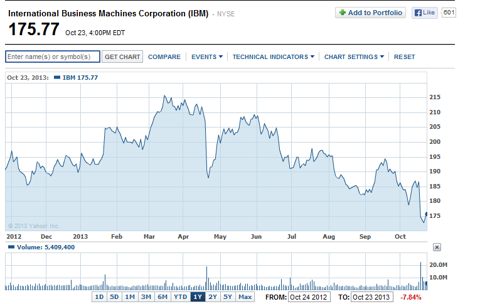 Click to enlarge
(Click to enlarge)
Free cash flow
IBM's operating cash flows remain nearly flat over the last three years and core (historical and estimated) investing cash outflows fluctuate between $4-10 billion. Given IBM's historical cash flow pattern I estimate that the 2014 free cash flow to equity comes in at $16.8 billion slightly above my 2013 full year FCFE estimate of $16.3 billion and the actual FY2011 figure of $16.4 billion. With 1.1 billion shares outstanding the FCFE per share yields $15.17. This equates to either a forward P/E ratio of 11.59x or a 8.63% free cash flow yield. Both values indicate that IBM is currently undervalued.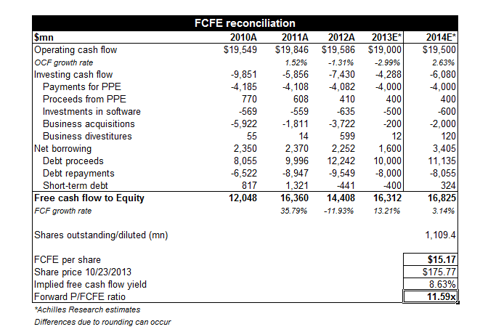 Click to enlarge
(Click to enlarge)
To determine the degree of undervaluation I consider a discounted free cash flow model which assumes that IBM can grow FCFE at a long-term rate of 3% and faces equity cost of capital of 10% - both a are very reasonable assumptions given IBM's historical growth record. The intrinsic value per IBM share comes out to be $219.63 and justifies 25% upside potential from a current share price of $175.77.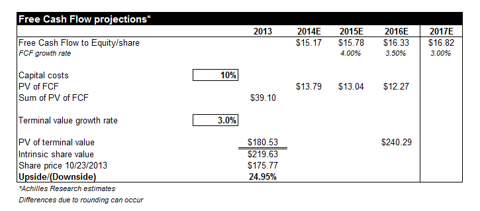 Click to enlarge
(Click to enlarge)
Conclusion
I believe the market overreacted to IBM's slight decrease in revenues (minus 4% y-o-y) and its revenue miss. IBM is a free cash flow strong company with a track record of remunerating shareholders: In the last twelve month IBM has returned 94% (equal to $15.1 billion) of its free cash flow to the owners of the company. High-growth service lines such as Business Analytics, Clouds and Security add outsized potential to grow free cash flow and shareholder remuneration. The valuation model yields an intrinsic share value of $219.63 giving IBM 25% upside potential. Instead of focusing on revenues and marginal decreases investors should focus on the underlying strength of IBM's business. Investors can now purchase IBM at an initial (estimated) free cash flow yield of 8.63% with prospects of rising dividends and continued share repurchases. Long-term Buy.
Disclosure: I have no positions in any stocks mentioned, and no plans to initiate any positions within the next 72 hours. I wrote this article myself, and it expresses my own opinions. I am not receiving compensation for it (other than from Seeking Alpha). I have no business relationship with any company whose stock is mentioned in this article.