Here we go again. The most wonderful time of the quarter. Apple (NASDAQ:AAPL) is about to release its fiscal fourth quarter earnings report. The tech giant will report on Monday, October 28th, after the bell, and the world will be watching. As customary, this will be my official earnings preview article for Apple. I'll break down the numbers to watch along with my own predictions. This quarter, it all comes down to the iPhone.
A review of past results:
Before I get into the current quarter, it's always good to look back at past results. The table below shows fiscal Q4 in the last two years, with last year's Q4 period in yellow. I also included this fiscal year's Q3, so you can get an idea of how things are sequentially.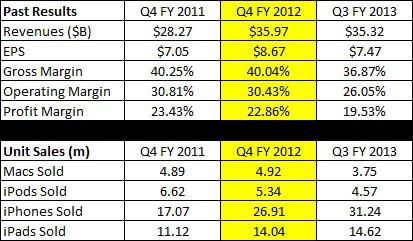 When it comes to Q4, here is the guidance that Apple provided when the company reported Q3 results back in July:
Revenues between $34 billion and $37 billion.
Gross margin between 36% and 37%.
Operating expenses between $3.9 billion and $3.95 billion.
Other income of $200 million.
Tax rate of 26.5%
In late September, Apple updated its guidance when the company reported its big opening weekend for the iPhone. Apple stated that both revenues and gross margins would be at the high end of the ranges that were provided originally.
This isn't going to be a tremendous quarter for Apple, but it should be a better one than the past few have been. Apple did launch the new iPhone 5S and 5C late in the quarter, which certainly will boost revenues for that product line and the overall business. However, since they did not refresh the iPad in March, unit sales of the tablet have fallen off, and were down double digits percentage wise in Q3. Apple will need a strong iPhone sales number to beat estimates, as iPad revenues will certainly be lower. Additionally, this should be the last quarter where the new accessories category comes into play, meaning some of Apple's prior year period numbers will look a little different. I covered this change a while back, and while it is not a major issue, it might force you to re-analyze some of the numbers. Now let's get into the heart of the Q4 discussion, and I'll first start by breaking down the individual product lines.
The iPhone:
Apple's flagship brand will be in heavy focus this quarter, obviously given the release of the new 5S/5C line. Revenues generated from the iPhone are expected to be more than 50% of Apple's total this quarter. While that may not be a surprise, the actual percentage should be higher than Q3's percentage. That will help margins, and Apple obviously referenced that with the updated guidance. The new phones look great, and the power of the 64-bit A7 chip should not be underestimated. Apple stated that it sold nine million phones during the opening weekend, although questions remained as to how much of that was channel fill.
Well, on Monday, we will soon find out. Apple sold just under 27 million iPhones in fiscal Q4 last year, and that included the release of the iPhone 5. So there is that hurdle to clear. The addition of the 5C should certainly help, along with a major carrier addition in Japan's DoCoMo (NYSE:DCM). Don't forget that China got the phones right away, as opposed to the usual multi-week or month wait. That will help sales tremendously. For the quarter, I am estimating 34.42 million iPhone sales, with an ASP of $575. That represents about a 7.5 million unit increase, or 27.9%. My ASP of $575 is down about $6 from Q3 levels. I do think sales of the 5C will hurt average selling prices, which could be offset by sales of the 5S. Don't forget that the new phones were on sale for less than two weeks in the quarter. A large chunk of the iPhone sales this quarter will be either the original 5, or older models, where Apple's pricing power is not as strong. I'd expect a dip in ASP during Q4, but would not be surprised to see a Q1 jump.
The iPad:
As I've been saying for months, the iPad would be in a downturn until the latter stages of this year. It was only this past Tuesday that Apple released new versions of the tablet, the iPad Air and a retina iPad mini. There weren't too many surprises with the new models, and like the iPhone, they will go on sale in China at the first launch date. Last year, they didn't go on sale until mid-December, so that will definitely be a positive for Q1 numbers.
But we're not worrying about Q1 just yet, so let's look at Q4. Apple reported a 14.22% decline in iPad unit sales during Q3, which isn't surprising due to the lack of a refresh. I do think we will see another decline this quarter. In the iPad Air announcement above, Tim Cook stated that more than 170 million iPads had been sold since the original launch. By my calculations, that would imply somewhere in the range of 11.5 million to 12 million unit sales for Q4, at the worst. I'm going to go a little higher, at 12.35 million units, a decline of 12% year-over-year. Remember, this was a back to school quarter, so there might have been a slight sales boost from that. I'm estimating an ASP of $430. That's down from Q3's $436. The iPad mini is bringing the average down, and Apple always loses pricing power into a launch.
Mac line:
Apple has partially negated the importance of this line thanks to the tablet revolution. PC sales have been weak for more than a year now, and I don't think that's going to change much. For the quarter, I'm figuring Apple will sell 4.52 million Macs, down 0.4 million from the year-ago period, or a little more than 8%. Some new models and the back to school quarter will help push things up sequentially. For the ASP, I'm going with $1,300, down about $3 from Q3 levels. With a combination of both low and high priced models, you never can really get a sense how they'll do with the Mac ASP. For this quarter, I'll be a little conservative and have a slight decline thanks to industry weakness.
The iPod / other revenues:
There's not a lot I can really say about the iPod. It's a declining line, and my projections call for less than 1.5% of revenues to come from iPod unit sales. I'm looking for 3.44 million units to be sold, a decline of more than 35%, and I'll use $160 for the ASP, basically where Q3 came in. While the iPod still generates a few billion a year in revenues, it will not be long before this product is gone in my opinion.
On the other hand, you have Apple's "other revenues" like iTunes, accessories, etc. This is a booming part of Apple's business, one that shows a lot of year-over-year growth. I'm forecasting about $5.5 billion in these "other revenues," up from roughly $3.9 billion in the year-ago period (before the above mentioned adjustment). Depending on how the numbers end up, Apple's total from "other revenues" could be more than the iPad or Mac lines.
Total revenues / gross margins / bottom line:
Let's now add up everything I've discussed already. Overall, I'm at $37.03 billion for total revenues in the quarter. That's just above the top end of Apple's guidance range, and a bit ahead of analyst expectations, which I'll get to later. But for now, let's look at some of the other key numbers on the income statement.
For gross margins, I'm using 37% as my estimate, the top of Apple's range. Apple had gross margins of 36.87% in Q3, so we should see some rise thanks to a higher percentage of sales coming from the higher margin iPhone. However, due to some pricing power issues that I've detailed, plus the fact that this is a product launch quarter (which tends to have some extra expenses), I do think there will be some offset. Apple's margins generally improve a few quarters after a launch, so the initial iPhone launch will help, with further progress later.
On the operating expense line, I'm using $3.9 billion, the low end of Apple's guidance, as Apple usually comes in towards the low end. I'll use Apple's guidance for other income of $200 million and a tax rate of 26.5% because these aren't really items we can fully project. That gets me to a net income figure of approximately $7.35 billion.
So what does that mean in terms of earnings per share? Well, if you use the Q3 diluted share count, 924.265 million, you get $7.95 in earnings per share, about a nickel ahead of current expectations. I'm going to predict that Apple did buy back some stock in the quarter, so I'm going to model a diluted share count of 917 million, and that gives me an earnings per share figure of $8.02. Currently, that is about $0.13 of analyst expectations, which are likely to change by the time Apple reports on Monday afternoon.
Analyst estimates:
Those that have read my extensive Apple coverage over the past two years know that I follow analyst estimates heavily. It's always good to see what the analysts are thinking, because that upgrade, estimate, or price target hike/drop could have an impact on the stock. Also, Apple analysts have been known to panic in the last year or so, cutting Apple estimates in the weeks into the quarter. While this has added some fear into the quarter and taken down Apple's stock price at times, it does help the company to beat. Obviously, the lower the expectation, the higher the probability of a beat. Here's how Q4 estimates have trended since the beginning of May. The yellow highlighted line is the day when Apple reported Q3.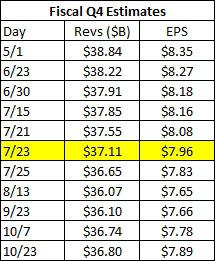 Apple gave weaker-than-expected guidance, so estimates continued to drop until mid-September, when the new iPhones were released. Thanks to Apple's guidance update, we have experienced something here unusual to Apple in the past year or so, and that's a rise in estimates. We still have a few days until Apple reports, so I don't expect these to be the final numbers, and that could have an impact on whether Apple beats or not, and the size of the beat/miss. Remember, my estimates are for $37.03 billion and $8.02, both of which are ahead of the current analyst average.
Balance sheet update:
Apple finished last quarter with more than $146 billion in its cash and investments pile, against $17 billion worth of debt. Only about $40 billion of that cash pile was located inside the US, the only funds Apple can use to pay dividends or buy back stock. To use any of the foreign funds, Apple has two options. First, they can bring the foreign money home, which subjects them to repatriation taxes. Apple is not likely to do this anytime soon, and neither are any of the other large tech companies that have tens of billions overseas. The second option is to borrow against its cash pile. Apple did that earlier this year so they could buy back a large amount of stock.
The key to the balance sheet this quarter obviously has to do with the buyback. If Apple doesn't buy back any stock, it is likely that the cash pile will top the $150 billion mark. If they do buy back some stock, which I think they will do, it will obviously be lower. Apple is in tremendous financial shape right now, so even if something like the current ratio came down from Q3, I wouldn't be worried. When it comes to balance sheets, Apple's is probably the best.
Looking forward to Q1:
Perhaps just as important as Apple's Q4 results will be its fiscal Q1 guidance. After all, fiscal Q1 is Apple's largest sales quarter of the year, and this current Q1 is expected to be the largest sales quarter in Apple's history. Here's a look at where estimates have trended over the past couple of months.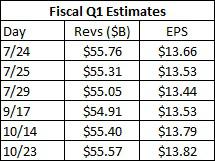 Currently, analysts are expecting a 1.9% revenue increase for the period, and earnings per share to be up by one penny. While sales will be up, margins will be down, but Apple's buyback will help out tremendously when it comes to Q1 results. Apple does have a good thing going already, with launches of the iPhone and iPad in China coming a lot sooner than they did last year. That will add to Q1 revenues in this period. It will also be interesting to see what Apple did in Q4, because an extra few hundred million worth of sales in Q4 could be pulled through from Q1. The one thing that could greatly change estimates is a deal with China Mobile (NYSE:CHL), which would give Apple a huge carrier platform. Everyone expects a deal to come eventually, although I'm not sure it will come during Q1. Another important item to watch will be gross margin guidance. It seems that Apple is content to give away software now to drive hardware sales, so that could lower gross margins a little.
Analyst estimates for the fiscal year imply an $11.4 billion increase in revenues for Apple, as well as an earnings rebound of nearly $4.00. That would obviously be a record year in revenues, and earnings per share could be a record if you adjust the previous year to $43.16 for the 53rd week in that year. These increases could be from a China Mobile deal, as well as the potential for new products. For Apple to hit those numbers, it all will start with Q1. Apple's guidance will be key, and it may be even more important than the Q4 results.
Where Apple stands now:
Let me briefly discuss where Apple stands in regards to other top tier tech names. The table below will show some key comparisons between Apple and other large cap tech names, those that are based on similar size, dividend yield, growth, or other fundamentals. For this comparison, I'm looking at Google (NASDAQ:GOOG), Microsoft (NASDAQ:MSFT), Intel (NASDAQ:INTC), and Cisco Systems (NASDAQ:CSCO).

*Non-GAAP numbers used for EPS growth and P/E values.
All of these numbers are for the 2014 fiscal year, which varies by company. Google stands out because it is a high growth company, with no dividend and no buyback. If you also convert Google's earnings to a comparable GAAP format, Google trades at a valuation almost double that of Apple. I don't think that makes sense. Not only do I think Google is overvalued, but I think Apple is undervalued.
When you look at Intel and Microsoft, Apple has more growth potential and trades at a lower valuation. Intel and Microsoft do have higher dividend yields, but Apple also has a much more powerful buyback plan, the largest in corporate history. You could argue that either Apple's extra growth or buyback offset for the dividend, which still leaves Apple with an added advantage, at a lower valuation. The same is true for Cisco. Now, if you convert Cisco's earnings to GAAP, Cisco's P/E would be a little under that of Apple. However, given the same argument for Intel and Microsoft, Apple has the advantage.
Final thoughts:
All eyes will be on Apple on Monday, and the company will look to deliver. Apple raised the bar with its opening iPhone weekend, so there will be increased expectations for both Q4 and the current Q1. Don't forget that as of Wednesday's close, Apple shares are up $105 since the company last reported. That's a huge rise, so there may be a built in expectation that Apple will report a strong quarter. I'm not going to ignore the potential for the "buy the rumor, sell the news" event, but I won't guarantee that it will happen either. Apple does need to do well though, because the company is unfairly held to a different standard. If Apple can beat on Q4 and issue strong Q1 guidance, it could set the bar for a strong fiscal 2014. I'm not going to speculate how Apple will do after earnings, because we are still days away from the report, and Apple's price could move significantly before then. I look forward to your thoughts, comments, and own predictions below.
Disclosure: I have no positions in any stocks mentioned, and no plans to initiate any positions within the next 72 hours. I wrote this article myself, and it expresses my own opinions. I am not receiving compensation for it (other than from Seeking Alpha). I have no business relationship with any company whose stock is mentioned in this article.
Additional disclosure: Investors are always reminded that before making any investment, you should do your own proper due diligence on any name directly or indirectly mentioned in this article. Investors should also consider seeking advice from a broker or financial adviser before making any investment decisions. Any material in this article should be considered general information, and not relied on as a formal investment recommendation.