IC Insights estimates 300mm wafer capacity by company in the table below. At least one correction is needed to bring this data up to date; since the data were generated, Micron (NASDAQ:MU) has added 60,000 wafer starts per month from Inotera, bringing the total Micron wafer capacity to ~600,000 per month of 100% memory production.
Looking at leading wafer producer, Samsung (OTC:SSNLF), it is often assumed that this is 100% memory capacity. Actually about 150,000 Samsung wafer starts are logic wafers to support Samsung products and, at least, the Apple foundry business. That leaves about 565,000 wafer per month for DRAM and NAND memory. Much of that output is consumed by Samsung internally, so the merchant market capacity is, as a guess, perhaps 400,000 wafers per month.
The conclusion is that Samsung is no longer the largest memory manufacturer in the world. That distinction now belongs to Micron. When considering non-captive merchant market capacity, Micron is the largest by a wide margin of perhaps 200,000 wafer starts per month.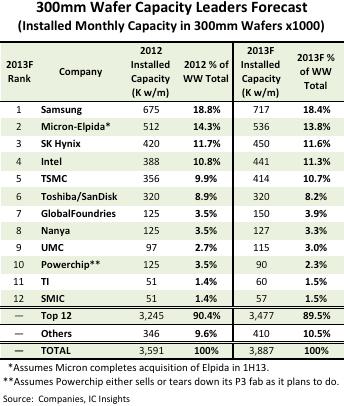 IC Insights believes that the companies listed in Figure 1 will represent essentially all the advanced 300mm IC production and capacity in the future. IC Insights believes that the top seven or eight companies - Samsung, "Micron-Elpida," TSMC (NYSE:TSM), SK Hynix (OTC:HXSCL), Intel (NASDAQ:INTC), Toshiba/SanDisk, and Global Foundries - can be considered an "elite" group that is just about guaranteed to be a driving force in 300mm capacity additions. The remaining companies are likely to participate in future 300mm capacity expansion, but all have varying degrees of risk associated with fully realizing their long-term 300mm IC production capacity goals.
DRAM Cost
A new wafer fab capable of one million wafers of memory output per year would cost about $5 billion, give or take. The one million annual memory wafers would generate about $1.5 billion per year in cost-of-goods. The $5 billion capex is probably amortized over about seven years or about $700 million per year. So, about 45%, give or take, of the production cost of a memory wafer is D&A (Depreciation and Amortization.) SanDisk (SNDK) D&A is about 40% of cost-of-goods, so we will use that number.
Elpida's 2.4 million wafer annual capacity would have a replacement cost of about $12 billion. Micron bought the productive assets of Elpida for about $1 billion cash and a write up of $1.4 billion, or a total of $2.4 billion. This is where Micron depreciation of the Elpida assets will begin. On the same seven year schedule, the Elpida depreciation would be $342 million on an output, at normal cost, of $3.6 billion or 9.5% instead of 40% of manufacturing cost.
When comparing Micron to SanDisk, the first comment to be made is that SanDisk, in their recent earnings announcement, confirmed that the NAND business can be very profitable, on the order of 50% non-GAAP gross margin and 33% non-GAAP operating margin.
SanDisk is a strong company and is to be admired as a leader in the NAND business. That said, SanDisk does have some glaring potential weaknesses.
One weakness that SanDisk has is that it is NAND only. SSDs (Solid State Drives) and all mobile NAND solutions involves the use of some DRAM, which in SanDisk's case must be bought from a third party supplier.
The concern about continuity of DRAM supply is expressed by SanDisk CFO, Judy Bruner's unsolicited comment on multiple sourcing of their mobile DRAM supply. I might point out that all of the third party suppliers of mobile DRAM are also competitors in the NAND area. It seems that a "one stop shopping point", like Micron, might have a continuing advantage here.
Judy Bruner:
"So in terms of the impact of the fire [Hynix], I would say that, of course, the main impact is on the DRAM market, not on the NAND market. And I would add that we have multiple sources of our mobile DRAM, and we feel that we have adequate supply of our mobile DRAM. Relative to the impact on the NAND industry, in the near term -- near to medium term, we do believe that this has some dampening effect on the growth of NAND bits in the industry as there will be, perhaps, somewhat less conversion of DRAM to NAND because of this."
Also, all the other memory suppliers make DRAM as well as NAND and, therefore, have the option of switching from one to the other in order to meet market discontinuities. SanDisk does not have that flexibility.
Another Micron advantage over SanDisk, and all the NAND suppliers, is an early start on 16nm HKMG NAND chip that reduces size by about 20% and cost by a similar amount.
S K Hynix
Hynix might be the most comparable competitor to Micron with the only problem being one of scale. Hynix is 75% of the size of the new Micron with 25% of that capacity still smoldering from the September fab fire.
The bottom line is that Micron is arguably the new largest memory supplier in the world and is certainly the largest non-captive merchant market supplier. Micron is bigger than Samsung and Hynix and stronger than SanDisk. Micron has the most diverse product offering and maybe the most diverse market base of any memory manufacturer. The Micron DRAM business is now as strong as Samsung's or Hynix's and very profitable and the NAND business, thanks to the recent SanDisk information, we can see is potentially and very likely to become extremely profitable. As can be seen from the above comments, Micron could have $5-7 billion in unvalued Elpida assets that will have to be written up, or the lack of D&A will simply make Micron more profitable, by a wide margin, than any other memory manufacturer.
In 18 months, Micron has come from a weak third place in the memory business to become the undisputed industry leader.
From Zero to Hero in 18 months. Buy the stock and sleep soundly.
Disclosure: I am long MU. I wrote this article myself, and it expresses my own opinions. I am not receiving compensation for it (other than from Seeking Alpha). I have no business relationship with any company whose stock is mentioned in this article.