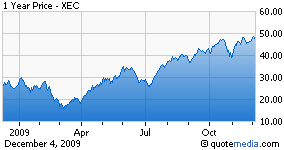 Analyzing third quarter results released November 3 and weighing remarks by management on the quarterly conference call, we raise estimated Net Present Value (NPV) to $50 a share for buy-recommended Cimarex (NYSE:XEC) on higher than expected production. With the increase in NPV from $46 a share, unlevered appreciation potential is 12% to a McDep Ratio of 1.0 where stock price would equal NPV. Latest results were close to expectations, but we now forecast a flat volume trend rather than the slightly declining trend previously. Still, NPV could be $21 a share higher if we were to value Cimarex's cash flow at the same multiple we do for other companies with similar reserve life.
We have been cautious because cash flow would decline sharply if drilling remained at a low level. Big recent wells and rising drilling activity suggest volume may soon be increasing. Rich liquids content and slow decline rate compared to other shale plays add to enthusiasm for the Cana Shale project in western Oklahoma dominated by Cimarex and Devon Energy (NYSE:DVN). The Two Sisters well near Beaumont Texas continues to flow at about 30 million cubic feet daily (mmcfd). A new 20 mmcfd well is on line and two more may be added by year end. Finally, the price trend indicators are positive with futures prices for the next six years for oil and gas above the 40-week average.
Originally published on November 4, 2009.