Opening:
I have been following the BlackBerry (NASDAQ:BBRY) story for some time, with an ongoing attempt to clear the air regarding some of the company's dealings - since the media usually has a field day with every breath the company takes. Recently, BlackBerry released BBM (BlackBerry Messenger) for download on iPhone and Android devices. There has been a very, very positive reaction and some caveats that will be discussed here as an update. I want readers to keep in mind that I do not have any stake in BlackBerry, and am only attempting to provide an even keel with regard to some of the company's events. I will go through both sides of the discussion and end with my personal opinion on the matter.
Permeation:


There is nothing short of a widespread permeation of the messenger, as a company press release has stated that there have been ten million downloads - a number that is most likely growing. With the adoption of the application, a plague of fake reviews hit the Google Play review section for BBM.
All of the reviews seem to have the same message, and I found the above section randomly while scrolling through the pages. Moreover, Valuewalk.com has reported the following information on the matter that goes hand in hand with the fake reviews -
Out of the more than 86,000 reviews received by BBM on Android, almost 70% of them are five-star reviews, while a little over 11% are one-star.
Almost 70% of the reviews rate the app at the five-star level, and they are all basically worded the same. This seems very odd considering that:
All of these reviews are basically grammatically correct.
They all have the same wording.
Even through waiting in line to receive the download, all of these "users" had the exact same experience and communicated it with the same wording and star level.
To the last point, I do not think this is genuine. This is obviously spam on a widespread scale that has not been addressed so far by Google (NASDAQ:GOOG) or BlackBerry in a meaningful way.
Sometimes any news is good news. As many of the people reading the news articles regarding the spam may think that they want to experience the "perfectly reviewed" application themselves, thus increasing downloads. I do not see the review spam as a game changer on each individual's user experience on the application and would only see it capturing more attention and in turn downloads. Although it is weird to see spam on this level for a new found and much anticipated application release.
Caveats and Additions: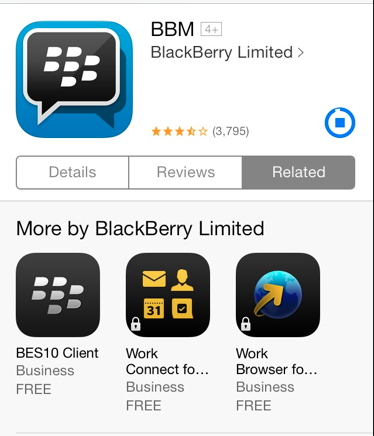 BlackBerry has permeated and is now in the hands of over 10 million users, and it is not through a device but an application on the device! The company topped the iOS app charts in 66 countries and is without a doubt a massive hit. Even better is the fact of the additional three apps that BlackBerry is offering -
BES10 Client
Work Connect For BES10
Work Browser for BES10
The idea of offering free applications, especially BBM, demonstrates BlackBerry's push to expand their application's exposure and in turn increase the utilization of their enterprise applications what may warrant solid income. This may in turn be seen as a jolt for the company to be strictly an applications and enterprise business, after shedding off the unwanted assets such as devices. The recent success of BBM demonstrates the company's ability to expand their exposure to the user, regardless of the device.
How Does This Affect A Buyer?
This is where the idea gets tricky, and why a buyout now favors a piece-meal deal in my opinion. BlackBerry has successfully rolled out its services (BBM) to the user across the device boundary and it was extremely positive in nature. The permeation of this application and BlackBerry's increased popularity through BBM, that was only originally available on their own devices, proves that this was a disruptive application expansion that worked for BlackBerry.
Moreover, this is not a three sided BBM vs. iMessage vs. SMS texting hill that has been overcome. BBM's widespread adoption was in light of the messaging applications that Apple's (NASDAQ:AAPL) iPhone and Android device users already have such as Twitter (NYSE:TWTR), Kik, Facebook (NASDAQ:FB), SMS, iMessage and more applications already available on the App store. Just take a look at the number of users that these applications have to put the ten million number into perspective., while keeping in mind the feature similarities to other already well established applications such as Skype's instant messenger. BlackBerry's recent success should not be discounted, although the company is starting to compete with a new class of criminal as they back away from device sales - a saturated and already highly adopted messenger application market base.
Kik surpassed BlackBerry's number of registered users over the summer, boasting 80 million registered users with only 35 employees. (This was reported prior to BlackBerry's 10 million user sign-up)
iMessage and FaceTime have over 250 million users collectively, and more than 300 billion iMessages have been sent.
WhatsApp is a cross-platform paid messenger for Android, iOS, Windows Phone, BlackBerry that has over 200 million users.
Skype through Microsoft has over 300 million users. Skype offers many features such as Text chat, Group chat, Voice calls, Video calls, File sharing, Screen sharing in a cross-platform manner.
BBM: 55 Million users (down from 75 million, prior to the 10 million user adoption) , over three platforms Android, iOS, BlackBerry. Text chat, Group chat, Voice calls, Video calls, File sharing, Location sharing, Screen sharing
Facebook Messenger has over 200 million users across six platforms. Features include Text chat, Group chat, Voice calls, File sharing, Location sharing
Viber has 200 million plus users, over six platforms. Features of the app include Text chat, Group chat, Voice calls, Video calls, File sharing, Location sharing. Viber is even updating their application for older BlackBerry devices - a sign competition is no less than fierce.
(Source)
BlackBerry's very successful push of its application into the hands of user demonstrates the company's ability to succeed on an application driven spectrum with regard to product adoption. This fact may back the idea of selling off parts of the business such as the devices unit to Lenovo (OTCPK:LNVGY), while retaining their services business including all of its employees and intellectual property related to the services side and applications front.
This would create an application driven BlackBerry that would be without the negative and unsuccessful pieces of their business, such as devices. Then a buyer like Prem Watsa through Fairfax Financial (OTCPK:FRFHF) can come in and buy BlackBerry and run the application and enterprise services business that is left. The services side is needed due to its success and link to the company's applications. Moreover, the company can generate income through the other applications offered that required setup on an enterprise level. With the increased exposure the company now has offering applications across all platforms, not just its own, it has a real reach to earn income through these various applications.
Where Is This Going
This discussion is focused solely on BlackBerry's success of BBM and how they may be able to become solely an enterprise and application driven company. I chose to explain the idea of BlackBerry existing solely as an enterprise and application driven company while shedding its unwanted assets before entering my own viewpoint to remain unbiased and to explain how it may be possible before including the larger caveats to the idea such as -
By offering BBM as a cross-platform device, BlackBerry will likely take a large haircut to the sales price of their device business, or the business as a whole. This is because one of the main draws of buying a BlackBerry device has just been offered as a free application on other devices. That is a major selling point of Blackberry's devices, lost. Devices have not been selling well to begin with, although this is a loss of a valuable selling point.
BBM downloads will continue, adopters will retain the application and BlackBerry will be able to monetize it or use it to feed sales in the enterprise application's side of the business.
Regardless of the merits of purchasing all of BlackBerry, the company just took a hit with its latest move. It is obviously hard to argue with over ten million downloads, although why would you pay full price for the business including devices or devices itself when the main proprietary technology that BlackBerry included is now available for free, on the most popular platforms? BlackBerry's devices don't sell since they are better than the new iPhone and Galaxy lineup, they sell for the military encryption and proprietary applications such as BBM. BlackBerry's device sales have not been too good, although taking a key piece unique to BlackBerry devices and making it cross-platform and free is not going to help sales, it will hurt them.
Now, of course the decrease in the devices unit's sale price (separate from or included in the total sale of the company) wouldn't matter if the increase in the services division's revenue more than made up the loss - although that is not the case here. BBM has not sprung companies to take up BlackBerry's services on the enterprise level any more than they already have. One side can argue that BlackBerry cut employees and took the write down to sell as an enterprise driven company for the future. Although the company would not have such haste to sell if they had the future in mind. Moreover, BBM is partially* monetized, and there have been no recent reports of a massive drive to pay for BlackBerry's enterprise solutions since BBM is now on their employees' iPhones and Androids such as Samsung's (OTC:SSNLF) Galaxy lineup.
To Sum It Up:
BlackBerry's BBM has attracted widespread user downloads. BlackBerry has driven to monetize* BBM through sponsored invites', although we have not seen any revenue or sales figures for this initiative. Lastly, the permeation of BBM has not led to any increase (I can't find any) in adoption plans of BlackBerry's enterprise applications for a fee, so BBM is not helping monetize the other applications either.
BlackBerry just decreased the selling price of their device sales unit. Since one of the main proprietary technologies in BlackBerry's devices is now free and it would be hard for a free application that is barely monetized to make up for the sales price hit to the devices unit that are not selling to well to begin with.
BlackBerry could have offered a subscription price or a one time fee to use BBM, although they did not. Applications of this nature usually do not, although BlackBerry needs money and they could have charged as low as 49 cents for a download.
BlackBerry is obviously not planning on the future. A free cross-platform app permeation would favor a long term business model that would allow the company to attract enterprise clients through BBM and offer their paid services over time. Although as we know BlackBerry is readying for an imminent sale with the flurried speculations of buyers such as Prem and Lazaridis and the NDAs signed with Lenovo and others. Even Apple's Ex-CEO John Scully is considering buying BlackBerry.
The permeation of BBM and the success of any future enterprise business would be subject to the retainment of the app by users that already have iMessage, Kik, twitter and other applications. Also, the user downloads can just be interested people (ages 16-24) who would not retain the app and are just trying it out. The messaging application market is very saturated, and we are yet to see how BlackBerry will monetize BBM as it is no longer included as a selling point for devices as iMessage is for Apple products.
Many of the reviews on Google Play are fake, this is generally a non-issue though.
Although users are happy to see one of their favorite pastime apps available on their new devices, the news may be short lived. It is hard to argue with 10 million downloads, and I know I will get hurt in the comments section for this, although I think BlackBerry may have made a mistake with offering BBM as a free cross-platform application. Overall the company has alienated their own device buyers through the free offering of one of the main selling points of BlackBerry devices - BBM as a proprietary technology.
I stick to my original opinion that the company could end up selling for a higher price, as this chess game is not over yet, although this recent move by the company questionable and I still have no position in the company. Could BlackBerry surprise and retain all their new users, expand enormously and monetize the application beautifully? Of course they can, and it would surprise investors and users alike - although it has yet to be seen by investors or the market.
If BlackBerry's plan all along was to offer this platform, cut costs, shed unwanted assets throw a quick sale and stick to an enterprise and services decisions - then I applaud management on their perseverance. If so, management could have disseminated this information, such as a scale down or a consolidation instead of an all out sale - although they did not. This is what leads me to believe that this was not their plan all along. At the current state of affairs, we are in the dark about any such plans so my take is that cross-platform BBM may have been a mistake.
Disclosure: I have no positions in any stocks mentioned, and no plans to initiate any positions within the next 72 hours. I wrote this article myself, and it expresses my own opinions. I am not receiving compensation for it (other than from Seeking Alpha). I have no business relationship with any company whose stock is mentioned in this article. Always do your own research and contact a financial professional before executing any trades. This article is solely in my personal opinion and is not a recommendation to buy or sell and security.