Celsion (NASDAQ:CLSN) is a "leading oncology company" that I've been following very closely since a month or two before the company's Phase III HEAT trial failure that took place in early 2013. Since then, I've been covering the company's restructuring and continued trials and development of their heat activated liposomal transport system for drugs.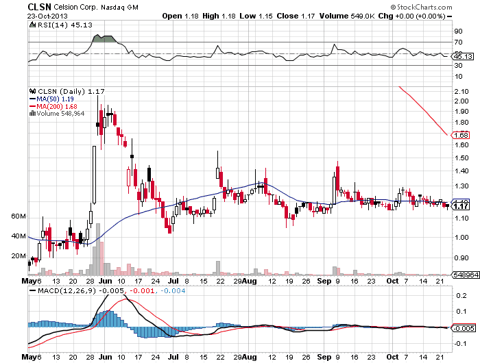 As I stated in a previous article, those who have been invested in Celsion since before the post-Phase III crash in January 2013 are likely to be sitting on losses. Those who have invested afterwards, in what I call the "new" Celsion, were at one point up pretty handsomely - but lately, the price has settled in the $1.10-$1.30 region. Thursday, pre-market, Celsion was trading above $1.20 again on updated news regarding the HEAT study and post-hoc data.
My first argument to reinvest in Celsion post-crash came when I wrote an article claiming the new Celsion could, at some point, be worth $4/share.
After the HEAT study, one of the post hoc data trends that Celsion was able to identify was that patients that underwent RFA (heating) for a lengthier period were finding better results with the effectiveness of the doxorubicin release. Several presentations and studies since the Phase III trial, all located at celsion.com, can be viewed to give you the innerworkings of that argument in detail.
Thursday morning, Celsion management offered an update on what they've found out, confirming that RFA optimization could potentially play a large part in the drug's success.
This morning's PR stated:
"An important lesson learned from the HEAT Study is that RFA can be optimized in order to improve outcomes of patients with HCC. This is true for RFA alone and particularly true of RFA plus ThermoDox®. We have learned from the HEAT Study data and from computer simulations that RFA dwell time is a key factor for success. These data were confirmed in large animal studies which now give us the confidence to move forward with a pivotal study," stated Dr. Nicolas Borys, Celsion's Chief Medical Officer. "Further, we are encouraged that investigators from the HEAT Study have expressed a strong interest in participating in a follow-on clinical trial."

"Equally important is that the data supporting our continued development program has been carefully reviewed by our HEAT Study principal investigators, international liver cancer experts, former FDA reviewers and independent statisticians," noted Michael H. Tardugno,Celsion's President and CEO. "We will present these findings in detail to the U.S Food and Drug Administration during the fourth quarter and we will work with the Agency on the best path forward in a pivotal study."
This news, while somewhat promising isn't enough to compel me back into a long positions with Celsion. What it does, however, is confirms to me that I should be keeping Celsion on my radar - and I will.
The other news that I'm still awaiting from Celsion management is an update with regards to the M&A that was alluded to after the Phase III study results came in.
It's been over three full quarters since the company first suggested the idea of acquisitions to not only bolster its pipeline, but to avoid "having all of its eggs in one basket" with Thermodox.
As I had stated in previous articles, I thought this was a great piece of corporate strategy and got behind the idea. The company said they had engaged Cantor Fitzgerald to assist with potential M&A, and then a quarter later updated that they had 10 potential candidates that they were looking at. Since then, we've received no updates on this front - and 2013 is almost in the rearview mirror.
There's a bullish argument under this just waiting to come out. It's a long shot, but if Celsion finds that RFA optimization plays a massive part in ThermoDox's efficacy, it could be a game changer for future trials. And, Celsion has already said on several conference calls and in this latest PR that they are looking to re-engage the FDA for future trials in 2014.
Of course Celsion, a non-profitable biotech that's burning through cash and has recently diluted, also remains a risk. However, the upside potential could be astronomical, should Celsion find that ThermoDox actually has a chance to be effective with optimized RFA in future studies. I remain on the sidelines here, but will be watching Celsion very closely.
Best of luck to all investors.
Disclosure: I have no positions in any stocks mentioned, but may initiate a long position in CLSN over the next 72 hours. I wrote this article myself, and it expresses my own opinions. I am not receiving compensation for it (other than from Seeking Alpha). I have no business relationship with any company whose stock is mentioned in this article.