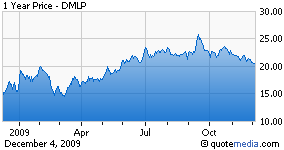 Analyzing third quarter results filed as Form 10-Q with the Securities and Exchange Commission after the market close on November 5, we reaffirm estimated Net Present Value (NPV) of $27 a unit for buy-recommended Dorchester Minerals (NASDAQ:DMLP). On that basis, unlevered appreciation potential is 23% to a McDep Ratio of 1.0 where stock price would equal NPV.
Volume, unlevered cash flow (Ebitda), Minerals Net Profits Interest, and earnings per unit were all slightly ahead of estimates from three months ago despite a decline in natural gas price. Futures prices contribute to rising cash flow in the quarters ahead. After lagging real-time price by two months, the cash distribution ought to follow projected cash flow. NPV appears to imply an unusually high multiple of cash flow until we remind ourselves that 80% or more of "Ebitda" is a percentage of revenue from oil and gas production from which no expenses need to be deducted.
Moreover, all the drilling on DMLP's lands in the hot Bakken Trend in North Dakota, for example, requires no capital outlay by DMLP. Activity by industry operators on DMLP lands is responding to the uptrend in oil price signaled by futures for the next six years trading above the 40-week average.
Originally published on November 6, 2009.