While it won't be official for another few months, investors have been eagerly anticipating Janet Yellen's installment as the next Chairman of the US Federal Reserve. Opinions about her have been largely positive in the eyes of the investment world.
That's because the general consensus is that she is more than likely going to maintain the loose monetary policies that the Federal Reserve and outgoing Chair Ben Bernanke helped put in place. His QE programs have helped to propel equity markets in the US to record highs over the past year.
However, until she gets her first crack at the job, no one knows for sure how Yellen's term is going to pan out and what effect her decisions will have on the US economy. Nonetheless, by virtue of heading up the second most challenging job within the most powerful country in the world, the new role will effectively make Yellen the most powerful woman in the world.
So what led President Obama to choose Yellen as his top pick?
To be clear, it was rumored that close-confidant and former Treasury Secretary Larry Summers was the odds-on favorite for the Fed Chair role. However, after Summers withdrew his candidacy, Yellen was the next clear frontrunner.
Her resume points to a long career immersed in government and economics. She studied economics at Brown University followed by Yale, where she earned her doctorate in 1971. She then became a professor at Harvard before landing her first Federal Reserve job as an economist in the late seventies. After a teaching stint at the London School of Economics and UC Berkeley, former President Bill Clinton brought Yellen back to the Board of Governors in 1994, where she served for three years.
From 2004-2010 she headed up the Fed's San Francisco Bank before becoming the Vice-Chair alongside Bernanke. As a member of the Federal Open Market Committee (FOMC) in 2007, she was one of the first to warn of the US housing crisis potentially leading to a major economic recession and that the Fed should intervene.
While the Fed's decision to implement quantitative easing remains controversial, there's no denying that the alternative would've been much worse, and it was Yellen's foresight and leadership which earned her the respect of the current Administration and her peers. In terms of maintaining the Fed's role of lowering unemployment without triggering inflation, Yellen has helped to do just that.
So with few career blemishes to speak of, her nomination certainly makes a lot of sense. But now that we know about Yellen's past and future with the Fed, investors want to know: where is she putting her own money?
Wall Street Journal recently obtained Yellen's public financial disclosure report (OGE Form 278), which revealed the following: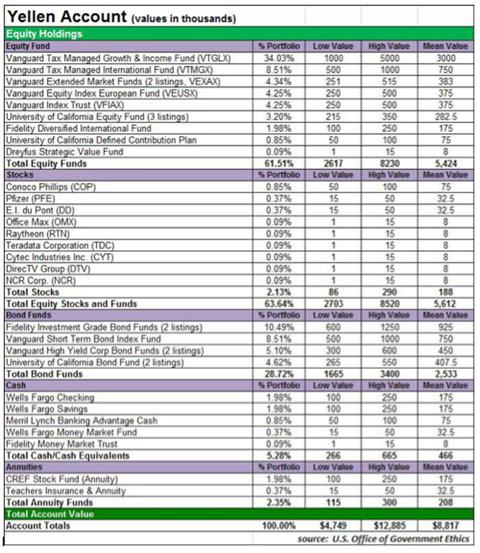 As you can see, the value of her assets range from $4.7 to $12.9 million and her holdings are weighted heavily in equity funds and bond funds. This provides her with an easy diversification strategy (if you're looking for a "hands-off" approach to investing, managed funds are definitely worth taking a look at and Vanguard has relatively well-performing ones).
As I am more of a stock picker than a fund player, the mix of individual companies in her portfolio are what interests me. I'd like to shed some light on the three stocks she's bought the most of.
Out of nine stocks, her top three holdings are: ConocoPhillips (NYSE:COP), Pfizer (NYSE:PFE), and E.I. du Pont (NYSE:DD).
Yellen dedicates a large portion of her stock portfolio to ConocoPhillips, a major oil and gas conglomerate with a market cap of nearly $90 billion. I've named Conoco as a top stock to buy in one of my previous articles and see it as a solid company to own long term. COP currently has a strong 4.4% dividend and has been paying out dividends since 1934. It's also increased its yield for 12 consecutive years.
As well, the company plans to spend some $15 billion per year on projects and assets through 2016. It will also likely continue selling off billions in existing assets as it has over the past three years. Therefore, COP is expected to keep its dividend payout elevated for shareholders moving forward.
Yellen also holds up to $50,000 each in pharmaceutical giant Pfizer and chemicals company E. I. du Pont de Nemours And Co. Pfizer's 3.3% dividend yield is also quite strong. But lately, a number of Pfizer's game changing drugs like Lipitor, Detrol and Xalatan have been losing market share to generics as their patents expired. In the short term, the dividend yield could be impacted.
However, to help offset the loss in revenue, Pfizer has found new success in treating rheumatoid arthritis and menopause symptoms. Though RA affects a little more than 2 million Americans, Pfizer's new Xeljanz drug carries a hefty price tag of $2,055 per month, which will generate billions for the company. Menopause meanwhile, is estimated to affect 33 million women in the US aged 45 - 59. Its blockbuster drug Premarin pulled in $1 billion last year and is expected to do the same in 2013. And a second menopausal drug, Duavee, just received FDA approval in early October and is set to launch in Q1 2014.
DuPont looks to have the higher risk exposure of the three. The company is planning to re-position itself as a food and agriculture conglomerate rather than its long-time chemical focus. Out of its various business segments, it is seeing significant growth in its agriculture and nutrition/health divisions, while its performance chemicals revenues have tapered off. This has led the company to discuss plans to divest its chemicals business altogether to make way for expansion into the other two segments. But seeing as chemicals still make up 20% of DuPont's revenues, selling off such a large pie could be a major shock to the system.
On the upside, they have a dividend of 3.1%, and a $2 billion share buyback plan initiated in 2011 still has $1.7 billion outstanding. Assuming the remainder was bought back now at $60 per share, the approximately 28 million shares acquired would tighten up the float by 3%.
Lastly, a weighted average of all her stock holdings shows that Yellen's picks has beaten the S&P 500's performance handedly over the past four years: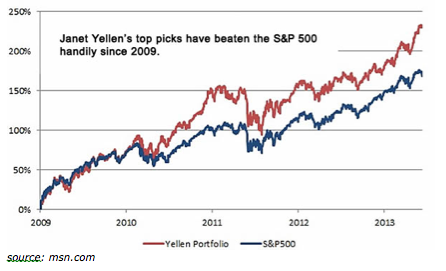 Clearly, she prefers funds to individual stocks, but the dividend-paying stocks that she does hold are likely to continue to be profitable for her in the near future. Though Yellen's stock holdings may not predict the future direction of the US economy, they do give people a glimpse into what the next Chairman of the Federal Reserve is bullish on.
Disclosure: I have no positions in any stocks mentioned, and no plans to initiate any positions within the next 72 hours. I wrote this article myself, and it expresses my own opinions. I am not receiving compensation for it (other than from Seeking Alpha). I have no business relationship with any company whose stock is mentioned in this article.