The tapering threat dealt a blow to the junk bond market this summer. As can be seen below, the ongoing negative relationship between US Treasury and junk bonds turned positive, meaning both asset classes suffered significant losses. The performance gap seems to have been bridged recently, suggesting a return to normal… as long as the tapering fear does not resurface. The correlation between junk bonds and Tnote prices is no longer significant, confirming that view (charts below).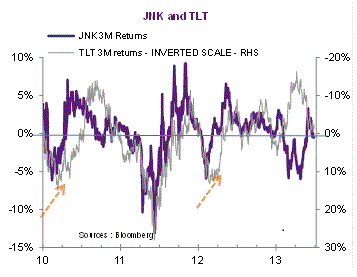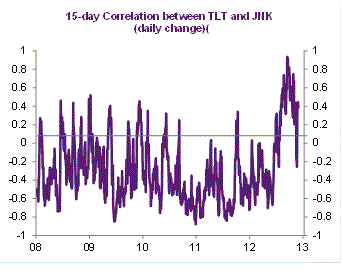 This came along with a recoupling of Junk bond return with the CDS spread changes. As US Treasury yields rose in the summer, high yield bonds were no longer sensitive exclusively to the risk premium (CDS spread) but also to the (higher) interest rate risk. Now that this fear has been postponed, investors are re-focusing on risk premia, meaning that the recent recoupling gives some credence to the mean reversion mentioned above.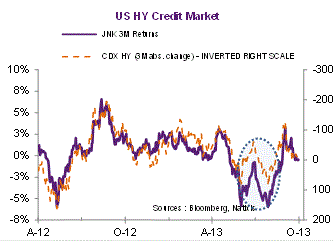 I have stressed in previous posts that the high yield market was historically a decent leading indicator of the S&P 500 performance. As history is not always a good guide, the negative returns in high yields did not materialize in lower stock prices this year.
There might be several reasons for this, but the most straightforward is that the rise in long term interest rates in the US was not driven by the inflation risk premium, but by higher real yields, meaning stronger growth ahead (positive factor for stocks). Therefore, the recoupling of high yield with risk premia (CDS) could foster the relationship with equity markets.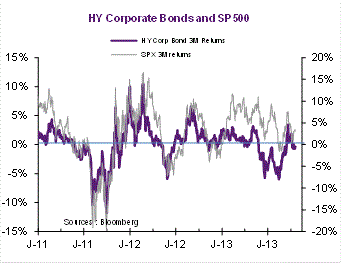 The underlying question is whether now is a good time for stocks and high yield bonds to disconnect. It already happened in the past, in particular during the years ramping up to the dot-com bubble. Both charts below show that the S&P 500 earnings yield and the yield on US junk bonds are generally highly and positively correlated. Yet, there are some significant periods when both series diverge.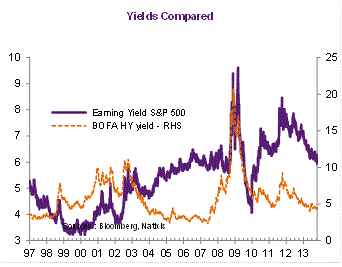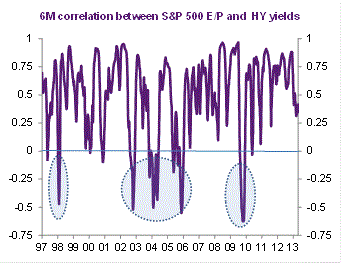 The disconnect between stocks earning yields (E/P) and junk bonds yield came mostly during times of high financial stress (1998 and 2009, for instance). Yet, in the years leading up to the Great Recession, the earnings yield failed to track the downward trend of junk bond yields as the disaffection for stocks remained high throughout the decade that followed the 2001/03 crash. Said differently, the equity risk premium remained high and even increased as the risk perception on credit became close to complacent.
The left hand chart shows that stocks earning yields have fallen significantly since the crisis, following the path of HG bond yields. Yet, in absolute terms, the risk premium on stocks is still high and Price Earning Ratios (P/E) are still not considered "rich." This would call for a lower equity risk premium, regardless of what happens in the HG market.
As can be seen in the chart below, the spread between Junk bonds and S&P 500 returns has been well aligned with the returns of Treasuries. This is normal, as a fall in US Treasury yields is generally associated with higher risk aversion (hence risk premia) that affect stocks and HG bonds across the board. But even though lower rates would increase discounted future earnings for stocks, the sensitivity of junk bond prices to lower yields will be higher. The reverse is also true, which means that higher Treasury yields in the US will mean an over performance of stocks against credit (High yield).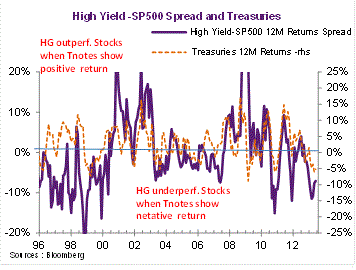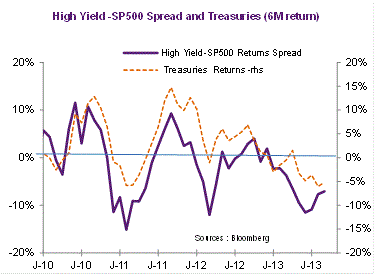 The tone of many central banks is turning significantly dovish (Fed is expected to wait until sometimes in 2014 before tapering; Mario Draghi recalls that the recovery is still fragile in Europe; The Bank of Canada just dropped the reference to a "need for future rate increases"). This would put a temporary lid on sovereign bond yields and play in favor of High Yield bonds in the very short run (reach for yield). But my main scenario remains a better growth momentum for the US economy and tapering as early as January. This will drive UST 10-year yields higher and most likely come along with an outperformance of stocks against HG bonds.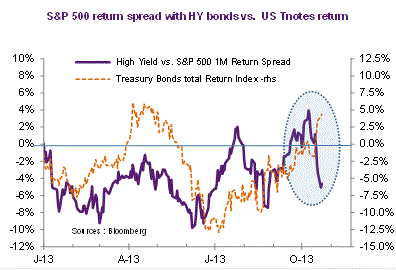 This is clearly what can be seen above. Using ETFs for US Tnotes (NYSEARCA:TLT), S&P 500 (NYSEARCA:SPY) and US high yields (NYSEARCA:JNK), the recent uptick in Tnotes return has not been followed by an outperformance of US high yield bonds. It may be a matter of time. Then it would tactically be rewarding to be long junk against stocks tactically as US Treasury yields still have room for a decline to 2.4%. Or it may just suggest that the decline in Treasury yields is deemed temporary and that stocks will be more resilient in a higher yields environment.
Bottom Line: if you wonder what junk bonds say to stocks, the answer lies between nothing and almost nothing. There are periods when relationships break and, interestingly enough, it happens when high yield bonds yields reach a very low level - which is clearly the case today.
Not to say that the behavior of junk bond prices should not be watched carefully at this juncture, but their renewed exposure to the interest rate risk (tapering or not) in addition to the traditional risk premium, suggests that the implication for the stock market might not be as straightforward as it was over the last few years.
I would rather wait for US yields to stabilize (floor at 2.40%) before entering a long stock position against high yield .
Disclosure: I have no positions in any stocks mentioned, and no plans to initiate any positions within the next 72 hours. I wrote this article myself, and it expresses my own opinions. I am not receiving compensation for it (other than from Seeking Alpha). I have no business relationship with any company whose stock is mentioned in this article.