Restaurant stocks have been doing very poorly lately, to say the least. This trend continued with Panera Bread (NASDAQ:PNRA) reporting very disappointing earnings on Tuesday afternoon.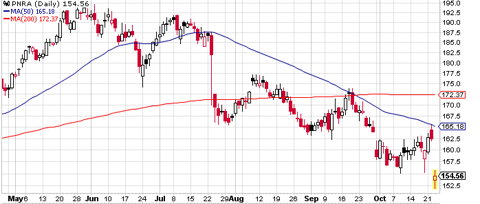 The stock promptly dropped around 5%, bringing its YTD performance to -10%. In May, I wrote an article on Panera suggesting that it might be a good short for various reasons. My short thesis essentially boiled down to this,
Panera food isn't actually that healthy, yet it is marketed as fresh and healthy.
It was in a unique position where if the economy weakened, people would likely downgrade
But if the economy strengthened, consumers would likely upgrade.
I wasn't exactly right, but I think I was pretty close. It seems that current prices at Panera are simply too high. The fast casual space remains attractive, but not if you can get a similarly priced meal at a traditional restaurant. There is a shopping center close to where I live and there is a Whole Foods (NASDAQ:WFM), Chipotle (NYSE:CMG), and a Panera Bread. In terms of healthiness and quality of the food, I would personally say that Whole Foods is the healthiest, then Chipotle, and then Panera. Whole Foods now has a very competitive lunch and dinner option, and has had nice seating areas in stores for awhile now. Both Chipotle and Whole Foods were very busy, while Panera was busy, the energy wasn't the same. The Whole Foods dining area was packed, there was a long line at Chipotle, and while there was a line at Panera, the dining area was only about half-full. This was at peak lunch hour on a Friday afternoon. Simply put, there was a noticeable difference in the energy at Panera vs. Whole Foods (just the food options, not the entire supermarket) and Chipotle.
Maybe what I was seeing at Panera (the line, but few diners) was just on that day, but it could be a more substantial problem. Panera said in the conference call that long lines and incorrect orders have caused patrons to walk out and the incorrect orders have caused customers to not return. From the conference call,
Let me share something else. We've directly surveyed our customers, and the top reason they cite for coming less often is the diminished in-cafe experience. More than a quarter of those polled identified slower service, less comfort and the accuracy of orders, among other experience issues, to explain why they aren't visiting our cafes more frequently.
They also had this to say about delivering a less differentiated experience.
Let me give way to this by way of a story. Walk into our cafes at 12:30 p.m. during the lunch rush, and you'll see the lines. It's clear that the demand for our product is not the issue. Our problem is keeping up within meeting that demand with an in-cafe experience that delivers something truly differentiated.
While this might be the case in some places, I don't think that it tells the whole story. I think the real problem is partly due to price, and partly due to the diminished in-cafe experience. For two people to eat at Panera it costs about $20, for what I consider average to above-average food. Compare that to a good experience at Chipotle or a decent experience at Whole Foods. I think the Whole Foods experience is somewhat diminished by the large number of shoppers, but the food is good and fast. The experience at Panera could be likened to having high fast-casual prices, while maintaining a low dine-in experience. That is not a good combination.
Management has said that by next February they will have the production equipment to alleviate these problems. This will certainly help Panera improve the eating experience, but ultimately, I think prices need to come down somewhat.
The CEO summed it up perfectly on the conference call when he said, "Folks, we get it. The trajectory of comp growth and the trajectory of transaction growth are headed in the wrong direction."
Summary
I think that Panera's stock still has farther to drop. It has run into near term issues, and until those are resolved the stock price will likely continue to struggle. I think right now Panera needs to clarify the purpose of the stores. Either lower prices and accept lower margins or keep prices where they are and improve the customer experience, as they said on the conference call.
Disclosure: I am long WFM. I wrote this article myself, and it expresses my own opinions. I am not receiving compensation for it (other than from Seeking Alpha). I have no business relationship with any company whose stock is mentioned in this article.