Background
I, like a lot of other value oriented investors, started keeping an eye on IBM when Warren Buffett announced his stake in 2011. During that time, I watched the company's stock go up…and then go down to the point where it was when Buffett bought into it a couple years ago. Since last week's earnings announcement, many, many sources have either come out roasting IBM as a dinosaur and its owners as something akin to luddites who don't understand the industry or they are basking in a new lower price for a company that has been seen as the "bluest of blue chips." Apparently I fall in the new latter category as I started my position with the price drop. I've laid out my reasoning below and will then wait for the firebrands to come out of the woodwork.
The facts:
| | |
| --- | --- |
| | IBM |
| Current Price | $175.19 |
| Market Cap | $191.9B |
| Yield | 2.20% |
| P/E | 12 |
| Consecutive Years of Growing Dividends | 18 |
Data Source: Morningstar, David Fish
Peer Comparison
| | | | | | |
| --- | --- | --- | --- | --- | --- |
| | | Profitability | Earnings Growth | Leverage | Overall |
| International Business Machines Corporation | IBM | 1 | 3 | 6 | 2 |
| Accenture PLC | | 3 | 1 | 5 | 2 |
| Infosys Ltd | | 1 | 4 | 1 | 1 |
| Xerox Corporation | | 5 | 6 | 4 | 6 |
| CGI Group | | 5 | 5 | 3 | 5 |
| Wipro, Ltd. | | 4 | 1 | 2 | 2 |
First things first, for a review of what I am doing in my peer review and why, you can check out this article when I first started it. Nailing down a peer group for IBM isn't easy because of the breadth of their business operations. These companies were all chosen from the list of peers on Morningstar and while I don't love it, I can accept it since they veer towards services on the whole. IBM is well known to have pivoted towards software and services over the last decade so this provides a baseline for comparison.
On the whole, IBM comes out of the peer comparison looking very strong. Remember, the whole point here is to ensure that I am looking only at the more profitable companies of a given sector. Where IBM struggles in comparison is in the high amount of debt that they carry. It is no secret that much of this debt comes from the Global Financing arm of the company which "… provides financing predominantly for the company's external client assets, as well as for assets under contract by other IBM units." (source: IBM 2012 Annual Report) On the whole, when times are good, I would imagine that Global Financing provides a nice competitive edge by allowing IBM to offer something that many of their competitors can't. When times are bad though you just have to hope IBM has done their credit checks on their customers correctly.
Making a Profit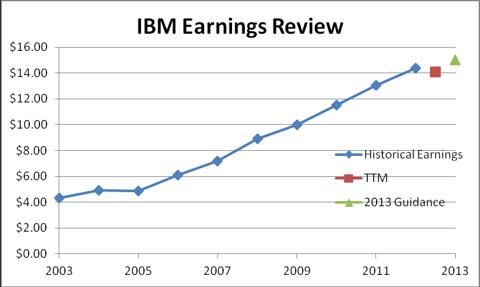 Data Source: Morningstar
If IBM is a dinosaur, then it sure does have a long neck. The truth is that nobody can argue that IBM hasn't done a FANTASTIC job of making money over the past decade. With everything that has not gone right with the company recently (multiple quarter decline in revenues in progress) they have continued to execute on earnings and have held to their 2013 guidance of GAAP earnings of at least $15.01 and non-GAAP operating earnings over $16, depending on how you want to slice it. There is an argument over IBM, that their EPS has been skewed by share buybacks over the past decade. I do not put much creedance in this however since net income grew at a little over a 9% annual clip from 2003-2012. The buybacks goose the EPS number a bit but, at least in a historical context, appear to be a solid investment for IBM. Also it is worth noting that the financing arm is not so large nor so volatile that it affected earnings growth during the Great Recession.
Cash Flow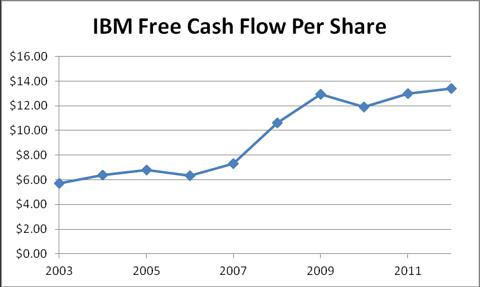 Data Source: Morningstar
When I review a company's free cash flow history I am looking for two aspects. First, it is important to me that there are no negative cash flow years. This suggests a certain element of stability in a company's strategy and core business. Second, I am looking to see if free cash flow becomes disconnected from earnings. Here I notice that while there are no negative FCF years, there have been two periods of flat free cash flow generation despite constantly increasing earnings. For now, this is only an area of caution for me since the general trend is still upward. A reversal (or even continuing stagnation) in free cash flow for IBM would be particularly concerning however, since much of the value in owning IBM is tied to dividends and buybacks, both of which would be harmed.
Future Growth Prospects
Right now Yahoo! Finance shows that analysts on average forecast about 9.7% earnings growth per year over the next 5 years from IBM. This number is actually a bit shy of what IBM was able to accomplish between 2003 and 2012 (14% CAGR). As IBM gets larger however, earnings growth is bound to taper off. So why should I believe this is possible going forward? IBM's established strategy is to dump low margin businesses (historically hardware based) and shift to high margin businesses (currently services and software). This is why IBM revenues have not increased at nearly the same rate as net income historically. The thing that I like about IBM and their strategy though is that they have embraced change. As a technology company undergoing long-term planning, the only thing that IBM can count on is that in 5 years, their business mix will be different from what it is today. Investors in Microsoft (NASDAQ:MSFT) and Intel (NASDAQ:INTC) (of which I am one) would feel much better about their holdings if those tech giants had a similar history of metamorphosis as IBM.
The concerns that brought the price down recently revolve around a few aspects that are based at least partly on speculation. They include (1) falling revenues over the past several periods (2) earnings from the past quarter built on an abnormally low tax rate and (3) the prospect for increased competition and disruption from cloud service providers. When it comes to revenues, I will say that IBM revenues also decreased from 2004-2005 and from 2008-2009 and were flat from 2005-2006. In other words, this is not the only time in recent history that this has happened and should not be particularly concerning by itself especially when the company is still hitting EPS targets. Yes, ignoring the tax rate change, earnings weren't nearly as impressive but the company is still holding to their target for $20 in operating earnings in 2015. Finally, when it comes to competition and disruption from cloud service providers, I do not claim to be any authority whatsoever. I will say however that the cloud and the opportunities it offers does not present as a traditional disruptive business. Typically these are businesses that are ignored by the main players in an industry until too late. In this case, IBM is a player and is positioned to benefit as the market for cloud services grows. It is foreseeable that competition will decrease margins but at least IBM will be able to make the decision then whether to continue on or pivot in a new direction.
Conclusion
I started my position in IBM with an eye toward the long-term. I believe in their management strategy of embracing change and will enjoy the focus they put on returns to shareholders.
So, now I need to ask, is there value in IBM or merely a value trap?
Disclosure: I am long IBM, INTC. I wrote this article myself, and it expresses my own opinions. I am not receiving compensation for it (other than from Seeking Alpha). I have no business relationship with any company whose stock is mentioned in this article.
Additional disclosure: I am not a professional investment advisor nor a financial analyst; I am writing this article because I feel that investing is not a zero sum game for the individual investor and because I believe that the process of writing and receiving feedback improves my own performance.