By Brad Zigler
Real-time Monetary Inflation (last 12 months): 5.0%
Consumers have little sympathy for oil companies. A lot of the ill will stems from the sheer size of their earnings figures. In a word, huge. Peel back a layer or two of an earnings release, however, and you find a smaller, more telling number—the refining margin.
Refiners such as Valero Energy Corp. (NYSE:VLO) and Tesoro Corp. (NYSE:TSO) have been struggling in a low-yield environment for quite some time. Gross refining margins have been on a downward course for the past few years. The average margin for the decade through October 2005 was 20.6%. Since then, it's been 17.4%. For the past quarter, the spread between input costs and refined product proceeds has been only 8.2%. (Click charts to enlarge)
Futures-Implied Refining Margins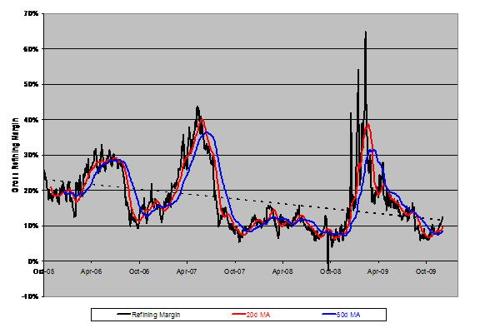 Click to enlarge
Now, nobody expects refiners to make big bucks in the fourth quarter. After all, the summer driving season is in the refiners' rearview mirrors, and the heating oil business is only ramping up to compete with natural gas. Seasonally, margins tend to improve in the post-holiday period (read: first quarter). Over the past three years, quarter-over-quarter margin improvement has averaged 5.8 percentage points at the beginning of a new year.
If you look at the chart above, you'll see evidence of bottoming in refining margins since early October. Indeed, sluggishness in crude oil costs and firming of distillate prices has effectively doubled refining yields. Of course, margins were pretty dismal—in the 6% range—in early October, so profits are still subpar. Nonetheless, there is a trend here.
Valero Energy Corp. chief executive Bill Klesse says that, while U.S. refining margins have been in the dumper, there are signs of improvement. Coyly. "Margins look better for Q1," he opined at a Platts award ceremony last Thursday.
Okay. Not much risk in that statement. First-quarter results, as we've seen, typically better those of the preceding year's closeout quarter.
And therein lies the opportunity for the savvy investor. Futures traders are sniffing at crack spread trades now—buying gasoline and heating oil futures against the sale of crude contracts.
The trade provides a leveraged simulation of the refiners' yield (see "Time For Crack Spreads?" for details). Securities investors can now piggyback on the trade, without having to resort to margin, by using exchange-traded funds.
Buying the ProShares UltraShort Dow Jones-UBS Crude Oil Fund (NYSEARCA:SCO) gives you a double dose of short oil exposure, while purchases of the United States Gasoline Fund (NYSEARCA:UGA) and the United States Heating Oil Fund (NYSEARCA:UHN) bestow unleveraged dollops of the main refining products. Essentially, the ETF spread mimics a 2-1-1 crack: breaking two barrels of crude into a barrel each of gasoline and heating oil.
Right now, the spread can be bought for an aggregate price of $76.53 a "share" (one share of each fund). The spread was worth approximately the same when the ProShares fund was launched last year and widened to $96.69 by mid-February.
ETF Crack Spread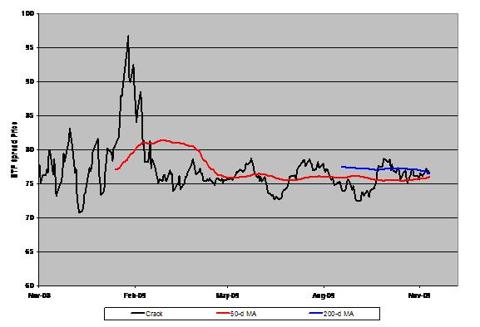 Click to enlarge
A gain of 20 bucks a share in three months' time—24%—ain't a bad return. Especially in light of the downside risk (worst case, about $6).
Is there a $20 profit opportunity this season? Perhaps. Certainly, prospects would be better if demand improves.
For investors, though, there's a distinct advantage to playing the crack spread instead of buying refiners' shares. You don't have to wait for profits to filter down to the refiner's bottom line. The crack spread is the bottom line.