I have become a collector of all thing peak, from peak law, to peak science, to peak oil -- peak peak, as it were. So let's just slot "peak hotel" alongside all those other peaks. The U.S. peaked in terms of the number of total hotel rooms in 1980 (1,181,367 rooms) and has been declining (slightly) since (now 1,028,723).
With that in mind, here is the open date by year and scale for U.S. hotels. You can see when we passed "peak hotel" in terms of new room supply.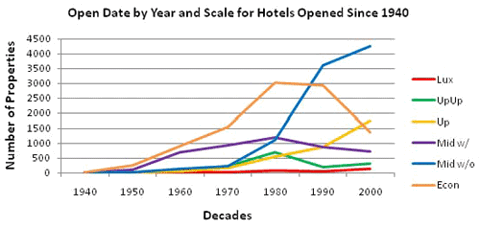 [via HotelNews]
Mind you, luxury hotels have been on a bit of an upswing, but that peaked in 2008 at 22 new properties.