Sonic Foundry (SOFO, $5.40) reported fiscal 2009 results last week -- link here (includes Mediasite Webcast). Here are some brief points:
The company made great strides expanding gross margins and reducing expenses, although full year revenue of $18.6 million (+19.2% Y/Y) came in lower than our expectations and just shy of previously raised guidance calling for >20% top-line growth.
Other key metrics also exhibited slower growth: billings of $19.2 million increased only 13.6% Y/Y (not adjusted for slight shift at year-end fiscal 2008) and deferred revenue of $5.3 million increased only 13.1% Y/Y.
Lower-than-expected revenue led to a slight cash operating loss for the year of approximately $700 thousand, compared to earlier guidance for full-year cash profitability.
Fortunately, cash burn is under control: Sonic Foundry ended the year (9/30/09) with a net cash position of $1.43 million, down from $2.93 million one year earlier (= burn of $1.50 million), but up from $1.25 million at 6/30/09.
Some good news: management implied that the revenue "tipping point" is finally upon us. From the press release:
"Furthermore, we are beginning to see signs of economic recovery, and specifically, certain signals for expanded growth in mid-2010 as they relate to the Mediasite product and service offering. Correspondingly, our recent prospecting has resulted in additions to our sales pipeline that, if consummated, would dwarf most of the previous sales made by the company to date. These opportunities have been harvested both domestically and internationally and in different vertical segments of our customer base, most of it occurring in the last few months. Based on the expected timing of these new opportunities, mid-2010 may mark a significant turning point for the company, which could substantially expand operating performance, especially given the cost reductions and operating leverage now in place."
We are disappointed by the slight revenue shortfall and continuing operating losses, but cognizant that (1) Sonic Foundry operates in an "emerging" market where forecasting is a challenge and (2) we're in a recession that is crimping IT budgets everywhere. With regard to the latter point, we note that Polycom (NASDAQ:PLCM) -- a much larger company but decent proxy for video/audio conferencing systems -- reported revenue down 12% Y/Y for the most recent quarter.

Per our post's title, let's borrow from Hamlet's "To be or not to be" question to ask a related, similar question: to believe or not to believe in the rosy outlook? In this regard, the real question is: do we believe in the Mediasite franchise and management's ability to deliver shareholder value?

Let's look at several slides from the management presentation to provide context:
click to enlarge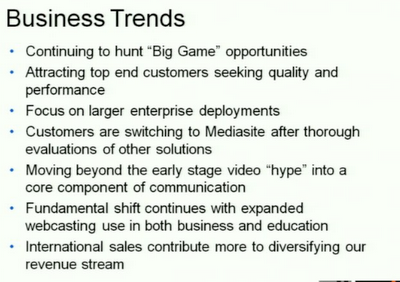 Customer sampling, including new wins during fiscal 2009: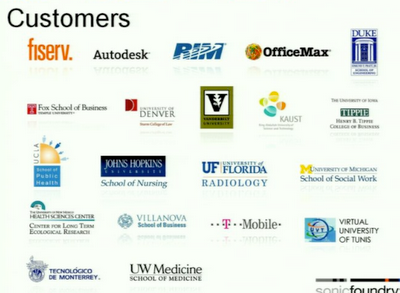 Potential operating leverage: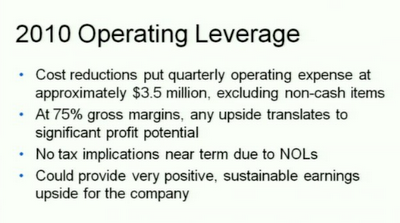 Quarterly guidance: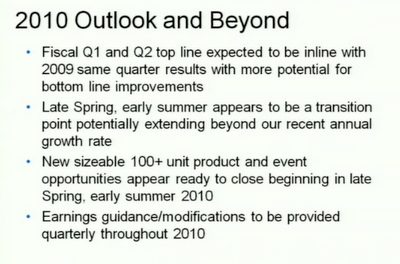 Now, let's review some commentary we added to the comments chain below our recent SeekingAlpha post (slightly modified herein):
... Accordent won the Enterprise Video Platform award, which is a positive for that company and indicates favorable traction. However, Sonic also plays in that arena and has solid mind-share. For reference, please see this Streaming Media article, "Navigating the Enterprise Video Workflow", which highlights four major companies: Computer Associates (NASDAQ:CA), Lockheed Martin (NYSE:LMT), Merck (NYSE:MRK), and QAD (QADI). Of the four, three use Mediasite, while Merck uses Accordent (we note potential sampling bias -- may not be illustrative of actual market share).
Mediasite is far more than simply hardware - there is a major software element, along with service/support. Combined, it's far from commoditized as indicated by gross margins in the mid to high 70% range. Personally, [we're] focused on buying franchise type companies that have multiple competitive advantages and are inherently NOT commodity businesses. Technology companies sometimes make poor investments because of rapid change/competition, yet Sonic Foundry's large and growing installed customer base suggests Mediasite isn't going anywhere anytime soon.
Importantly, operating margins and ROE are poised to move from "not meaningful" to "meaningful" as the business crosses a cash flow inflection point and generates positive net income. Acknowledging that the business (and sector) is (are) nascent with sometimes "lumpy" revenue, forecasting can be a challenge. Assuming forward net income of $2 million would yield an ROE of more than 20%.
Growing top-line ~20% in a recession isn't too bad. Otherwise, we'd probably be seeing 30-40% Y/Y.
All investments carry risk and SOFOD is an illiquid microcap, which carries even more risk. The key is to mitigate risk factors and not bet on "luck". If [we're] wrong and positive free cash flow doesn't arrive as expected, [we] will change [our] tune.
To conclude: while SOFO is not our usual cash rich or dividend paying investment fare, our interest in Sonic Foundry is derived from our extensive technology industry experience. While risks remain, based on our research, we would not be surprised to see large-scale deals that would be game changing in terms of Sonic Foundry's financial profile.

Furthermore, our intrinsic value estimate of $20-27 is supported by an estimate of reproduction cost today as well as the probable private market value that would be awarded by an informed strategic buyer. In this regard, recent M&A comps provide support - Cisco (NASDAQ:CSCO) / Tandberg (OTC:TADBF) plus Google (NASDAQ:GOOG) / On2 Technologies (ONT) - please see our posts here and here, respectively, for more information.

Given the company's expanding customer roster and forthcoming campus-wide adoptions, we continue to believe our initial thesis: competitive advantages point to a powerful, sustainable franchise -- Sonic Foundry is (1) far along the learning curve with (2) intellectual property protection, and (3) very satisfied, captive customers that face high switching and search costs. Points (1) – (3) are both related to and strengthened by (4) economies of scale and (5) leading market share.

Disclosure: Long Sonic Foundry