By Brian Nelson, CFA
Part of the reason why I have picked Morningstar (NASDAQ:MORN) to use in this example is that the firm is trading at nosebleed multiples and has just started to "manage" its earnings expansion. Such activity is typically not a good sign for shareholders - mostly CEO Joe Mansueto.
<< What is earnings management?
Before we get started, however, it's important to note that Morningstar is trading at roughly 23 times expected 2013 free cash flow ($3.5 billion market capitalization divided by $150 million in expected free cash flow) and 25 times expected 2014 earnings estimates.
I will show you in this article how Morningstar essentially generated less than 1% core diluted earnings per share growth in its third quarter, despite headline results suggesting a 21.4% gain ($0.68 versus $0.56).
The Income Statement
<< What is the income statement?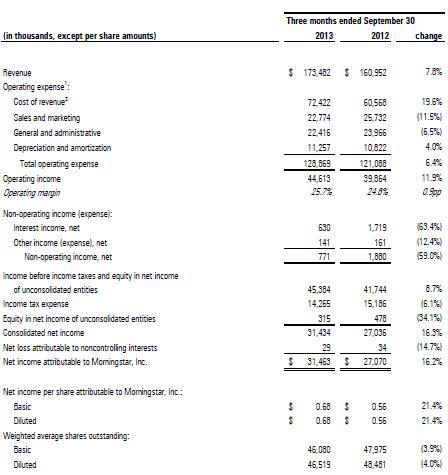 Image Source: Morningstar
1.1 Revenue
Typically, the first line item on a firm's income statement is 'Revenue'. At Morningstar, revenue advanced 7.8% in the third quarter (you can see the growth rate in the far right column). There's not much that we can glean from the purity of the top line other than to take management's word that mostly all of it was organic expansion. Based on disclosures in the third-quarter press release, this appears to be the case.
1.2 Cost of Revenue
The second line item is 'cost of revenue,' which is just under the category of 'Operating Expense.' According to the income statement (shown above), the firm's 'cost of revenue' advanced 19.6% on a year-over-year basis. We're assuming this growth includes salaries and other items that are indispensable to drive the firm's revenue expansion. A comparison of the revenue growth rate (7.8%) and the growth rate in 'cost of revenue' (19.6%) is quite startling. For every 1 percentage point of top-line growth, the firm has to pay more than 2 percentage points more in relevant costs. What once was a business model with nice operating leverage has now become one that is deleveraging.
1.3 Overhead: Sales and marketing; General and administrative
These are the line items where management usually starts playing tricks to manage earnings. Management has a difficult time cutting expenses in 'cost of revenue' as it doesn't want to eliminate its money-making individuals or cause any discontent for them to leave for competitors. So, what management has done in this quarter is chosen to slash 'Sales and marketing' and 'General and administrative' expenses by 11.5% and 6.5%, respectively.
The total discretionary expenses that management cut in the third quarter are: (25.7 million less $22.8 million; $24 million less $22.4 million) = $4.5 million.

Image Source: Morningstar
1.4 Depreciation and amortization
Depreciation and amortization expenses are typically tied to fixed schedules, so management doesn't have any leeway in influencing these measures on a quarter-to-quarter basis. It can manage capital spending to a degree, but for the most part, evidence of earnings management is not found on the 'Depreciation and amortization' line. Said differently, management can cut sales and marketing mid-quarter to hit an earnings target, but there's not much the team can do on this line to influence near-term performance.
1.5 Operating Income
If we move to the operating line (it's called 'Operating income' in the image above), you'll see that operating income advanced to $44.61 million in the third quarter of 2013 from $39.86 million in the third quarter of 2012, or an increase of about $4.7 million. After adjusting for significant cuts in discretionary expenditures ("Sales and marketing; General and administrative"), operating income is roughly flat on a year-over-year basis: the $4.5 million it saved by cutting discretionary items was its ENTIRE operating income growth this period.
Most analysts would stop at this point and call this quarter 'very poor,' especially for a firm that is trading at 25 times 2014 earnings.
1.6 Non-operating income
Non-operating income actually fell on a year-over-year basis. However, let's be generous and give Morningstar the same operating income it earned in last year's quarter to this year's quarter. So, let's add $1.1 million back to this year's quarter. It may not be fair to ding the firm, as non-operating income is just that: non-operating.
1.7 Income before income taxes
After adding the $1.1 million (see 1.6) back into 'income before income taxes and equity in net income of unconsolidated entities' and adjusting downward for the $4.5 million in 'managed earnings' (see 1.3), adjusted income before income taxes is $41.98 million, which compares to $41.74 million in the year-ago period. We'd argue this is still flat year-over-year performance.
1.8 Income tax expense
We don't think management has a lot of wiggle room with the IRS, but in order to provide an apples-to-apples comparison between year-over-year numbers, let's use the effective tax rate in the year-ago period for this year's adjusted 'income before income taxes' number. Last year's effective income tax rate in its third quarter was 36.37%. Applying this rate to our adjusted 'income before income taxes' number of $41.98 million (see 1.7), comparable taxes are $15.26 million.
1.9 Consolidated net income
Subtracting $15.26 million in adjusted taxes (see 1.8) from $41.98 million (see 1.7) and holding 'equity in net income of unconsolidated entities' flat at $478,000 on a year-over-year basis results in adjusted consolidated net income of $27.2 million, which compares to $27 million in the year-ago period. There was a negligible difference in 'net loss attributable to non-controlling interests' between the comparison periods.
2.0 Core Net Income Attributable to Morningstar
Core net income attributable to Morningstar advanced less than 1% in the period. This year-over-year growth rate is the same on a diluted basis, as last year's share count would be used in the comparison. We gave management credit for the non-operating income, so we can't also give them credit for buying back shares. Further, in any case, buying back shares to boost earnings per share is a classic sign of low-quality earnings expansion.
The Bottom Line
Identifying instances of managed earnings on the income statement usually indicates the underlying quality of earnings growth is falling, and the latter usually catches up in the form of reduced equity price performance. In Morningstar's case, the firm released a third-quarter earnings report that revealed 21.4% headline earnings growth. However, this was only achieved by cutting discretionary expenses and buying back stock. Core earnings growth, in our view, was less than 1%.
Key Takeaway: Don't accept headline earnings at face value!
Disclosure: I have no positions in any stocks mentioned, and no plans to initiate any positions within the next 72 hours. I wrote this article myself, and it expresses my own opinions. I am not receiving compensation for it. I have no business relationship with any company whose stock is mentioned in this article.