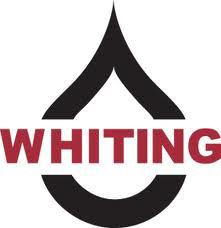 Whiting Petroleum (NYSE:WLL) released Q3 earnings yesterday which were $0.23 better than analyst estimates. It was the best earnings report in quite some time for Whiting with net income of $1.71/share and adjusted net of $1.28/share. The results were based on nicely higher realized prices (+19%) and higher production (+12%). Excluding the Postle field assets sold in July, production was up +23%. This compares to a 18.3% increase in Q2. The increasing rate of production growth is partially attributed to new completion design technology which is yielding improved drill bit results. The new completion technique appears to be applicable across WLL's Williston Basin properties and is a strong catalyst moving forward. As a result, WLL will command a higher P/E ratio based on the outlook for higher production growth.
New Completion Technique Yielding Much Improved Results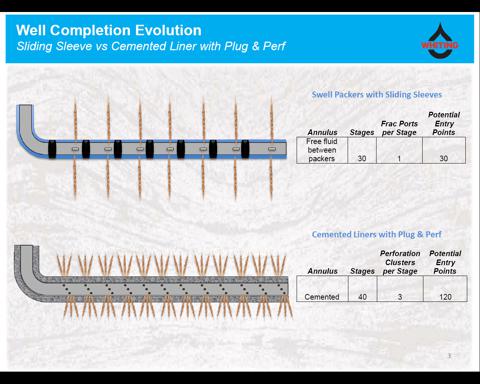 Click to enlarge
At a recent JPMorgan Technical presentation (available here), Whiting outlined its new well completion technique employing cemented liners with plug-n-perf (shown above). The number of perforations per stage tripled over the prior sliding sleeve technique and the number of potential entry points quadrupled.
The company then ran an experiment in the Missouri Breaks in which it compared results of the (old) sliding sleeve technique as compared with the (new) cemented liners with perf-n-plug. The results speak for themselves: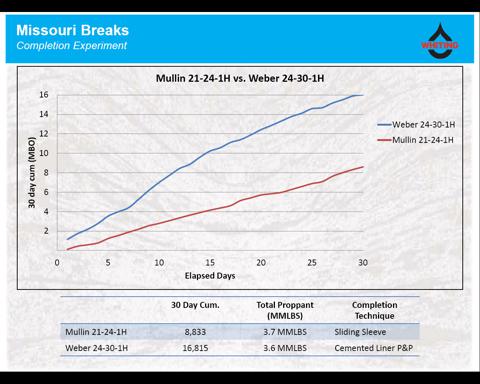 Click to enlarge
Indeed, in the Q3 earnings report the company announced results of the new technology. In the Missouri Breaks acreage, the last eight wells that were completed using cemented liners and plug-n-perf technology had average first 30-day cumulative production of yields of 14,400 boe. According to the company, that was ~60% better than the previous 31 wells in the area that were completed using uncemented liners and sliding sleeves. From the JPMorgan presentation, we also found out this was accomplished for practically no increase in drilling and completion cost: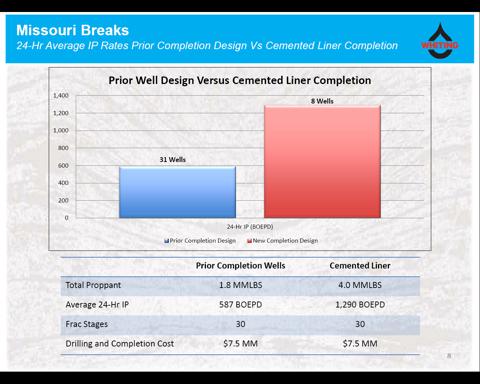 Click to enlarge
In the Hidden Bench prospect, WLL recently completed the Eide 41-13-2H flowing at an initial rate of 3,795 boe/d using the new cemented liner and a plug-n-perf completion technique. An offset well, the Eide 41-13HR, was completed using an uncemented liner and sliding sleeve technology and flowed at 2,715 boe/d. So the new completion technique is yielding ~40% higher IP rates in this case.
At Pronghorn, WLL recently completed a three-well pad to test the new completion technique. The Obrigewitch 21-29PH was completed using a cemented liner and plug-n-perf technology and flowed at 2,432 boe/d. That is a ~50% increase over two offsetting wells completed on the same pad using the older technology.
So Whiting is seeing a substantial increase in drilling results across its Williston Basin properties: Missouri Breaks, Hidden Bench and Pronghorn - everywhere. Considering the company has over 700,000 net acres in the play, this a big deal.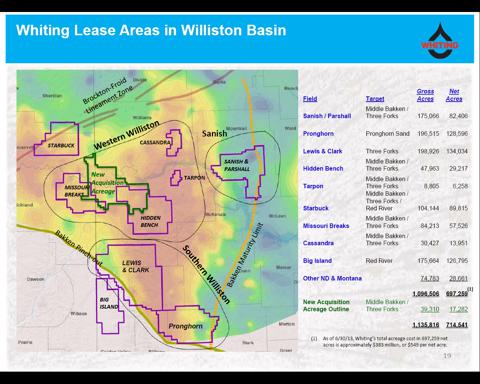 Click to enlarge
I should point out that Seeking Alpha contributor Michael Filloon published an article back in July about the new completion technique. He was spot-on in identifying it as a positive catalyst for WLL.
Summary and Conclusions
Whiting's new cement liners with plug-n-perf completion technique is yielding much improved results across its Williston Basin assets. As a result, the company's has a robust production growth outlook and its valuation should reflect this. Indeed, since the first of September, WLL's stock has really taken off. For those wondering if the run-up was justified, WLL's Q3 results should convince any skeptic. The company now has a PE=20. This is still much less than companies like Kodiak Oil & Gas (NYSE:KOG) which has a P/E=34, Continental Resources (NYSE:CLR) with a P/E=29, and the king of the pack, EOG Resources (NYSE:EOG), which has a P/E=48. It is clear the market will reward companies that can grow production and net income with higher multiples. If Whiting can follow up Q3's production growth with an increasing production rate in Q4, and I see no reason why they cannot, WLL shareholders should see a pleasant revaluation of WLL shares by the market. In the meantime, one risk to keep an eye on would be substantial weakness in WTI prices, which has wobbled lately. Any substantial fall in WTI could present a nice buying opportunity in shares of WLL.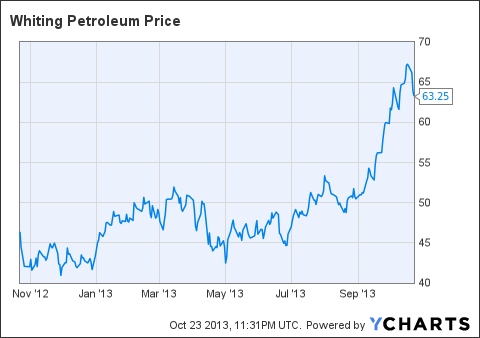 Disclosure: I am long WLL. I wrote this article myself, and it expresses my own opinions. I am not receiving compensation for it (other than from Seeking Alpha). I have no business relationship with any company whose stock is mentioned in this article.
Additional disclosure: I am an engineer, not a CFA. The information and data presented in this article was obtained from company documents and/or sources believed to be reliable, but has not been independently verified. Therefore, the author cannot guarantee its accuracy. Please do your own research and contact a qualified investment advisor. I am not responsible for investment decisions you make. Thanks for reading and good luck!