Summary
In this article I will compare the two major players in the kidney care industry, trying to show why DaVita is undervalued and will probably provide relatively safe, but market-beating returns over the mid- and long-term. The usual short-term focus of Wall Street analysts ignores the fundamental, very favorable conditions of this industry and doesn't consider sufficiently the impressive operating efficiencies at DaVita.
Warren Buffett's Berkshire Hathaway and DaVita - A Great Conviction Pick
Over the last two years DaVita (NYSE:DVA) has had a great run. The stock roughly doubled.
Over the same period Warren Buffett's Berkshire Hathaway (NYSE:BRK.B), through one of the recently employed deputy investment managers, Ted Weschler, has built a big position in the stock: according to the most recent filings, Berkshire now owns 31,446,830 shares or about 15% of the company. Being worth currently about $1.8 billion, the shares Weschler bought for Berkshire make up a huge chunk of the reportedly $5 billion Buffett gave to each of his deputies. Furthermore, according to this SEC filing (the figures contained need to be adjusted to the 2:1 split shortly afterwards), Weschler himself and his family directly also own over 2,200,000 shares, worth almost $130 million. So there can't be any discussion about the fact that this is a high conviction pick and it might pay off to take a closer look, especially considering that Weschler continued purchasing shares for up to $60, which is more than the current price and not too far from the peak of $65.5 reached in May 2013.
DaVita and Fresenius Medical Care - The Dialysis Duopoly
DaVita and German Fresenius Medical Care (NYSE:FMS) are the biggest renal care providers in the USA and on the planet. The two companies serve about 2/3 of all US dialysis patients. As you may know, dialysis is of vital importance for patients. They need treatment 2-3 times per week, otherwise they would die.
If you are considering an investment in the dialysis sector, for an accurate introduction to its characteristics and economics, I strongly recommend to read Fresenius' Annual Reports (the latest can be found here) which contain lots of information on dialysis in general and the diverse reimbursement / healthcare systems around the globe.
One of the first things you will find out is how regularly these business manage to grow and how precisely they reach their projected goals.
E.g., DaVita grew revenues from about $2.3 billion in 2004 to about $7.3 billion in 2012, steadily throughout the great recession. Diluted EPS grew from $2.16 to $5.47 (CAGR 12.3%).
A presentation of DaVita by the CEO himself can be found here.
The Dialysis Industry
The industry seems to enjoy quite favorable conditions:
Only because of increasing longevity and changing living standards, the number of patients needing dialysis worldwide is expected to grow at 6% per year.
It is 100% recession-proof.
Scale matters. With the new "bundled" reimbursement system in the USA, dialysis companies receive a fixed compensation amount designed to reduce overuse of drugs that were previously separately billable. Thus, the less they spend on each treatment the more profit they make.
Basically, companies like DVA and FMS have a very simple business model: enjoying very reliable cash flows from their operations, they can apply some leverage and buy even more treatment centres. More clinics provide higher cash flows and even greater scale advantages, with higher cash flows they can buy even more clinics etc. etc. Call it a snowball.
What Really Matters: Free Cash Flow and Owner Earnings
To get their hands on these reliable cash flows, companies pay more than $100,000 per patient served when buying clinics in private transactions. This leads to high goodwill on the balance sheets and high D&A charges, which on the other hand causes GAAP Net Income to be lower than Free Cash Flow. But this is what really matters: the cash available for discretionary spending.
According to Warren Buffett, when analyzing a company, you should focus on the earnings a 100% owner of the business would pocket at the end of the year. Buffett calls them "Owner Earnings". In the 1986 Letter to Berkshire Shareholders, he explains that Owner Earnings represent:
reported earnings plus depreciation, depletion, amortization, and certain other non-cash charges
LESS
the average annual amount of capitalized expenditures for plant and equipment, etc. that the business requires to fully maintain its long-term competitive position and its unit volume.
In the case of DaVita and Fresenius, money spent to buy new treatment centres, to equip or enlarge them should not be considered as part of these capitalized expenditures as these are growth related and not pure maintenance expenditures.
So how much does DaVita spend on maintenance every year?
While it is a little tricky to come up with a reasonable estimate for FMS, DaVita actually provides us with a precise figure in each quarterly report:

Thus, FCF/share in the rolling 12-month period to June 30, 2013 was $ 871,190 / 214,490 average diluted shares outstanding = $ 4.06/share.
These are probably close to real "Owner Earnings". How do they compare to the GAAP EPS for the same period? The sum of the rolling four quarters EPS is only $2.83. That's a difference of over 30%!
Only in the above mentioned Annual Report (which is the English translation of the original German report) Fresenius provides some indications on how much money is spent for pure maintenance, while I haven't found similar details in the form 20F filed with the SEC:
Total net investment in property, plant and equipment was $666 M, up from $570 M the year before. A large portion of capital expenditures - $372 M - concerned equipping existing and new clinics. In addition, $170 M was invested in the maintenance and expansion of production capacity, primarily in Germany, North America, France and China. $133 M was spent for the capitalization of dialysis machines provided to customers - mainly in the International segment. A lesser amount of $9 M is accrued due to divestments. Capital expenditures in property, plant and equipment amounted to some 5% of overall revenue, at the same level as in the previous year.

41% of net investments were used for expansion activities, while 59% were spent on maintaining existing production sites and dialysis clinics. (Source)
59% of Total net investment in property, plant and equipment of $666 M was spent on maintaining existing production sites and dialysis clinics. This comes probably close to the pure maintenance expenditures we need to find out.
To calculate Owner Earnings for Fresenius Medical Care we have to back out some one-off items which were relevant only to 2012 like an investment gain and a huge working capital reduction and might come up with a reasonable estimate of about $2.30 per ADR. This would mean FMS trades at about 14.5 times last year's Owner Earnings per share, while DVA trades at 14 times TTM Owner Earnings per share.
These multiples are certainly not too high for a stable, recession proof and still growing duopoly. But there are some issues…
Are The Good Days Forever Gone?
Everybody knows that "the US healthcare system is broken". Everybody knows that public healthcare budgets in Europe are as constrained as they have never been before.
After digging a little deeper, a potential investor will find out that DaVita and Fresenius in the USA (which is by far their largest market) make all, but really all of their profits from a small minority of privately insured patients, while they loose money on each and everyone of their publicly insured patients (which of course are the majority: 90%).
So why bother and continue analyzing these businesses?
You will also find all kinds of bad press, like here or here for example.
However, close to the end of the second article linked you will read an interesting bit of information:
Diane Wish, the chief executive of a small, Ohio-based nonprofit chain called Centers for Dialysis Care, said she was convinced that the cuts would hit her company hard. "Part of me is afraid until patients start dying, no one is going to believe that we can't make it on this amount of money," she said.
I told you that scale matters. Rate reductions would first kill small centers without any scale advantages and provide some cheap acquisition opportunities for the bigger players. This kind of consolidation might even be something politicians wish for, as it would favor cost reductions. And DaVita is known for having the lowest cost base in the industry.
If you want to keep down treatment costs, the quick and easy way is to let DaVita run the operations.
The Differences Between DaVita and Fresenius Medical Care
While DVA currently has only very limited operations outside the USA, Fresenius makes more than 1/3 of its profits internationally. The company operates clinics in 40 different countries with probably 40 different healthcare systems. In my opinion this alone demonstrates that there is no healthcare system that could destroy these businesses. They are necessary everywhere, as much as the air we breathe. No politician can afford to drive them into bankruptcy.
Fresenius also sells equipment and consumables needed for treatments (> 30% market share for consumables; about 50% market share for equipment), while DaVita doesn't and thus needs to buy them from competitors. Fresenius considers its vertically integrated business model as a competitive advantage, while DaVita thinks that patients prefer clinics that simply choose the best products available and not always their own ones.
FMS pays a dividend, while DVA doesn't. Both occasionally buy back stock. Dilution is very limited.
Finally, DVA recently merged with HealthCare Partners, a managed care provider. This merger diversifies DVA's revenue base and adds an important advantage: It's the physicians who send commercial patients to dialysis centers and all dialysis providers compete very hard for this all-important category (as it is the one which provides all their profits). Well, guess whose treatment centers HealthCare Partners might send its patients to?
Valuation
Over the next two years, analysts project little growth for FMS, whereas for DVA they seem more optimistic.
FMS projects to reach a net income of about $1.2-1.3 billion in 2014 which would probably translate into $2 GAAP earnings and into about $2.40 Owner Earnings per ADR.
DVA provided guidance only for 2013: Operating Cash Flow should reach $1.4-1.5 billion. Based on the maintenance expenditures in the above FCF calculation, Owner Earnings should reach about $5 per share.
Trading at less than 12 times expected 2013 Owner Earnings, DVA clearly seems to be cheaper than FMS, which trades at 14 times expected Owner Earnings for 2014.
But there is more to discover: When we dig into Fresenius Income Statement, we find the following data: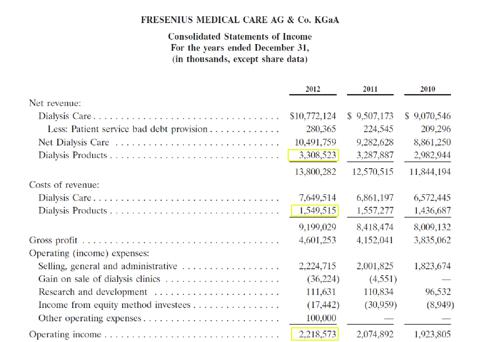 As we can presume that most of the SG&A expenses of about $2.2 billion are needed for the administration of the 3,000+ treatment centers, only about half of Fresenius' operating income actually comes from dialysis treatments.
| | |
| --- | --- |
| Net revenue Dialysis Products | 3.3 B |
| - Costs of revenue Dialysis Products | 1.55 B |
| = Gross profit Dialysis Products | 1.75 B |
| - Operating expenses Dialysis Products (estimate) | 0.7 B |
| = Operating income Dialysis Products | 1.05 B |
This is quite astonishing. Fresenius makes $1.1 B of operating income on 264,290 patients, while DaVita makes $1.3 B on only 163,000 patients:

Thus, in 2012, on a per patient basis, FMS made only $4,162 of operating income, while DVA made almost twice this amount.
I told you DVA was known for having the lowest cost base in the industry.
As some kind of additional proof for this fact, I found an interesting little anecdote: According to this report, Fresenius applied for an authorization to build a $2.9 million, nine-station dialysis center at Pekin, Illinois. Before Fresenius' proposal was denied, DaVita had already proposed a $1.7 million, eight-station clinic at about five miles from the Fresenius site.
This means that DaVita intended to spend $212,500 per station, while Fresenius had budgeted about 50% more on a per station basis.
Conclusion
Only because of increasing longevity and changing living standards, the number of patients needing dialysis worldwide is expected to grow at 6% per year. Even in developed countries the CAGR should reach about 3.5-4%/year. Add to this some acquisitions, additional leverage and occasional buybacks. Even without an increase in reimbursement rates or additional operating leverage, annual EPS growth rates of about 6-9% should be almost guaranteed. Five years from now, DaVita should definitely make about $7 Owner Earnings per share. Apply a multiple of 16 and you get a fair value of $112 per share. This means you can roughly double your money in five years owning a low risk, recession proof business which is almost guaranteed to grow for many years to come.
If reimbursement rates are cut (Wall Street's great concern!), DaVita's earnings will shrink - but this will happen only once and not each and every year. Additionally, a heavy rate cut will probably provide nice buying opportunities for the bigger players, as the smaller ones can't survive with smaller rates, so that a rate cut could even lead to an expanding clinic network and thus to increasing profits in the mid-term.
According to some commentators, in the short-term there is even the chance that Berkshire might acquire the whole company. But I sincerely prefer to keep my shares long-term, enjoying the view of a relentlessly growing snowball.
Disclosure: I am long DVA, BRK.B. I wrote this article myself, and it expresses my own opinions. I am not receiving compensation for it (other than from Seeking Alpha). I have no business relationship with any company whose stock is mentioned in this article.