To identify potentially attractive investment ideas, The Applied Finance Group (AFG) usually uses a combination of proprietary variables to develop a focused group of potential buy ideas that meet criteria based on valuation, economic performance, management quality, and earnings quality. Although this set of investment criteria has proven successful in generating buy ideas, AFG's valuation on a standalone basis has consistently been able to identify mispriced securities and investment opportunities that outperform their chosen benchmark.
Several times over the last year ValueExpectations.com has released lists of companies narrowed only by the valuation properties of the company using AFG's Value Score (defined below). Today, we will revisit these blog posts and compare the performance results of the companies previously identified to the results of their benchmarks.
Below is an update of the performance of the articles we have released where companies were identified by using AFG's valuation metric as the sole variable. Included in this table is the blog portfolio's performance, the performance of the index, and the spread relative to the index. The performance of all portfolios and their benchmarks are tracked from the date of the blog's release until last Friday's close. As you can see in the table below, companies identified by AFG as having an attractive valuation have performed quite well and have consistently outperformed their benchmarks.
If you are a professional investor and would like to better understand and access AFG's valuation metric to review your portfolio, click here.

Below is an updated list of the S&P 500 companies with the most attractive valuations according to AFG's valuation model including Freeport McMoran C&G (NYSE:FCX) and Fluor Corp. (NYSE:FLR).
To stay updated on companies AFG believes are attractive investment opportunities register here.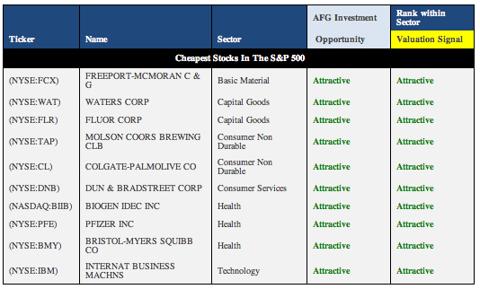 Applied Finance Group's (AFG's) Value Score defined - A score which represents the ranked percent to target (deviation between stock's current trading price and AFG's current default target price) or attractiveness (upside) relative to the universe. A Value Score of 100 is the most undervalued and 0 is the most overvalued company in the universe.
Disclosure: none