A retired athlete was asked if he felt underrated during his playing career. His response, as insightful, unlikely and surprising as it was, was that he never felt rated at all. He said any sort of rating would have been a compliment because that would have meant someone noticed he was there. The business lesson I took from his response is that any rating, good or bad, is better than no rating at all. Microsoft (NASDAQ:MSFT) has suffered for rating in the past few years as Apple (NASDAQ:AAPL) and Google (NASDAQ:GOOG) have deservedly beaten them down in the more desirable growth areas in the tech sector. On Tuesday Microsoft got a "rating" from Tim Cook, the CEO of Apple Inc., on a stage that has in the past been exclusively reserved for Apple. It has been a long time coming but this unflattering rating is a complement to the relentlessness of Microsoft's pursuit in a race that started many years before they realized they had to run with the others. There is no other way to interpret this but that Microsoft is finally an object in the mirror that is closer than it appears. The folks at Microsoft should be proud they got a free and unsolicited endorsement of their existence.
At an event that Steve Jobs used to wax lyrically of the intersection of Apple advanced technological solutions and customer needs, Tim Cook found time to broadside Microsoft and its PC partners. With the help of the good folks at c-net here is a graphic and some quotes from the event.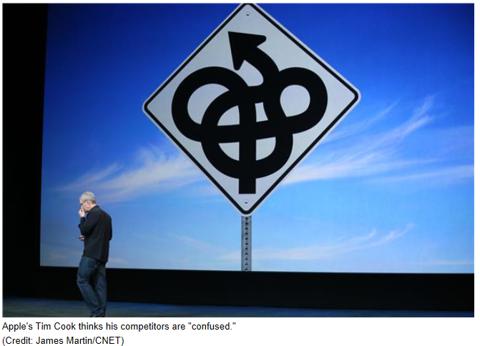 "The competition is different...they are confused," Cook said. "They chased after netbooks. Now they are trying to make PCs into tablets and tablets into PCs. Who knows what they will do next? I can't answer that question, but I can tell we have a very clear direction and very ambitious goals. We still believe deeply in this category and we are not slowing down on innovation. We have been really hard at work on the Mac and we have exciting new products ". Note that the path in the graphic above loops but also that the arrow does not point down.
Why the free Rating?
It may have taken a while for Microsoft to get here but it is hard to argue against momentum. Though all the entropy with strategy with multiple missteps it does feel like Microsoft is finally in a position of threat.
Market Share: On the day before Apple's big event, Business Insider published an article entitled, Samsung Is Stealing Apple's iPad Market Share (image from the article below). As much as the article was about Samsung's (OTC:SSNGY) gains with tablets it subtly mentioned gains of the Surface tablet against the Kindle. Also note that Q2 2013 numbers only add up to 58% which leaves 42% for other manufacturers which are probably mostly Android tablets but bound to include some Windows tablets as well.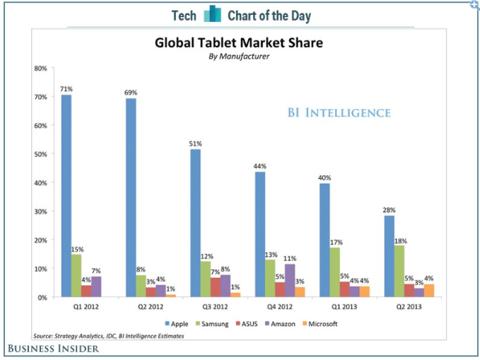 Products: Even though Apple is filling out its lineup horizontally, Tim Cook appeared to insinuate that copying success is not a good idea for others. I guess it is brilliant with the iPad Mini and the 5C but not with tablets by competitors. Microsoft is in the second iteration of the Surface tablets, along with the Windows 8.1, which will allow its partners to produce products they were unable to produce with the Windows 8 platform. The Nokia (NYSE:NOK) event held in Dubai came on the back of the reports that 8M Lumias were sold in Q3, 2013. As impressive as these numbers are Nokia still showcased a breadth and depth of products that should expand on this growth and adoption. In addition to the Dubai event, engadget leaked an addition iPod shuffle type gadget that might also hit the markets soon. Couple these releases with progress from Intel (NASDAQ:INTC) with chips and new products from manufacturers (DELL, Lenovo (OTCPK:LNVGF), and Acer (OTC:ACEIY)) including products in the 7 inch realm of tablets. If Microsoft can catch up, relatively, and consolidate that elusive third place it will extend this fight to another round and give itself and its partners a chance to perfect their punches.
Apps: The one big knock against the Windows Phones (WP) platform has been the inadequacy of Apps. Microsoft may not be out of the woods here, but it has made enough progress to make this issue a smaller concern for potential customers. The WP app count grew from 50,000 in January 2012 to 170,000 apps in August. It has added quantity and quality with recent announcements of Flipboard and Instagram. I have personally never of the opinion that apps matter that much to the success of the Windows Phones. They are relevant but the critical drivers are market share and momentum. Once these two factors align the need to cajole or coerce developers disappears. A typical chicken and egg problem but one that cannot be solved exclusively with Microsoft's muscles or funds.
Conclusion:
Microsoft has been trying to get into a fight with Google and Apple with their Scroogled campaign and tablet commercials respectively. The courage to compare products and schedule launch events one day apart is indicative of the resurrection of the Mac v PC wars. Apple found it necessary to do the same when it was the underdog but it did not necessarily need to bait Microsoft into this fight because Microsoft was already there. If the folks at Apple really think software is destined to go the free route maybe they should try the open source route since they feel compelled to tell Microsoft how to monetize its business. Microsoft was lucky enough to have other growth segments as it struggled through its reorganization and it appears some of the many initiatives it threw at the wall are starting to stick. If the Nokia acquisition and the Dell partnership works out Steve Ballmer may become a genius in retirement.
Disclosure: I am long MSFT. I wrote this article myself, and it expresses my own opinions. I am not receiving compensation for it (other than from Seeking Alpha). I have no business relationship with any company whose stock is mentioned in this article.