Now a day's US companies are focusing on investing in new mobile, cloud and other smart technologies. Sometimes these technologies are the biggest revenue drivers for many companies. As of late, cloud computing has become one of the hottest IT enterprise topics. Within a few years cloud computing has reshaped the IT market because cloud offers 25% infrastructure savings on IT services and hardware expenses.
According to research conducted by Gartner, worldwide spending on enterprise software is projected to grow by 6.8% this year to $305 billion. Gartner also finds that the CRM (Customer Relationship Management) market is a fast growing market with an estimated annual growth rate of 15% over the period of 2012 to 2017.It is estimated to reach $36 billion by 2017.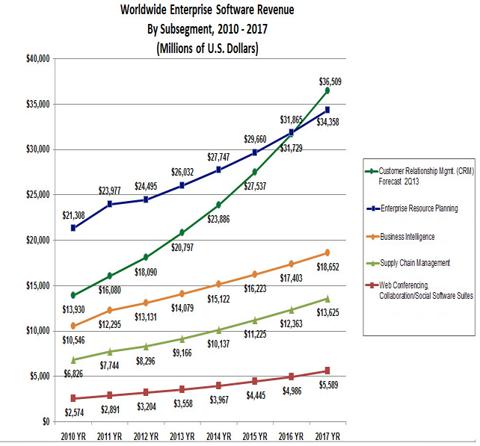 Source: Forbes
Due to these fast growing trends the cloud and enterprise solution market appears to be an attractive investment opportunity.
Salesforce.com, Inc.(NYSE: CRM) is the industry leader in enterprise software solutionsand it is growing by 30% on a year over year basis. The company offers diversified sales services and markets products through the cloud on both mobile and desktop interfaces.

Source: Y-Charts
Salesforce.com is currently trading at record high prices and appears poised to continue on this trend. Share price have increased more than 20% after reporting market topping second quarter results with a revenue growth of around 31% and earnings exceeding expectations by $0.02. Another contributor to the positive price performance is the company raising it sales forecast for full fiscal year 2014 to $4-$4.03 billion. Investors are optimistic about the recent performance results of Salesforce.com. Revenues continue to rise significantly and earnings are decreasing because of the company's acquisition strategy and heavy marketing expenditures put in place to capture market shares.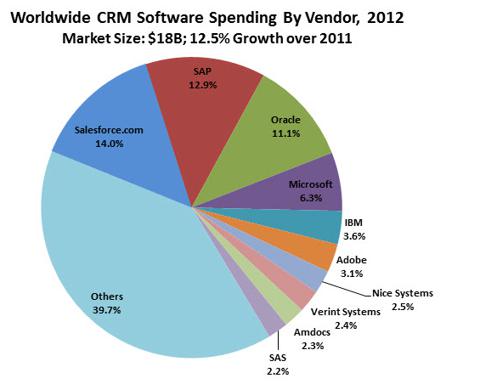 Source: Forbes
Salesforce.com is a globally-recognized CRM software vendor and boasted a 14% market share in 2012. They have outperformed other software peers such as SAP (NYSE:SAP), Oracle (NASDAQ:ORCL), Microsoft (NASDAQ:MSFT) and other vendors.
Recent Performance
Salesforce.com continues to be a fastest growing company with year over year growth of 30% in revenue as well as deferred revenue and operating cash flows. Salesforce.com derives revenue from two sources: subscription revenues and revenues related to professional services. Subscription revenues account for 94% of the overall revenue generated for the first half of fiscal year 2014 which is a 31% increase from the first half of fiscal year 2013.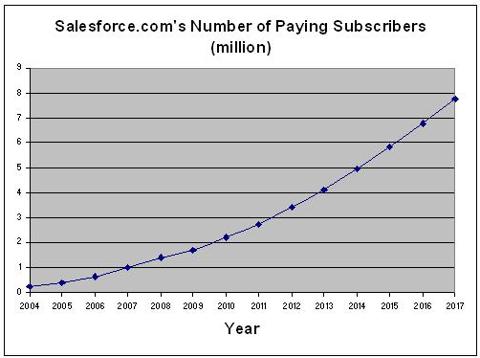 Source: Forbes
The figure above speculates that in the coming future the number of paying subscribers of Salesforce.com will increase by a significant amount. This is due to the fact that many companies are turning to Salesforce.com because of their innovative platform. Salesforce.com has been recognized by Forbes magazine as the most innovative company in the world for the third year in a row.
A useful way to evaluate the number of subscribers is to define a set of competitors in a given market and compare their inquiry level by software application category.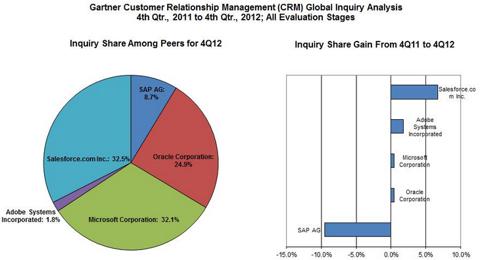 Source: Gartner CRM Global Inquiry Analysis
According to the research conducted by Gartner, the inquiry share of Salesforce.com had increased by more than 5% by the end of 2012 in comparison to the results of previous years. This increase in inquiry share has resulted in an increase in the number of paying subscribers for the company. On a positive note, none of the company's customers account for more than 5% of the total revenue of the company. Therefore the company is not dependent on any one subscriber.
Growth Opportunities
Recently Salesforce.com and Workday (NYSE:WDAY), a leader in enterprise cloud application for human resource and finance departments, announced plans to integrate their product lines to enable customer success. Customers would be able to receive direct updates from Workday through the Salesforce.com chatter page. This integration will speed up the decision-making process of the customers of both platforms due to increased availability of financial and operational data. This integration could make both Salesforce.com and Workday attractive to enterprises seeking to replace their legacy system with cloud software. Companies would not have to purchase third party tools and services to combine Salesforce.com and Workday services and would also have low cost implementation.
In the most recently ended quarter Salesforce.com completed its acquisition of Exact Target, an Indiana based company that develops software that allows marketers to target specific customers using e-mail and social media campaigns. Salesforce.com acquired this company for $2.5 billion.
According to Salesforce.com, combining their leading sales, service, and social media solutions along with Exact Target's digital marketing capabilities would enable the company to create a world class marketing platform. Combining Exact Target with the existing cloud marketing services of Salesforce.com would provide a great level of synergy. Also, the company is considering reducing the number of employees of their marketing cloud service by 200 people.
With the acquisition of Exact Target, Salesforce.com has been able to increase its sales forecast to $1 billion for the upcoming quarter. The company has spent four years trying to hit the billion dollar mark. Exact Target's contribution to overall revenues of the company in the remaining half of the year is expected to be $140-145 million.
According to Gartner, marketing was the fastest growing CRM category in 2012 and grew at a rate of 21%. The research firm is also predicting a 21% growth up until 2017. The acquisition of Exact Target was a strategic move made by Salesforce.com and this will accelerate the growth and increase the status of the Salesforce.com marketing cloud.
New Orders
Slaesforce.com has reported an amazing collaboration this quarter with Sysco, one of the world's largest food service distributors. Sysco has decided to use the Salesforce.com platform in their company-wide Sysco 360 initiative. This is one of the largest platform transactions in the history of Salesforce.com and is a great success for the company.
Salesforce.com has also completed a transaction with the iconic Louis Vuitton brand in the luxury retail sector to provide a new mobile app to manage clientele and platform clouds for more than 460 Louis Vuitton stores around the world. Other customers include Johnson & Johnson, Home Depot and Juniper. With the help of its innovative ability to provide solutions to every customer Salesforce.com is making its presence known throughout the market and this is very good news for investors.
Returns

Source: Y-Charts
In terms of returns Salesforce.com has outperformed its peers and the overall market with a hefty return of 36.57%. It is the performance leader among its peers which include Microsoft and Oracle.
Conclusion
The CRM market presents huge growth opportunity.Salesforce.com is poised to exploit this growing market thanks to its recent acquisition of Exact Target and the integration agreement between Salesforce.com and Workday.
Although the stock is trading at very high price multiples and appears to be expensive it has very strong growth potential which was explained in my analysis. I recommend buying this stock.
Disclosure: I have no positions in any stocks mentioned, and no plans to initiate any positions within the next 72 hours. I wrote this article myself, and it expresses my own opinions. I am not receiving compensation for it (other than from Seeking Alpha). I have no business relationship with any company whose stock is mentioned in this article.