"All of our reasoning ends in surrender to feeling." - Blaise Pascal
My how quickly the world has come from the doomsday, negative narrative of 2012 about Europe. In the not too distant past, calls for the Euro (NYSEARCA:FXE) trading at parity to the Dollar (NYSEARCA:UUP) were prevalent in the financial media. Europe would cease to exist and a global depression was the likely outcome of a flawed monetary system. Assets sold off to firesale prices, and the Mayans were about to be proven right about the end of the world.
Of course, it never played out that way. Draghi's "whatever it takes" line sparked a surge of market repricing, as junk country bonds and equities began turning around. Risk sentiment sparked confidence in the Eurozone, in turn causing a reversal in economic fortune, and narrowing of credit spreads. The power of words, it would seem, is more powerful than action. After all, the European Central Bank did not actually do anything policy wise. Rather, the removal of event risk and the promise of action was enough to cause bulls to rush back into depressed assets.
The move was entirely logical given crisis pricing at the time that had to come out, a theme which shares a similarity to my thesis about emerging markets (NYSEARCA:EEM) now. At some point, however, the crisis is priced out, and a correction can conceivably take place within the context of what may be a secular bull market. Take a look below at the price ratio of the iShares Spain ETF (NYSEARCA:EWP) relative to the iShares Germany ETF (NYSEARCA:EWG). As a reminder, a rising price ratio means the numerator/EWP is outperforming (up more/down less) the denominator/EWP.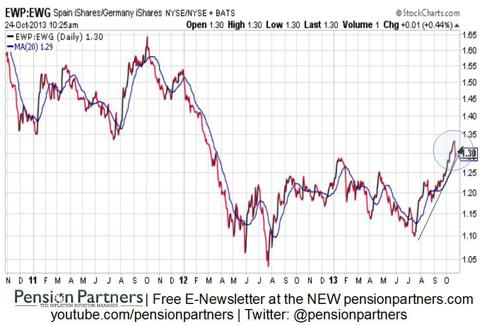 Click to enlarge
From the context of a broad country perspective, Spain's equity market is the equivalent of "junk"/high risk, whereby Germany is considered more the solid, safer play. Much of this distinction relates to debt and how the market perceives inflation and growth going forward, both of which more powerfully benefit indebted country stocks than those more cash rich. Note that Spain began outperforming Germany in mid-July, around the time Europe (NYSEARCA:VGK) overall began performing better than the S&P 500. The Spain/Germany price ratio became an indicator of sentiment on the region overall.
Yes - the trend is still up, but perhaps a bit extended and vulnerable to a pullback. The relationship clearly has more to go, which is why I am leaning more towards further upside potentially into next year, but near-term any kind of breakdown in the relationship could signal near-term volatility and a potential decline to come. Bottom line here? Keep watching this relationship. If you have Spain begin to meaningfully weaken relative to Germany, it may mean sentiment is beginning to favor less risk, and the Gray Haired Bears which have been eviscerated by the honey badger stock market for the bulk of 2013.
Disclosure: I have no positions in any stocks mentioned, and no plans to initiate any positions within the next 72 hours. I wrote this article myself, and it expresses my own opinions. I am not receiving compensation for it (other than from Seeking Alpha). I have no business relationship with any company whose stock is mentioned in this article.
Additional disclosure: This writing is for informational purposes only and does not constitute an offer to sell, a solicitation to buy, or a recommendation regarding any securities transaction, or as an offer to provide advisory or other services by Pension Partners, LLC in any jurisdiction in which such offer, solicitation, purchase or sale would be unlawful under the securities laws of such jurisdiction. The information contained in this writing should not be construed as financial or investment advice on any subject matter. Pension Partners, LLC expressly disclaims all liability in respect to actions taken based on any or all of the information on this writing.