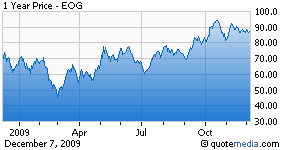 Analyzing third quarter results released after the market close on November 5, we reaffirm estimated Net Present Value (NPV) of $92 a share for buy-recommended EOG Resources (EOG). On that basis, unlevered appreciation potential is 4% to a McDep Ratio of 1.0 where stock price would equal NPV. Unlevered cash flow (Ebitda) approached our expectations in the latest quarter.
After the second quarter low point, the latest quarter looks like the start of a rising trend. Concentration on oil increases to 28% of NPV from 24% three months ago. Oil volume increased 17% in the third quarter over the second quarter and Chairman Mark Papa targets a 50% increase in 2010.
EOG has been acting on the uptrend for oil price traced by futures for the next six years staying above the 40-week average. New liquid volumes are coming from the Texas Barnett Shale and North Dakota Bakken Shale using horizontal drilling with multi-stage fracturing. In natural gas, EOG reports favorable well results with new technology in the Texas Haynesville Shale and British Columbia Horn River Shale. The new wells are the ultimate in flush production that must be followed up with continued drilling to sustain volume.
Originally published on November 6, 2009.