In centuries past, roses were planted with vines because the rose plants were sensitive to some of the things that afflict wines - black rot, bugs, etc. If the rose bush was suffering, it was time to break out preventative measures...life for a canary in a coal mine could be described in three words - short but meaningful. Early coal mines did not feature ventilation systems, so miners would routinely bring a caged canary into new coal seams. Canaries are especially sensitive to methane and carbon monoxide, which made them ideal for detecting any dangerous gas build-ups. As long as the canary in a coal mine kept singing, the miners knew their air supply was safe. A dead canary in a coal mine signalled an immediate evacuation.
We think small caps are to equity markets what canaries were to coal mines and roses to grape vines. Problems in large cap indices such as the S&P, FTSE, DAX, Nikkei and CAC are more often than not made obvious first in small caps. We think this is due to their relative illiquidity and cashflow sensitivity. In any event, studying the behaviour of small caps is vital to understanding the health of a bull market in stocks because we think that where small caps go large caps will follow.
A bull market is a bull market until proven otherwise. A bull market is characterized as a series of higher highs and higher lows. For the time being at least world small caps have yet to make a lower low or lower high. So they are still engaged in a bull market. However, that being said, they have yet to make a higher high, so as bulls we are a little nervous. But, not being ones to sit on the fence, we remain long equities as we have done so since October/November last year.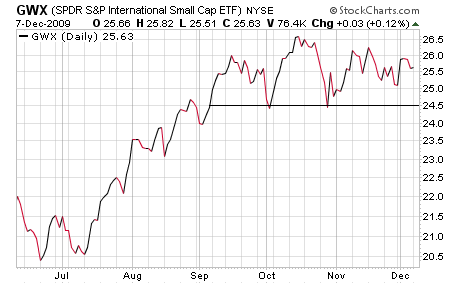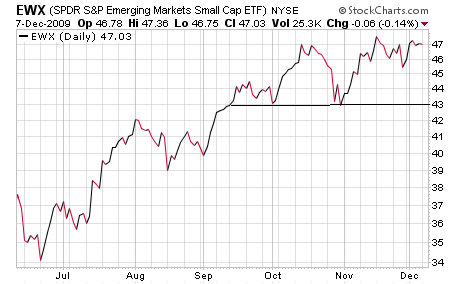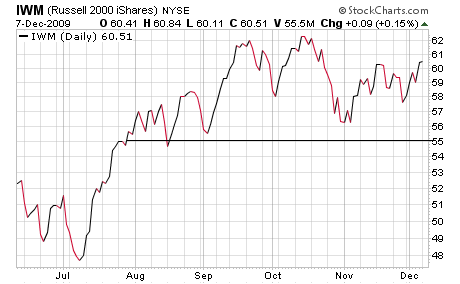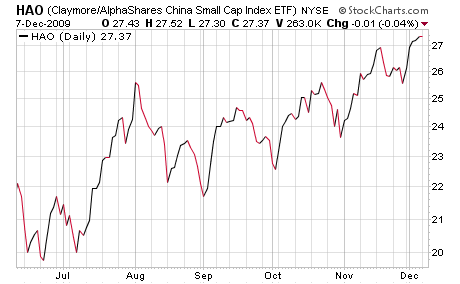 It there is one thing that is rather obvious from the charts above it is the continued relative strength of emerging markets. This is a rather bullish sign for equities in general because problems in world equity markets show up in emerging markets first, even if the problems originate in developed markets.
Disclosure: Long GWX, EWX