Despite a flat stock price for several years and much Wall Street bearishness about the future of personal computers generally, including the company's bread-and-butter operating system and software, Microsoft (NASDAQ:MSFT) is in a terrific position to grow income for years to come.
Microsoft is throwing off about 9% annually in free cash flow for its owners at $34 a share, but this sum could easily rise to 11% or higher with a large share buyback utilizing cash already on hand. I addressed Microsoft's high level of current, adjusted free cash flow in another Seeking Alpha article focused on Hewlett-Packard. This linked article provides a good overview of how strongly Microsoft's free cash flow stacks up against its peers presently.
At today's $34 stock price, Microsoft's dividend rate is 3.3% or about the same as the 30-year U.S. Treasury bond yield. The kicker is the Microsoft dividend payout should increase on a regular basis as profits and cash flows rise over time for shareholders.
The company had $112 billion in cash and long-term investments plus another $24 billion in short-term receivables and inventory on its balance sheet, with just $64 billion in total liabilities, at the end of the June 2013 quarter. Few companies available for public investment can match such a conservative ratio when measured against the $280 billion total stock market capitalization.
Share Buybacks
At the prodding of many activist investors in Microsoft, the board of directors reauthorized a massive share repurchase program a month ago, as a possible use of all the cash earning next to nothing. I applaud this decision, as it will be the prop for the stock price until a new CEO takes the reins, and help underpin the stock price in any general market sell-off. In addition, the proposed amount of $40 billion is easily affordable and represents about 15% of the outstanding shares. I cannot tell you how positive this springboard of share buybacks would be for long-term shareholders, if the company actually follows through with the plan. Examples of blue-chips that bought back shares at super-low valuations, later to see share prices skyrocket on the reduced float include the Gap (NYSE:GPS) and GameStop (NYSE:GME) during the last few years. Basically, any uptick in fundamentals at Microsoft will be exaggerated to the upside for serious Microsoft holders of stock, given a 15% reduction in the shares outstanding.
Altogether, the underlying value found in the high level of free cash flow generation, the substantial dividend return, and the liquid and conservative balance sheet produce an extremely positive margin of safety, as described in Ben Graham's famous investment analysis work. For blue-chip investors, the high margin of safety considerations and low stock price volatility witnessed during 2011-2013 should demand investor attention in Microsoft at this price point, but there's yet more to consider!
Break-Up Value
The various operating business parts making up an investment in Microsoft lend the company to a range of potential options to increase shareholder value. Puzzle pieces include: 1) perhaps the leading gaming division on the planet building the Xbox and related software, 2) one of the world's biggest online search engine organizations under the Bing product umbrella, 3) a top 10 general information website for international traffic in MSN, 4) the largest and most profitable computer system and software team on mother Earth, coding the Office Suite, Outlook for email, Windows operating system, Internet Explorer for online content, and others, 5) an enterprise division focused on big business infrastructure, including servers, cloud computing and related software development for the future of the internet, plus 6) a quickly growing presence in the smart Windows Phone space, a variety of mobile devices, and mini-laptops including the ground breaking Surface product.
Microsoft's current CEO Steve Ballmer announced his retirement intentions recently. While Mr. Ballmer gets a passing grade from myself and others for his leadership since founder Bill Gates stepped away from day to day management duties, the new leader of this high technology giant will likely come under increasing pressure to sell or spin off many of the parts of the business.
To optimize shareholder value overall, and refocus individual units on their specialized fields of competence, I agree with a number of hedge fund and activist investors that a reorganization of assets may provide the best long-term incentive for managers to maximize profits for Microsoft owners. Perhaps a long-term code sharing and licensing agreement between divisions, to offset the negative effects of decoupling into separate companies could help the transition. One of the main goals of the current Microsoft management regime is a fully-integrated product line using the same operating system as a crossover selling point.
A range of possible scenarios and outcomes exists with the numerous units. A more focused core business at Microsoft might transition faster to higher profit margin, cloud-based, subscription options for Office software like Adobe (NASDAQ:ADBE) is accomplishing with its graphics intensive software. Microsoft Office 365 began a cloud-centric rollout in early 2013, and already has several million subscribers. Astounding growth rates for this product (on demand for mobile devices lacking memory storage) are a testament to the enduring appetite for the company's software. An excellent article written by Michael Blair on Seeking Alpha this week provides a treasure trove of company growth data points including Office 365, and effectively argues the bullish case for owning Microsoft.
Without the consistent online information generated revenues from Bing and MSN, or successful Xbox growth rates to fall back upon, a do-or-die situation could refocus the main hardware/software divisions to better tackle the mobile device competition offered by Apple (NASDAQ:AAPL), Samsung (OTC:SSNLF), Hewlett-Packard (NYSE:HPQ) and Dell (NASDAQ:DELL) in the fully-integrated, in-house manufactured small computer and smart phone area.
The Xbox division could probably enter even bigger and better partnerships with smaller rivals, retailers and online users from the new level of flexibility and targeted capital spending on its future. Gaming giants from Nintendo (OTCPK:NTDOY), Sony (NYSE:SNE) and Activision (NASDAQ:ATVI) would have their hands full.
Perhaps most advantageous for shareholders in a Microsoft break-up scenario is the chance to sell off or fully partner the Bing search engine and MSN online website with Yahoo (NASDAQ:YHOO). The two companies already have a partnership involving the transfer of data that has allowed a big decline in Yahoo's capital expenditures for the development and maintenance of search. It is quite possible the entire Bing search enterprise and MSN could be rolled up with Yahoo's assets into a whole new company which could compete with Google (NASDAQ:GOOG) more directly and successfully. The new CEO at Yahoo, Marrisa Mayer, could largely fund a takeover with the coming cash on the IPO rollout of its Alibaba stake in China, and perhaps by liquidating its Yahoo Japan position. Yahoo could own the next largest and only other major search group vs. Google, plus integrate MSN's advertising and reader base into the main Yahoo webpages to effectively create the world's largest online newspaper, hands down.
Conclusion
While the average investor and Wall Street generally have grown weary of owning Microsoft's stagnant stock price in 2013, future price action may surprise to the upside. Given the expanding odds of a break-up scenario on the arrival of a new CEO, a stronger global economy in 2014, and a more realistic valuation of its durable fundamental operating returns, it's not hard to forecast a $45-$50 stock price in 12-18 months for Microsoft.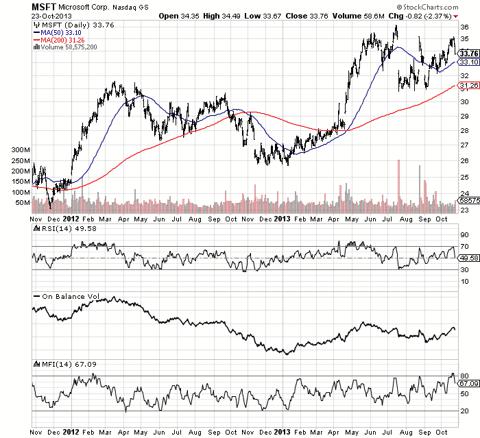 Click to enlarge
Chart courtesy of StockCharts.com
Disclosure: I am long MSFT, HPQ, ATVI. I wrote this article myself, and it expresses my own opinions. I am not receiving compensation for it (other than from Seeking Alpha). I have no business relationship with any company whose stock is mentioned in this article.