By Bryan McCormick
The Consumer Credit report Monday afternoon may well be a positive for the markets today. A much smaller-than-expected contraction came in at -$3.5 billion versus expectations of -$9.5 billion.

The only two major reports for Tuesday are retail data. As a result, we may see activity in the SPDR S&P Retail (XRT) and the Retail HOLDRS (RTH) exchange-traded funds, along with their underlying assets.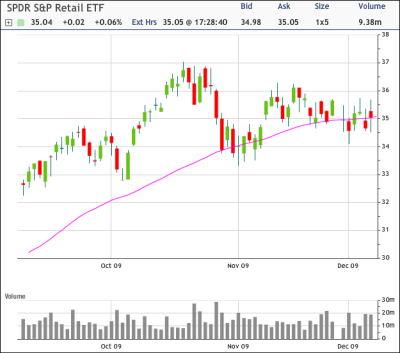 The ICSC-Goldman Store Sales report will be released at 7:45 a.m. ET. There are two components to the report, the week-over-week and the year-over-year changes. Most traders focus on the year-over-year numbers, which make for clearer comparisons.
The last week-over-week change came in at -0.1 percent, while the year-over-year registered a gain of 3.1 percent. Positive numbers would be seen as bullish while drops, reported as negative numbers, would be bearish.

Redbook Store Sales will be reported at 8:55 a.m. ET. There are two components to the report, the month-over-month and the year-over-year numbers. As with the ICSC report, most traders focus on the year-over-year data for clearer comparisons.

The last month-over-month change showed a gain of 5.2 percent and the year-over-year registered 3.8 percent. Negative readings would be bearish while positive numbers, especially in the year-over-year number, would be seen as bullish.

A report that could effect currency trading is the Bank of Canada announcement on interest rates at 9 a.m. ET. The expectation is for no action, with rates remaining at 0.25 percent. In the event of a surprise hike, we might actually see a jump in the Canadian dollar, which might be slightly bearish for the U.S. dollar.

(Chart courtesy of tradeMONSTER)