By David Russell
Investors are selling protection on New York Community Bancorp (NYB), one day after the stock hit a 10-month high.
optionMONSTER's tracking programs detected the sale of the December 13 puts for $0.45 and $0.50, a day after money flowed into the strike. Some 5,321 contracts changed hands, compared with more than 10,000 yesterday.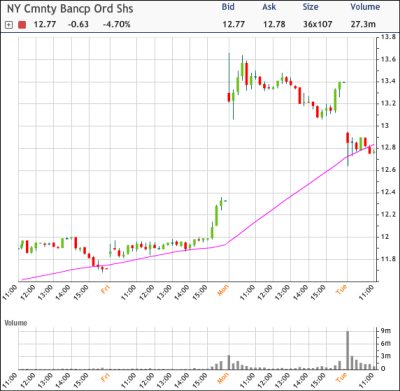 NYB fell 4.37% to $12.81 in Tuesday morning trading and is pulling back after testing a resistance level established in early February. The lender leapt 8.68% Monday after acquiring the assets of defunct AmTrust Bank from the government.
Today's put trading is noteworthy because it reflects a belief that NYB will hold approximately the $12.50 level, a peak from mid-April. The trades may have resulted from investors removing protection purchased yesterday or from volatility sellers writing new puts to earn premium.
Other investors are making outright bullish bets, purchasing December 13 calls for $0.25 to $0.30. More than 2,000 contracts traded against open interest of 1,146. Overall options volume in the name today is twice the average level.
NYB first appeared on our monitors late Friday, when investors bought calls and shares in the final hour of trading. The AmTrust news was released after the bell and triggered an upgrade of the stock the next trading day. The initial bullish activity has raised some suspicions of insider trading.
(Chart courtesy of tradeMONSTER)