Microsoft (NASDAQ:MSFT) has seen its stock climb in 2013, despite the PC market woes. The company's strength in the server and enterprise market as well as news of the Xbox One were the main reasons for the stock upturn. However, I think that it may be time to get out of the stock now, as it faces near term headwinds. The company's CEO, Steve Ballmer, is going to retire, which means that the company will see an increase in uncertainty and possibly turnover. Integration with Nokia's (NYSE:NOK) mobile handset business is also going to be hard. There are production overlaps between the 2 companies. MSFT will have to decide on eliminating either Surface or Nokia's new tablet. While Microsoft has a dominant ~95% marketshare in the PC market, it has not meaningfully added to its mobile OS market, where it remains a fringe player. The stock also is not as undervalued as it was last year with other mega-cap technology stocks such as Apple (NASDAQ:AAPL), Cisco (NASDAQ:CSCO) and Intel (NASDAQ:INTC) trading at cheaper valuations. Given these reasons, I am changing my earlier buy stance to sell.
Why I would Sell Microsoft
1) Management Change will lead to short term uncertainty
Steve Ballmer announced that he will resign from the CEO's position after the Surface fiasco. This means that company will undergo some turmoil. Even if the new CEO is a better one that Ballmer, the company will take time to adjust to the new leadership and its strategy. There is a lot of uncertainty on who the new choice will be. Stephen Elop who is the current Nokia CEO is being reported as one of the contenders. Alan Mulally and Mark Hurd are also in the race. A new CEO will not only have to radically overhaul Microsoft's strategy, given the competitive hits it has taken from Apple and Google (NASDAQ:GOOG), but also manage Nokia's integration. Existing hierarchies and power centers will undergo radical change. And any major change is followed by a period of underperformance even if the change pays rich dividends in the long haul.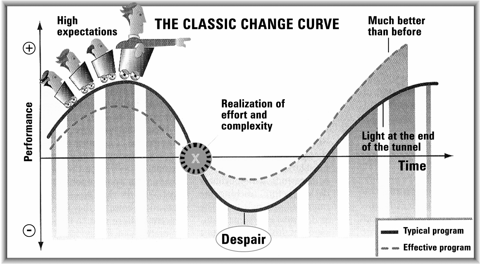 Source - Emeraldinsight.com
2) Relative Valuation no longer cheap
Microsoft used to trade quite cheaply when I recommended the stock, while Apple used to trade at much higher multiples; but now MSFT is not cheap in relation to other mega cap tech stocks. The company also faces similar, if not greater, challenges in the coming few years, so giving it a higher valuation might not make sense. Only Google amongst the giant technology companies trades at a steeper valuation.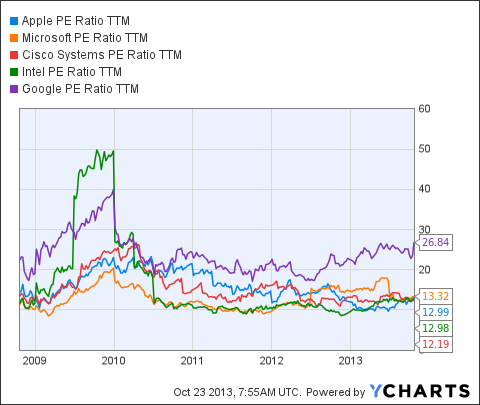 AAPL PE Ratio TTM data by YCharts
3) Google and Apple pushing Microsoft in the declining PC Market
The PC market is declining at an accelerated pace as smartphones and tablets are able to duplicate most PC functions at a lower cost. While a number of improvements in PCs/laptops have been made in recent times, the fact remains that PC/laptops are unlikely to regain their previous growth rates. Even in this declining market, Google and Apple are starting to increase their marketshare. Chromebooks running on Samsung (OTC:SSNGY), Acer (OTC:ACEIY) and Asustek (OTC:AKCPF) laptops have become highly popular due to their cheap prices and functionality (you don't have to pay a license fee for Chrome OS). This will eat further into MSFT's revenues and profits. While Apple is pressuring MSFT at the top end of the PC price market with Macs, Google is pushing MSFT at the lower end through Chromebooks.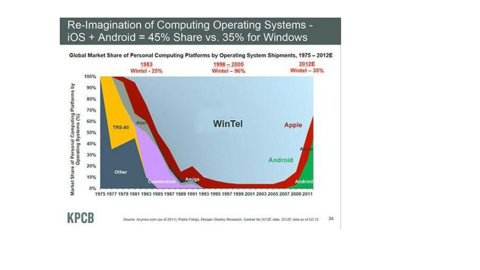 4) Encroaching into partner territory is fraught with risks
Microsoft is starting to seriously encroach into its hardware partner's business. The company has been in the tablet manufacturing business for over a year and now with Nokia buyout, it has entered the smartphone space as well. Windows was not getting many design wins before the Nokia buyout and now it looks almost impossible that MSFT will be able to persuade Samsung/HTC (HCCY)/LG (OTC:LGCEY) to start making Windows smartphones. Google has managed to maintain a good relationship with the major hardware companies despite buying Motorola. I am not sure how successful MSFT will be in persuading its OEM partners to bring out Windows products.
5) Pressure on the Office Suite
Microsoft remains the undisputed leader in the "Office Productivity" software segment with no product really challenging Microsoft's Office products. However, recent signs are not encouraging with Apple starting to give out its productivity software "iWork" for free. Google already freely gives its Google Docs software for non-business users. They are attacking Microsoft with the same "free" weapon that the company has used to browbeat users for a long time. Microsoft has also been forced to start selling its Office software on the iOS and Android platforms.
Upside Risks
1. Nokia has been doing well - While Microsoft Windows for mobile devices has been heavily criticized, Microsoft's partner Nokia has surprised with strong shipments of Lumia smartphones. Nokia is Microsoft's only ray of hope in the fast growing mobile OS market. The company unleashed 2 phablets (phone tablets) and a tablet, which shows that the company has been really innovating rapidly to catch up with its smartphone rivals. The Nokia 625 had really been doing well and the introduction of the new 6 inch smartphones should complete the smartphone portfolio. The only problem is that I am not sure how successful Nokia will be under Microsoft. The bureaucratic red tape might stifle Nokia's current innovative streak.
2. Server and Office segments continue to remain strong - Microsoft dominates the enterprise segment and its leadership in the server and database OS segments remains unrivalled. The majority of the professional world still depends on the Office suite. MSFT has also launched a cloud version Office 365 to bolster its leading position. The falling sales of Windows OS have been more than compensated by servers and office divisions. Google and Apple have not become big threats, despite increasing adoption of Google Docs by small and medium organizations. Non-Microsoft Office products still lack the polish and ease of use.
Stock Performance
Microsoft has underperformed most of its big technology peers in the last decade, even though it has shown a decent growth rate. I was bullish about the stock when it was in the $26-28 range but now in the middle 30s, I think it may be time to get out; along with the issues listed above. The stock has risen sharply over the last one year to top out at ~$36. The company now trades at ~$35, falling after the news of the Surface write-down. I think that the stock will either remain range bound or fall until we see some improvement in mobile visibility.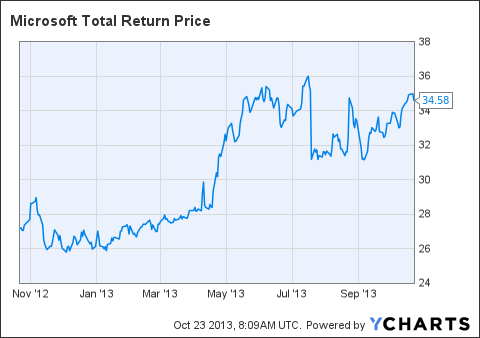 MSFT Total Return Price data by YCharts
Summary
Microsoft is a good solid technology company with a strong presence in the enterprise technology space. However, the company is not good at hardware and has repeatedly failed to make a mark in this area. The company faces near term headwinds in the form of a leadership change, difficulty in penetrating the mobile devices market and competitive pressures. The company's dominance of the overall computing OS market is severely challenged by Google and Apple who are taking the battle to the PC market as well. The company needs to work harder in order to keep its mainstay Windows platform more relevant, but I don't see that happening with the management in flux. I would sell MSFT and wait for a better entry point.
Disclosure: I have no positions in any stocks mentioned, and no plans to initiate any positions within the next 72 hours. I wrote this article myself, and it expresses my own opinions. I am not receiving compensation for it (other than from Seeking Alpha). I have no business relationship with any company whose stock is mentioned in this article.