Several weeks ago, I shared my bullish view on the Medical Device Manufacturers with my friends at TradeKing.
Since then, the sector has been very strong, especially the larger companies.
Today I want to elaborate on one of the smaller members of the industry, Synovis Life Technologies (NASDAQ:SYNO). While all small companies have some inherent risks due to their size and limited resources, I find this company to have very little downside due to its having over a quarter of its value in cash and a very low valuation due to the near-term dilution that is dragging down projected earnings in 2010. The upside, though, is tremendous, with the chance of getting back to its recent highs (prior to the acquisition) in the coming year, which would represent a 77% gain to my 23 target (described below). For those inclined to trade options, synthetic longs (selling puts and buying calls) provide even better risk-reward.
SYNO manufactures biological materials derived from cows that are used in surgeries. This is a high-growth trend, as these implants allow surgeons to avoid using tissue harvested from other parts of the patient's body (time-consuming and risky). SYNO is a small player in this rapidly growing field, but it has some highly regarded products. One in particular, Veritas, is growing over 100% due to its increasing use in hernia repair. SYNO has spent a lot of money to develop its own direct salesforce in North America as well.
I first started looking at the company in May and was astounded that the stock surged so much after it was confirmed that, despite very strong growth, earnings would be impacted by an aggressive plan to add to their salesforce. In early July, the stock was absolutely hammered over the week following an announcement that they were acquiring a company (Pegasus Biologics) out of bankruptcy. The cash cost of $12 million was very low compared to the annual run-rate of about that same amount, but the company suggested that restarting the company would incur about $8mm in operating losses over the following 5 quarters. You can see in the chart below the rally in May and the collapse in July. (Click to enlarge)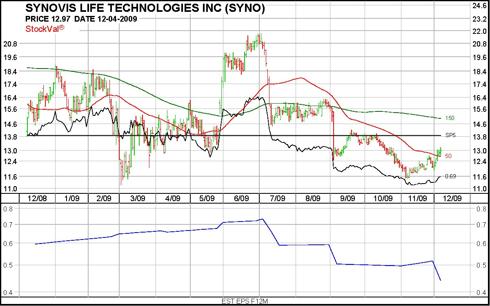 If you look at the bottom panel, you can see how the estimated earnings had been marching progressively higher until the dilutive deal was announced. The stock fell further in early September when the core business showed slightly disappointing yet still strong (12%) growth. In conjunction with tax-loss selling as well as lack of interest in the sector (as I had highlighted in the article I shared), the stock bottomed out in early November. Last week, the company reported strong growth (18%), but its outlook for FY2010 was a bit weaker than anticipated. The reason primarily relates to some delays in the new business (renamed OWC) but also due to some spending the company will do as well. Sales growth for the year of 15-20% (and about 25% including OWC) pleased investors, and the stock has rallied despite the lower assumed EPS.
SYNO is the largest position in my Top 20 Model Portfolio (average cost 14.02) as well as the second largest in a portfolio I manage. I initially bought the stock in July, so it has been somewhat disappointing to have experienced the double-bottom, but I am now very excited about what lies ahead. I believe that investors were onto something in late June, and that the OWC deal, though dilutive, could prove to be a grand-slam. According to my conversations with the CEO and CFO, the deal almost doubles their addressable market and gets them some great approved products and technology.
I think that the stock should trade at 17-19 at a minimum, and here is how I get there:
Cash of $5.35 per share

18PE on 2010 core earnings of about .67

à

$12

OWC (for which they are paying about $2 per share):

$2, with tremendous upside
The dilution from OWC pushes 2010 EPS from .67 to about .38 and makes the stock look quite expensive on a PE basis. Value investors should address the valuation as I have described above.
In 2011, a very conservative view would see that Cash will grow a bit ($5.50). The core EPS should grow to about .80 (note that the consensus, though, is only .63, which I believe is too low), and OWC should be approaching breakeven. I actually believe that the stock should trade at 22X, which yields 17.50 before adding back the cash for a 23 target a year from now (19 if one uses the consensus and the rest of my methodology). The upside beyond, especially as OWC becomes profitable, could be tremendous.
My target for two years from now is close to 30, though it depends on success from OWC and no stumbles in the core business. I view the company as a strong acquisition candidate and note that the company is actively repurchasing its stock.
The best investments are when good companies capable of strong growth are underpriced. I much prefer to bet on a winner that is cheap enough than a loser that is too cheap. If I am correct that it is a good company, time will make the investment work ultimately.
In this case, though, I view this as a strong company that is not only cheap enough, but way too cheap. I have shared my views that this stock could double over the next two years as it continues to grow its core business and gets OWC resurrected. The downside seems rather limited due to the intellectual property and the $5.35 in cash. The current $13 price implies that OWC is worth nothing, while the rest of the business (growing sales and earnings at 15-20%) is worth a PE of just 11.5.
Disclosure: Long in a portfolio I manage as well as in a model portfolio