Corning (GLW), a world leader in specialty glass and ceramics, caters to diversified market segments like television displays, mobile devices display, and telecommunication's fiber-optic cables. This diversified product line has been a key catalyst for its top line growth. In our last report, we mentioned how the company is expanding its display glass business by extending the use of its Gorilla Glass from mobile devices to markerboard. Gorilla Glass has been a star performer for the company since its launch in 2007, with annual sales reaching $1 billion last year.
In continuation of our coverage on this stock, we will discuss the downside risks Corning is facing in its biggest display technologies segment and how it is offsetting its negative impact.
Can the Gorilla save the LCD business?
No doubt about it, Corning is the leading manufacturer of glass substrate for liquid crystal displays, or LCDs, which is used in TVs, notebooks, desktop monitors, digital cameras, mobile phones, personal digital assistants, or PDAs, and Global Positioning System, or GPS, auto navigation systems. In a capital intensive display glass manufacturing industry, Corning has made significant investment for expanding its operations worldwide. The most important investment in display glass is its 50% equity stake in Samsung Corning Precision Materials, which is the leading supplier of LCD glass substrates to display manufacturers in Korea. Corning's investment in Samsung Corning Precision Materials stands at $3.35 billion as of fiscal year 2012. This investment has proven a good bet for capitalizing on the growing demand from LCD panel makers in Korea.
Glass manufacturing is a commoditized business; prices are determined by demand and supply factors. A decline in demand from panel makers, resulting in falling glass prices due to excess supplies in the market, has adversely affected Corning's LCD glass business. A slowdown in TV sales contributed to the fall in demand from LCD panel makers. As per NPD DisplaySearch's second quarter 2013 report, overall worldwide TV shipments were down 3% year-over-year, while LCD TV shipments posted a modest 4% year-over-year growth. One of the reasons for the fall in the demand was poor sales in China, which is the biggest market for TVs. Discontinuation of the government's TV purchase subsidy program in May this year affected the demand from Chinese consumers. This program encouraged TV purchases in China through government subsidies.
A fall in notebook and desktop sales further added downward pressure in glass demand. This fall was because of the rise in demand of smaller screen sized tablets and smartphones.
This slowdown in the TFT LCD glass substrate market has prompted Corning to capitalize on the growing demand for cover glasses for mobile devices. On a request from late Steve Jobs, who approached Corning back in 2007, Corning developed a durable and scratch resistance glass for iPhone, resulting in launching of Gorilla Glass. Every major smartphone and tablet manufacturer uses this cover glass today, and its usage isn't limited to smartphones and tablets. Corning has been expanding the Gorilla Glass application to touch enabled notebooks, markerboards, and now in BMW i8 car's rear window.
This glass made a significant contribution to the company's top line growth when its major display technologies segment (36% share in total revenue in 2012) was experiencing slowdown due to the fall in LCD demand and glass prices. Gorilla Glass is now featured in 33 major brands and is designed into more than 1,000 product models with more than 1.5 billion devices worldwide. So can Gorilla Glass continue its dominance in mobile device cover glass?
As per news reports, the new Sapphire glass provides more scratch resistance in the initial stage of usage and can be a potential threat to Gorilla Glass. However, its superior scratch resistance technology is negated by being bulky and more expensive. We don't see Sapphire glass as a threat to its Gorilla glass, as its glass is lighter in weight, durable, and cheaper than Sapphire glass. Looking at the Corning's cover glass technology, we believe it's unlikely that Sapphire glass will give a significant challenge to Gorilla Glass. Due to its high price, the applicability of Sapphire glass will be limited to expensive smartphones, which cater to a niche segment.
We believe Corning's Gorilla Glass will position the company to capitalize on the boom in the smartphone and tablet market. This will help it offset the slump in the biggest LCD glass segment.
Leading the innovation race
Corning is known for its innovative display glass products that it continuously develops to increase the application of its products. The best example other than Gorilla Glass 3 can be Willow Glass, which is an ultra slim flexible glass for curved displays. This innovative glass will support thinner backplanes for organic light emitting diodes, or OLED, LCD, and portable devices such as smartphones, tablets, and notebook computers. Here is a snapshot of how flexible this new Willow glass can be.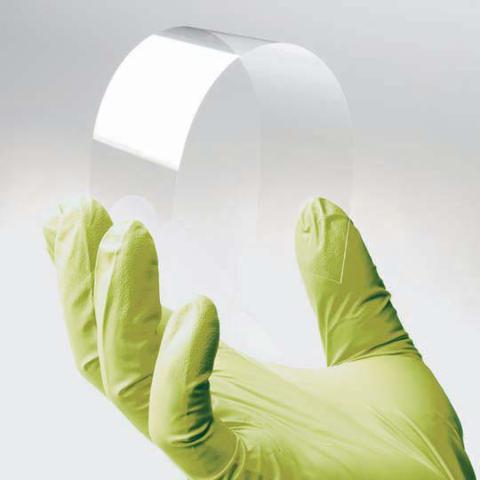 Willow Glass will be featured in upcoming curved display devices that handset manufacturers are planning to launch. Curved display is the future of mobile displays, with early adoption by manufacturers like Samsung (OTC:SSNLF). The company recently launched its Galaxy Gear, which can perform features of a mobile phone when connected with a supportable smartphone like Galaxy Note 3. The company has extended the use of curved display with the announcement of Galaxy Round, the world's first smartphone with a curved display.
Samsung made headlines in June with the launch of its first high resolution curved TV with OLED display. The company is making a bold move in curved display segment with its series of products, which are aimed at providing enhanced user experience during viewing. This will keep Samsung ahead of its competitor in the curved display device segment.
Another smartphone manufacturer, Apple (AAPL), is also developing its smartwatch, named iWatch, as per news reports. iWatch will have a curved display with expected usage of Corning's Willow glass. The company was among the early adopters of Corning Gorilla Glass in its iPhone, and Apple still uses it in the latest iPhone 5S and 5C. Both 5S and 5C device sales beat iPhone 5's first weekend record, and with China Mobile's (NYSE:CHL) network, Apple is expecting a boost in iPhone sales, especially in China. Apple has been one of the key clients for Corning. With expected usage of Willow glass in its iWatch, this relationship will get stronger, thus proving as an important revenue generation source. Corning has been featuring its glass in different types of devices, and now with its willow glass, the company will enter the smartwatch market.
Wearable Smartphone is the future of communication technology. With the launch of Willow glass, Corning has made the right move at the right time to bet on this next generation technology.
Conclusion
The display industry is experiencing a negative trend in the demand of LCD, resulting in a fall of glass substrate prices. One of the known positive catalysts for the TV market, China's Golden Week, didn't help revive the TV sales in China this year. Golden Week in China is a seven day national holiday experienced in October, in which consumer buying is at peak due to increased spending by the people. This is widely followed by retailers due to growth in product demand. As per a Display Search report, LCD TV sales during this week declined 5% year-over-year, which indicates that ending of the government TV subsidy is clearly hurting the sales in China. Corning's major customers in LCD glass substrate, AU Optronics and Chimei Innolux, are expected to reduce their utilization rate at their facilities for the rest of the year, thereby adding to the decline in demand for glass.
Corning has been quick in transition from LCD glass substrate manufacturers to cover glass manufacturers for mobile devices, and with its equity partnerships like the one with Samsung, the company has expanded its global presence through shared risk and capital.
Corning is currently trading around $17. With a five year expected price earning to growth, or PEG, ratio of 0.98, this stock is undervalued with upside potential in the future. Investors can expect growth in the company's earnings for next year coming from gorilla glass sales and stability in LCD glass prices. Corning's forward P/E of 10.56 for the next fiscal year, as compared to its Trailing 12 months P/E of 11.65, substantiates the growth potential. Due to the company's strong growth fundamentals coming from its Gorilla glass sales, we reiterate our buy rating for this stock.
Disclosure: I have no positions in any stocks mentioned, and no plans to initiate any positions within the next 72 hours. I wrote this article myself, and it expresses my own opinions. I am not receiving compensation for it (other than from Seeking Alpha). I have no business relationship with any company whose stock is mentioned in this article.
Additional disclosure: Fusion Research is a team of equity analysts. This article was written by Rohit Gupta, one of our research analysts. We did not receive compensation for this article (other than from Seeking Alpha), and we have no business relationship with any company whose stock is mentioned in this article.