In our previous article on this subject, we discovered that, within the S&P 500, non-paying stocks had outperformed dividend paying stocks in the first 2 quarters of 2013. This trend continued in 2013's 3rd quarter: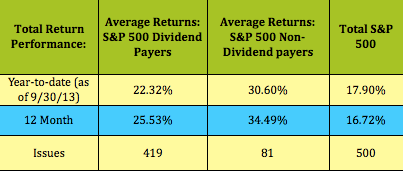 So, should you abandon steady dividend streams and try to time the market with non-paying stocks? Take a look at the S&P 2013 non- dividend paying winners as of 9/30/13. 4 stocks out of this top 10 group aren't profitable firms, the highest yielding stock, Pitney Bowes, (NYSE:PBI), has a Price/Book of over 185 and a mountain of debt, and the 2nd best performer, Netflix, (NASDAQ:NFLX), has a P/E over 400! PBI also had a Short Ratio of over 15 as of 9/30/13.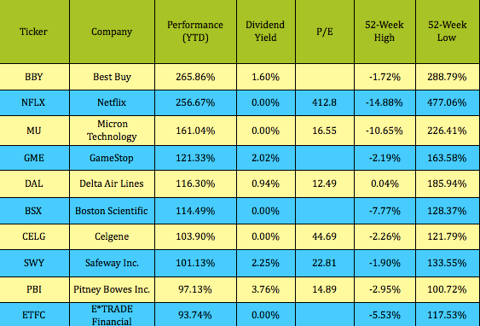 Click to enlarge
Here's a look at the Top 10 performing S&P 500 dividend stocks. This list was screened for dividend yields over 1%, positive profits, and a short ratio below 5%: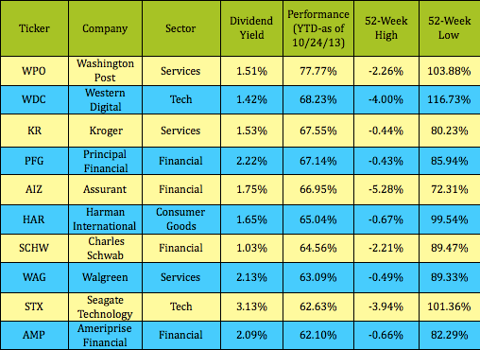 Click to enlarge
Here are some additional numbers on this group. Oddly enough, in our present low interest-rate world, the most common feature among this group is fairly low debt/equity ratios, (with the exception of Kroger, (NYSE:KR). P/E - wise, Washington Post, (WPO), is an outlier, with a P/E above 100, and Seagate, (NASDAQ:STX), has the lowest P/E of the group, at 10.14. (More on STX later in this article):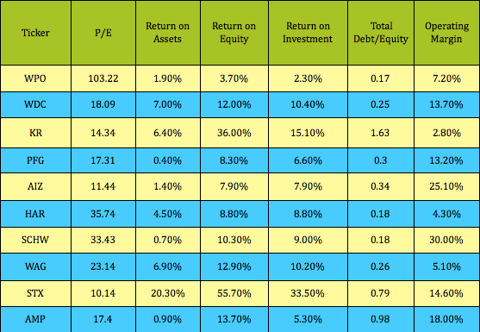 Click to enlarge
Options Opportunities: 2 stocks jumped out in the above group as still being undervalued on a PEG basis - STX and Harman Industries, (NYSE:HAR).

Click to enlarge
We've added them to our Covered Calls Table, using trades with January 2014 expirations. If you're looking to hedge gains in either of these stocks, selling covered calls offers you some immediate attractive short term income. Both of these stocks have fairly high options yields that outstrip their dividends and lower your breakeven cost. (Covered call trades for BA and MSFT are also listed in our table):

Click to enlarge
Another Approach: Given the price gains in these 2 stocks, you could instead sell puts below their current share prices, which would make your breakeven even lower. You can find more info on these and over 35 other trades in our Cash Secured Puts Table:

Click to enlarge
We also looked at the DOW 30, and again screened for dividend yields over 1%, profitable firms, and short ratios below 5%. We've written about Boeing, (NYSE:BA), the top stock in this DOW group in other articles. It looks like the market finally believes.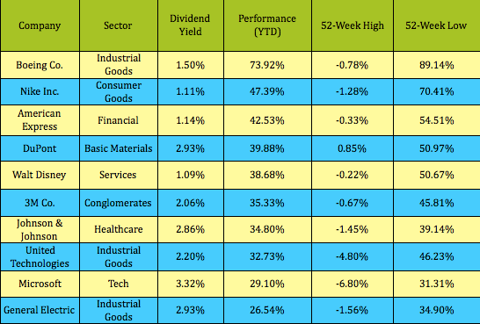 Click to enlarge
Financials: Although BA has the lowest Operating Margin in this group, they rule the roost on ROE, with a 100% ratio.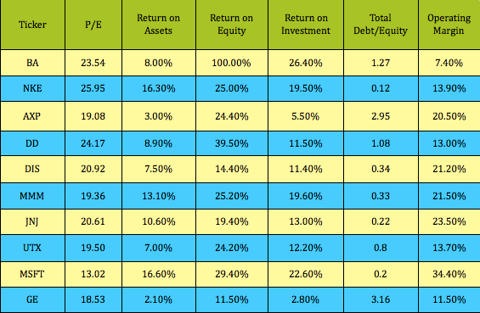 Click to enlarge
Disclaimer: This article was written for informational purposes only.
Disclosure: I am long STX, MMM, BA, DIS, MSFT. I wrote this article myself, and it expresses my own opinions. I am not receiving compensation for it (other than from Seeking Alpha). I have no business relationship with any company whose stock is mentioned in this article.