It's been about ten days now since chip giant Intel (NASDAQ:INTC) reported its fiscal third quarter results. While the headline numbers beat analyst expectations, it was not a great all-around report. Revenues were actually below the company's guidance midpoint, and Q4 guidance was light. Since then, analysts have been whacking away at Intel's 2014 forecast, and a key product delay may be to blame. Today, I'll analyze why Intel's 2014 story may be doomed before it even starts. I'm not the only one that feels this way, as Intel's short interest hit another new high at the mid-October update.
A key delay:
One of the biggest items out of Intel's latest report might not have been a strictly financial one. Intel plans to start manufacturing 14nm (Broadwell) CPUs in Q1 of 2014, a quarter later than originally planned. That means the commercial launch will be in Q2, implying sales will be pushed back by a quarter as well. This has huge implications for 2014, and pushes Intel's growth story further back.
Revenue estimates coming down:
Intel's guidance for Q4 was weak, with a revenue midpoint of $13.7 billion. That trailed analyst expectations for $14.02 billion, and was the largest guidance miss in more than a year and a half. There was some speculation that Intel was being conservative. However, I noted in my earnings article above that this was the 5th time in 6 quarters that Intel issued below expected guidance. If this was a one-time thing, I can see the "conservative" argument, but this has been a pattern for the chip giant. Analysts obviously have taken this guidance to heart, reducing their forecast to a current $13.73 billion average. That's still 1.9% growth, but less than half the 4% they were looking for going into Intel's Q3 report.
Obviously, issuing weak Q4 guidance and barely beating on the Q3 front means the 2013 full year forecast has to come down. It has, coming down from $52.88 billion (negative 0.9%) at the Q3 report to $52.63 billion (negative 1.3%). While a 1.3% revenue decline doesn't seem like a big issue, this decline is important because it would represent the second straight year of declining revenues for Intel. After a peak of $53.999 billion in 2011, Intel's revenues declined to $53.34 billion in 2012. Don't forget, Intel's initial forecast for 2012 implied about 7% to 9% growth. As the 2012 growth story evaporated, it became apparent that 2013 would have to be the rebound year. We all know how that has turned out. It's becoming apparent that 2014 is supposed to be "the year", but as you can see from the table below, that might not even happen. Look how much 2014 estimates have declined, and we haven't even finished 2013 yet.

*Growth numbers for 2014 are based on the 2013 estimate at that point. As the 2013 numbers have changed, that will impact the growth number for 2014 estimates at the same revenue/earnings level.
A net income problem:
There's a big problem when a large company like Intel, in a very competitive industry, cannot meet its revenue forecasts. The company usually has a set plan for its expenses. When Intel starts the year at a growth forecast in the high single digits, but ends up with a decline instead, they may not be able to cut expenses accordingly. This is especially true when you are trying to get new and revolutionary products out. Intel's net income has taken a nosedive the past two years, as you can see in the chart below. For the Q4 of 2013 figure, I have projected a net income value based on the company's guidance.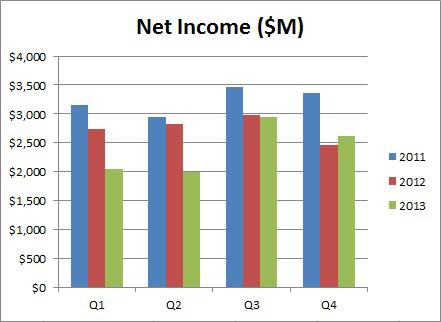 Intel saw a near $2 billion decline in net income during 2012. Even though this year's Q4 is expected to show a small increase, the first increase in a few years, the 2013 net income figure is expected to be down another $1.4 billion roughly. Current projections see Intel having net income of $9.61 billion this year, down from $12.94 billion in 2011. Again, it's hard to cut expenses very quickly when you don't generate the revenues you are hoping for.
Obviously, earnings per share have been hit hard, dropping from $2.39 in 2011 to a currently forecasted $1.89 this year. That includes the fact that Intel's share count is down about 6% over the two-year span. If not for Intel's buyback, earnings per share would be even lower, and this would look like a complete disaster, if a 50 cent fall wasn't that already.
You can see from the chart above that net income is starting to rebound a little late in 2013. Analyst forecasts have Intel earnings per share showing improvement in the first half of 2014, then declining again in the second half. Current estimates call for $1.92 in earnings per share in 2014, a measly three cent gain from this year's expected $1.89. If Intel gets the share count down by another 1% or so next year, that basically implies a year of flat net income.
Falling net income isn't just bad in itself. It also usually means that cash flow is reduced. Intel will still have some add-backs from depreciation, amortization, and share based compensation. However, you can't always count on adjustments or working capital changes to bail you out. In fact, Intel's cash generated from operating activities was down about $2.08 billion in 2012, a little more than the drop in net income. Intel is also spending heavily on capital expenditures, and while it has cut the 2013 capex forecast twice (it was too high to begin with), it still may not be enough. Another $1.4 billion decline in net income will hurt. If Intel can't produce enough cash flow, it won't be able to raise its dividend or buy back a lot of stock. Intel investors have been really frustrated in 2013 because the buyback has slowed down tremendously and the dividend has not been raised. If Intel doesn't raise the dividend in January, I will be sounding an alarm.
Why Intel needs Apple (NASDAQ:AAPL):
If I haven't convinced you already that Intel's 2014 isn't looking good, I'm not sure what will. You really don't see any major tech names like this producing revenue declines for one year right now, let alone two, or maybe even three. Intel has admitted it was late to the mobile party, but that's only half of the process. The second part is playing catch up, which the company is struggling to do.
Intel's Haswell is already inside Apple products, including some of the newly released Macs. But that's not enough, because the total Mac line for Apple is expected to produce only $22 billion in revenues this fiscal year for Apple. That's a little more than one-eighth of Apple's total revenues. In terms of product lines, the Mac line is in third place, a bit behind the iPad but way behind the iPhone.
So why does Intel need Apple? Well, other than the obvious financial benefit for Intel, the key word is perception. Intel is still being dragged down by those that see it as the struggling PC chip maker. With the PC industry not what it used to be, thanks to the mobile revolution, Intel needs to shake off the PC image. Intel is starting to get into tablets, and Haswell is in Microsoft's (NASDAQ:MSFT) Surface 2 Pro, but it's not enough in my opinion, not yet anyway. Microsoft is off to a slow start with its tablets. Even in its worst iPad sales quarter of the year, Apple is expected to sell somewhere between 11 and 16 million iPads. The new line features the 64-bit A7 CPU. SA's Ashraf Eassa makes a compelling argument for Intel's 64-bit weapon, but again, it will be late. Apple has already launched the new set of iPads, which will dominate tablet sales for the holiday season. Intel and Microsoft may have an advantage down the line, but Apple is definitely winning the race right now.
So the question is when, maybe if, Intel can get into the iPad, and maybe even the iPhone. Well, had Intel been a little earlier to the mobile revolution, Intel might have gotten into more Apple products by 2013 or maybe 2014. But at this point, it's not even a certainty that 2015 is possible. I really think Intel needs Apple at this point, not only for the financial part of it, but perception as well.
Comparing to other top tier techs:
It's hard to compare Intel against other chip names, as there aren't any names that have the same revenue base, growth profile, dividend, or other characteristics. Lately, I've been providing a number of comparisons against other general large cap technology names. These names, including some I've already discussed, have similar balance sheet sizes, revenue bases, and dividend yields compared to Intel. I'll throw in Cisco Systems (NASDAQ:CSCO) because it fits too. So here's a table of fiscal year growth, valuation, and dividend comparisons.

*Non-GAAP EPS and P/E values.
**Microsoft numbers are before company's large Q1 beat and associated after-hours price movement.
With the reduced expectations, Intel now has the lowest growth profile of any top tier tech name. Intel does have the highest dividend yield, but a 20 cent or so quarterly payout doesn't help a lot when the stock moves a couple of bucks at a time. The interesting point is that Intel's valuation is basically in line with the other names. That's odd, given the reduced expectations, lack of dividend raise, and reduced buyback. Apple looks like a steal based on these numbers, given Apple's very strong buyback and growth profile. It will be interesting to see how Microsoft's and Apple's numbers look in a few weeks now that we are in the heart of earnings season.
Technical trouble:
I've mentioned in my last few updates that Intel is getting close to a key technical event. I'm talking about the death cross, where a short-term (generally the 50-day) moving average crosses below a longer-term (generally the 200-day) moving average. Had Intel declined after earnings, the death cross probably would have been hit already. This little rally has pushed the timetable back a bit, but it is only a matter of time. Should Intel shares come down in the next few weeks, the death cross will be hit. You can see how close the two moving averages are in the chart below.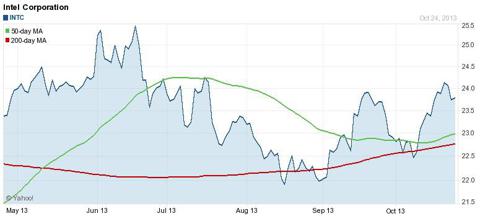 (Source: Yahoo! Finance)
The last time this event happened, shares fell from $26 to $19. That was part of the move in late 2012 when Intel warned for Q3, but technicals helped accelerate the drop. The best way for shares to avoid the death cross is to stay elevated, which is easier said than done. Even a decline to roughly $23 will make the death cross an inevitable event. When the death cross is hit, it is possible that shares will decline by a dollar or two. However, I do think Intel will see support starting at the 4% dividend yield, which is $22.50.
Final thoughts:
Intel's disappointing Q4 guidance and Broadwell delay has analysts scrambling to cut their revenue and earnings forecasts for 2014. At this point, Intel's 2014 growth story seems doomed, with analysts not even expecting revenues to rebound to 2011 levels. Intel's big growth year looks like it will be delayed again, as the company struggles to catch up in the mobile revolution. A move into more important Apple products would certainly help, but that probably isn't happening anytime soon. Since the stock has held up since earnings, despite expectations coming down, I wouldn't recommend shorting Intel here. I wouldn't recommend buying either just yet, as I do think there is some downward pressure left, including possible technical selling. I'd recommend you look at Intel via dividend points, with the next level of support at 4.00%, or $22.50, followed by 4.25% at $21.17.
Disclosure: I have no positions in any stocks mentioned, but may initiate a long position in AAPL over the next 72 hours. I wrote this article myself, and it expresses my own opinions. I am not receiving compensation for it (other than from Seeking Alpha). I have no business relationship with any company whose stock is mentioned in this article.
Additional disclosure: Investors are always reminded that before making any investment, you should do your own proper due diligence on any name directly or indirectly mentioned in this article. Investors should also consider seeking advice from a broker or financial adviser before making any investment decisions. Any material in this article should be considered general information, and not relied on as a formal investment recommendation.