Amazon (NASDAQ:AMZN) shares closed 1.67% higher yesterday at $332.21 after presenting Q3 results. In my opinion those results confirmed that Amazon's share performance has run way ahead of its underlying fundamentals. I do recognize that investors get attracted to in-play stocks, usually momentum-investors who disappear as quickly as they emerged, and sexy accomplishments such as double-digit net sales growth, new tablet roll-outs etc.
In fact, Amazon's results and market valuation starkly remind me of the Dotcom bubble in the late 1990s. Amazon's Q3 results included the following results:
Net sales increased 24% to $17.09 billion in Q3 2013 compared with $13.81 billion in Q3 2012
Operating loss of $25 million in Q3 2013 compared with an operating loss of $28 million Q3 2012
Net loss in Q3 2013 of $41 million ($0.09 per diluted share) compared with a net loss of $274 million ($0.60 per diluted share) in Q3 2012
Q3 2012 also included a loss of $169 million ($0.37 per diluted share) relating to impairments charges with relation to its LivingSocial investment.
With y-o-y losses persisting (on massive revenues of $17 billion that is) it remains a mystery why this company would trade at 100x forward earnings or forward free cash flow. Apparently, a transfer of a low-margin retail business to the e-commerce space seems sufficient to justify a sky-high valuation which clearly is detached from fundamentals and common sense - just like in the late 1990s.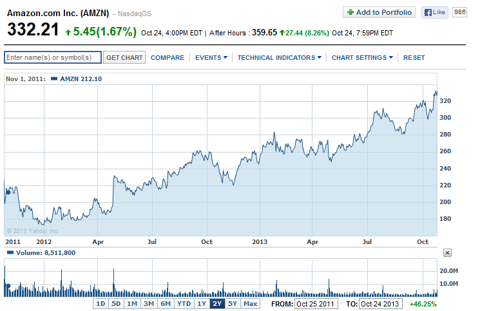 Click to enlarge
Free cash flow
Amazon's operating cash flow growth isn't justifying a triple-digit multiple either. H1 2013 operating cash flows already were $352 million lower than H1 2012 figures. My cash flow projections for Amazon's 2013 and 2014 free cash flow to equity valuation are summarized below. Cash flows are grown forward under consideration of historical growth rates and projected cash flows do not exhibit large deviations from past realizations. Net borrowings played a vital part in Amazon's 2012 results: Without net borrowings of $2.8 billion the free cash flow to equity would have been a negative $350 million.
Amazon's estimated 2014 forward P/FCFE ratio stands at a mindless 100x (net borrowings contribute about 33% of 2014 FCFE) and the free cash flow yield at 1%. If net borrowings in the model below would be set to zero for 2014, free cash flow profitability would fall to 0.67% indicating that Amazon trades at out-of-touch multiples and remains extremely overvalued. Amazon also trades at 115 times forward earnings validating the high forward FCF multiple derived in the model below.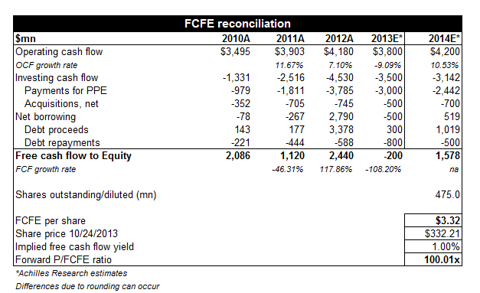 Click to enlarge
Conclusion
Net sales growth projections don't matter but results do. Amazon trades at a Dotcom valuation of 100x estimated 2014 free cash flow and 115x forward earnings despite continued net- and operating losses. Amazon shareholders are too focused on sales growth but should turn their attention to the underlying financials like earnings and free cash flow which are utterly out of balance with Amazon's market valuation. Until Amazon achieves meaningful profitability it remains an online Wal-Mart (NYSE:WMT) with a Tesla (NASDAQ:TSLA) valuation.
Disclosure: I am short TSLA. I wrote this article myself, and it expresses my own opinions. I am not receiving compensation for it (other than from Seeking Alpha). I have no business relationship with any company whose stock is mentioned in this article.