Some ETF concepts look plasma TV sharp. In fact, the brand new Claymore China Technology Fund (NYSEARCA:CQQQ) shines so brilliantly on the screen, it even captures the essence of the NASDAQ 100's magical ticker, QQQQ.
Yet, will "China's Q's" provide sector exposure that is decidedly different from the PowerShares QQQQs? How about genuine diversification from existing China funds like iShares China 25 (NYSEARCA:FXI), Claymore China Small Cap (NYSEARCA:HAO), and/or Claymore China Real Estate (NYSEARCA:TAO)?
The answer lies in how one defines diversification. For instance, over the last year, the correlations between all of the above-mentioned China assets are nearly perfect at .99 or 1.0. When one moves higher or lower, the other moves in the exact same direction 99x or 100x out of 100 tries. And that suggests a lack of diversification.
On the other hand, this does not mean that the volatility of the ETFs are similar, nor does it imply that investment returns are identical. Through 12/7/2009, the year-over-year returns for FXI, HAO, and TAO are 49%, 123% and 88% respectively. In the matter of risk-v-reward, then, owning all 3 provided a measure of non-book-defined "diversification."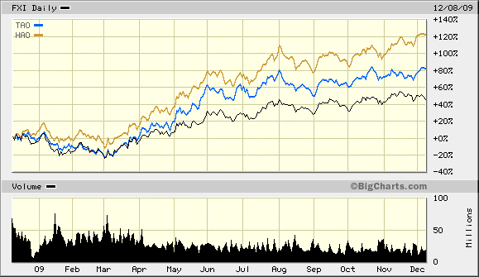 In this manner — the manner of different economic segments of China — one can now go beyond real estate. The investor gains exposure to 34 Chinese "info-tech" companies listed on the Hong Kong, China or Macau exchanges. Initial market cap of those 34 companies must be $200 million to be included in the Claymore index which currently include familiar names such as Baidu, NetEase and Alibaba.
Fundamental purists might have a field day with the current P/E and P/B for the Claymore China Technology Fund (CQQQ). A P/E of 37.5? A P/B of 8.7? That's not quite at the "New Economy" bubble levels for the Year 2000 QQQs, but still, yikes!
You might need nerves, lungs, fists, kidneys and a stomach of steel for CQQQ. It's a ride I don't see myself taking if for no other reason that China Small Cap (HAO) and SPDR Emerging Asia (NYSEARCA:GMF) have been doing the trick for me.
That said, I'll probably tune into the possibility of a China Utilities Fund and/or a China Telecom Fund. I am going to need a whole lot more yield to offset the probable price fluctuation in China sector funds.
Disclosure Statement: Gary Gordon, MS, CFP is the president of Pacific Park Financial, Inc., a Registered Investment Adviser with the SEC. The company and/or its clients may hold positions in the ETFs, mutual funds and/or index funds mentioned above. The company does not receive compensation from any of the fund providers covered in this feature. Moreover, the commentary does not constitute individualized investment advice. The opinions offered herein are not personalized recommendations to buy, sell or hold securities.