by Chris McKhann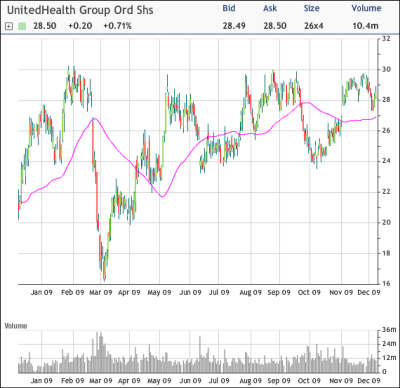 One trader is using a complicated option strategy to bet on an upside break in UnitedHealth Group (NYSE:UNH).

Shares of UNH are trading up 0.71 percent to $28.50, running back up toward the resistance level that has been in place around $30 since August of 2008. The price has bounced in this range between $24 and $30 since May.

Now one options strategy appears poised to capture the upside if UNH can break up through that resistance level. There was one trade that involved 3,250 of the March 32 calls traded for $1.23 and 6,500 of the March 23 puts traded for $0.65. The open interests were 1,518 and 897 respectively, so both sides of this trade were opening positions.

Given the change in the options pricing, it appears that this trader was buying the calls and selling the further out of the money puts to offset the cost. Given that they sold twice as many puts, they take in a credit on this trade, which will be kept with UNH shares anywhere between $23 and $32. If shares are below $23 at expiration, they will be long UNH, but they have considerable upside profit potential if UNH breaks out and can get above that $32 level.
(Chart courtesy of tradeMONSTER)