Ever since news of Chinese banks making massive write-offs and a parallel spike in China money rates stoked renewed fears over the Chinese financial system, the Australian dollar (NYSEARCA:FXA) has pared recent gains. I have used this opportunity to switch out of a net short to a small (I remain wary!) net long position as I indicated in the last post on the Australian dollar. Interestingly, futures traders are looking past the latest churn in China financial news and seem more focused on the slightly hotter than expected inflation numbers in Australia.
On Wednesday morning (Australia time, October 23, 2013), Australia reported its Consumer Price Index (CPI) at 2.2% year-over-year, well over the 1.8% expected number. The surprise was smaller for the CPI Trimmed Mean: 2.3 versus 2.1% year-over-year. Subsequently, the RBA Rate Tracker moved from 90% odds of no change in rates for the November monetary policy decision to a 93% chance. This move suggests to me that the futures market considers the Chinese financial news as either temporary and/or something that has no impact on the upcoming decision.
Accordingly, I think the pullback is playable for a trade to the long side.
Here is what the Australian dollar looks like from an intraday basis against the U.S. dollar: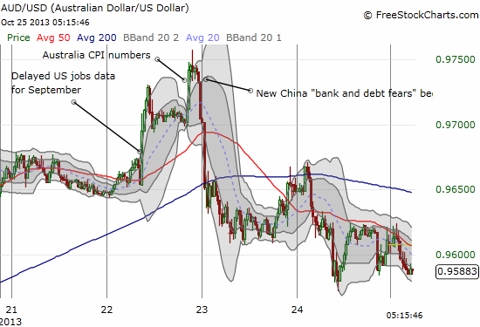 Australian dollar swings downward for the weak despite strong inflation numbers
The end result is that the Australian dollar has weakened across all major currencies, giving back recent gains in the wake of the resolution of the U.S.'s latest round of fiscal fiddling.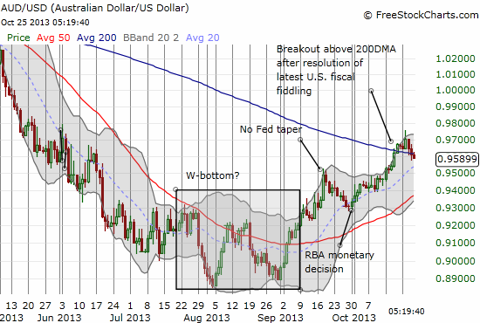 While the breakout above the 200-day moving average (DMA) looks much weaker, the Aussie remains in a strong uptrend from the W-bottom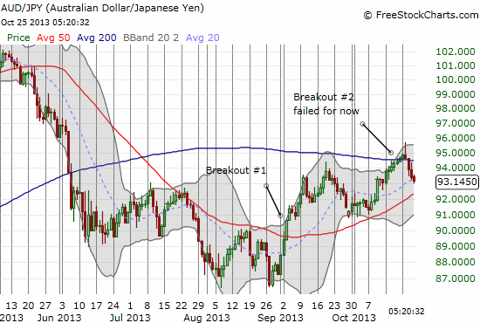 The Aussie's second breakout attempt against the Japanese yen fails to follow through. Important test of 50DMA likely coming up
Source: FreeStockCharts.com
Going forward, I think the low expectations for another rate cut will soon prevail and send the Australian dollar rallying into the November monetary policy decision. I also think it is very likely there is a bit more downside ahead as traders try to first push the Australian dollar into natural levels of support as shown above from the 50-day moving averages (for example). The current trade on the long side should be OK as long as the overall uptrends hold up in the short-term.
Be careful out there!
Disclosure: I have no positions in any stocks mentioned, and no plans to initiate any positions within the next 72 hours. I wrote this article myself, and it expresses my own opinions. I am not receiving compensation for it (other than from Seeking Alpha). I have no business relationship with any company whose stock is mentioned in this article.
Additional disclosure: In forex, I am net long the Australian dollar