"If you don't know history, then you don't know anything. You are a leaf that doesn't know it is part of a tree." - Michael Chrichton
With the 10-year U.S. treasury at 2.49% and the iShares Investment Grade Corporate Bond ETF (NYSEARCA:LQD) yielding 3.8%, income investors looking to diversify with real estate investment trusts (REITs) are able to buy into stable income-producing companies today that yield in the 5-6% range.
The aggregate U.S. REIT market, as measured by the iShares U.S. Real Estate ETF (NYSEARCA:IYR), is off its 52-week high and up only 4.5% on the year. While there is an inherent risk of an increase in treasury prices due to the inevitable fed taper, the overwhelmingly positive U.S. economic indicators and projections for growth present fertile ground for a long-term REIT bull market.
With an increase in bank lending, personal incomes and business profits, real estate prices are increasing across the board. Historically these factors weigh heavily on real estate prices. When bank lending, income and profits are all expanding, the economy expands faster which in turn fuels an increase in real estate prices that lends well to property rent and lease increases.
Choosing REITs For Income Investments
There are several types of equity REITs that are suitable for income investors. When looking at basic parameters such as dividend history, forward yield and company size, the investor is able to conclude the likelihood of dividend safety and the potential for dividend growth.
By further exploring the sector each REIT specializes in and focusing on secular growth trends and barriers to entry, as well as noting other characteristics such as the geographic and sector diversity, the company dividend safety and growth parameters can be further explored.
Just recently I developed the RIPE-IQ (REIT Income Property Endurance - Investability Quotient) algorithm to measure the above listed characteristics of REITs. This effort, which also includes a small weighting called the discount score (to reflect current price versus 52-week high), is a scoring system designed to determine if a REIT is a stable, attractive and suitable for the income investor.
Separating The Good, The Bad and The Ugly
At the end of September, I screened the entire U.S. REIT mid-cap market ($10-$20 billion) which represents 10 of the 12 largest traditional equity REITs in the country. At that time the highest graded REITs were all from the healthcare sector, which is arguably undervalued in pricing versus its office, retail and residential sector peers.
In that article, "The Top Mid-Cap U.S. REITs For Income Investors," the three companies that scored an A were HCP Inc. (NYSE:HCP), Ventas Inc. (NYSE:VTR) and Health Care REIT, Inc. (NYSE:HCN). These companies are all very similar in size and nature and yielded between 4.24% and 5.03% at the time of the study. The only other passing grade came from Avalonbay Communities Inc. (NYSE:AVB), a residential REIT that was yielding only 3.3%.
Building A RIPE Income Portfolio
With a diversified REIT portfolio, the income investor would require exposure to different sectors of the economy in addition to an acceptable yield. With HCP, VTR and HCN all very similar healthcare REITs that all scored well, I would recommend HCP as it does carry the highest yield and lowest P/FFO multiple. Currently HCP yields 4.93% and scores a 96.9 out of 100, or an A+ on the RIPE-IQ.
With healthcare under the belt with HCP, the portfolio should carry at least a few other names to reduce risk and add alternate exposure to the U.S. market. With AVB the leader in residential property management, the yield is only 3.19% today which may not look so appealing. Keep in mind, however, that with a recent B+ RIPE score the company is stable, attractive and suitable for the income investor.
There are five REITs, including HCP, that I personally find very intriguing. These include Realty Income Corp. (NYSE:O), Digital Realty Trust (NYSE:DLR), American Realty Capital Properties (ARCP), and American Residential Properties (NYSE:ARPI). Using the RIPE-IQ, I scored all five companies and the results are as follows (highest to lowest):
HCP, 96.9, A+
O, 95.9, A+
DLR, 93.6, A
ARCP, 68.1%, D+
ARPI, 34.8%, F
The spreadsheet below showcases where each company either did well or has room for improvement.

The Scores Explained
The three leaders, HCP, O and DLR all came through as top ranking stocks for income investors. ARCP lagged the leaders with a D+ and ARPI, with no historical dividend, failed the test.
1. HCP, Health Care, A+ (current yield 4.93%)
HCP is a leader of the healthcare REIT pack with the highest dividend of its mid-cap peers and has a market cap of $19.38 billion. With yearly dividend increases over the last ten years, great diversification across America and a yield that is 105 bps over the LQD, the company scores well. Also adding to the score is the discount score, which shows that HCP is down about 24% from its 52-week high and thus adds points for an increased margin of safety.
2. O, Retail, A+ (current yield 5.27%)
O is a market darling, having consistently raised the dividend over the last ten years and beyond. In fact, the company is also known as The Monthly Dividend Company, as it distributes income monthly. This adds flair to the stock for the income investor, as many pay themselves monthly distributions derived from dividends. The company has maximum diversity in every aspect, is over 25% below its 52-week high and has a current market cap of $8.14 billion.
3. DLR, Office/Data-Center, A+ (current yield 5.53%)
DLR, another victim of the summer REIT swoon, is a $7.24 billion landlord that is nearly 24% off its peak. They are the leaders in leasing technology-oriented space and as such, DLR has built quite a barrier to entry to competition. The dividend has been stable since the company went public in late 2004. For the next 9 years, DLR has raised the dividend (2005-2013) at attractive levels. The compound annual growth rate [CAGR] over the last five years is 21.76%, while the 3-year CAGR is 28.51%.
4. ARCP, Retail, D+ (current yield 6.97%)
Lending to the poor score at ARCP is the short-history of the company. that has only been public since September 2011. The current yield is 6.97% and once the just-announced merger with Cole Real Estate Investments (NYSE:COLE) is complete (first half of 2014), the yield will increase to 7.64% on the current price of $13.08. With an unproven, short history, rapid acquisitions and a low market cap value of $2.41 billion, this stock clearly carries a higher risk for income investors. With a few more years of dividend increases and an attractive yield and valuation, ARCP may grade much higher.
5. ARPI, Residential, F (current yield 0%)
With no yield to speak of, this new 2013 entrant into the residential REIT market scores poorly. Although the company is growing its asset base at an incredibly rapid clip, carries no debt and has $58.5 million in cash and a line of credit of $340 million, the income investor would not likely be rewarded with dividends for at least one year. With heavy acquisitions and IPOs there are often expenses which eat away at the bottom line.
Theoretical $1 Million Portfolio With A 15% REIT Weighting
Many income investors are guilty of diversifying into lower scoring REITs for the purposes of obtaining higher yields or the potential of greater capital appreciation. To minimize risk, a portfolio weighting spreadsheet can showcase overall risk and thus lend a watchful eye to the investor. In this theoretical portfolio worth $1 million, a $150,000 REIT investment equates to a 15% total portfolio allocation.

In this example, the basket of REITs provides a yield of 5.12% while distributing an average monthly income of $640. On a percentage basis, this theoretical portfolio holds each select REIT at a random weightings ascending in agreement with the RIPE-IQ scores.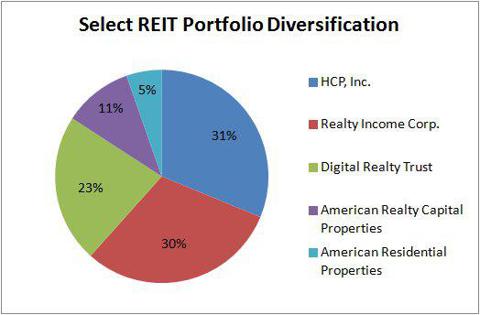 Just as select bond funds have the option to invest in a portion of bonds rated below investment-grade, this select portfolio example invests 16% in REITs that did not meet the standards of the RIPE-IQ.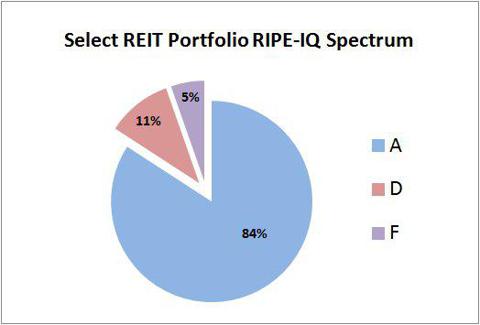 Whether or not an income investor chooses to purchase REITs that carry a higher dividend risk, noting the weightings of the total REIT portfolio can help to positively influence the decision-making process.
Conclusion
At this time, U.S. REITs are an attractive asset class for income investors that offer higher yields than bonds as well as exposure to the expanding domestic economy. A blend of REITs is ideal for the income investor and is best achieved through diversification across several REIT sectors.
Three companies explored here, HCP, O and DLR, all scored high on the RIPE-IQ and as such, look to be attractive and suitable for the income investors needs. While ARCP yields high, the short dividend history ranks the company lower, while ARPI, a new entry into the REIT field this year, scores an F with no history of dividends.
While added risk always comes with the potential of a higher reward, each investor should carefully construct a portfolio that his suitable to his or her needs. Heavy weightings on A-rated REITs in the income investor's portfolio can reduce risk and help ensure a long road of dividends ahead.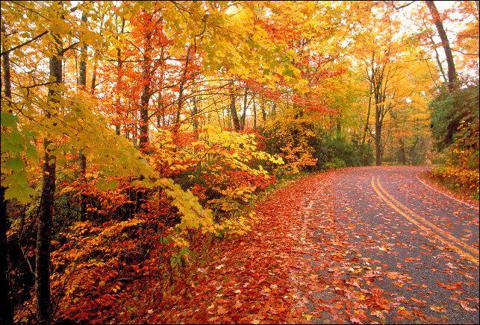 To learn more about the mid-cap REIT RIPE-IQ scores, please read "The Top Mid-Cap U.S. REITs For Income Investors."
To learn more about American Residential Properties, please read "ARPI Is A New Residential REIT That Is Growing Fast."
Disclosure: I have no positions in any stocks mentioned, and no plans to initiate any positions within the next 72 hours. I wrote this article myself, and it expresses my own opinions. I am not receiving compensation for it (other than from Seeking Alpha). I have no business relationship with any company whose stock is mentioned in this article.