It is too early to say what the final result of the justice department lawsuit holding up the merger between US Airways (LCC) & American (AAMRQ) will be. Most market participants think that a merger between the two companies would be bullish for LCC shares. I agree. However, I believe there is even more potential upside for LCC shares if the merger fails.
Leveraged Buyout Target
If the proposed merger fails to get regulatory approval, I believe LCC may become a leveraged buyout target. There are three primary reasons why I believe LCC is a potential buyout target from private equity investors.
1. Valuation
Currently, LCC is trading at 7.1 times forward earnings. As shown by the chart below, other airlines such as Delta (NYSE:DAL), United (NYSE:UAL), Spirit (NASDAQ:SAVE), JetBlue (NASDAQ:JBLU) and Southwest (NYSE:LUV) all trade at higher valuations. To me, it is clear that LCC is undervalued relative to peers.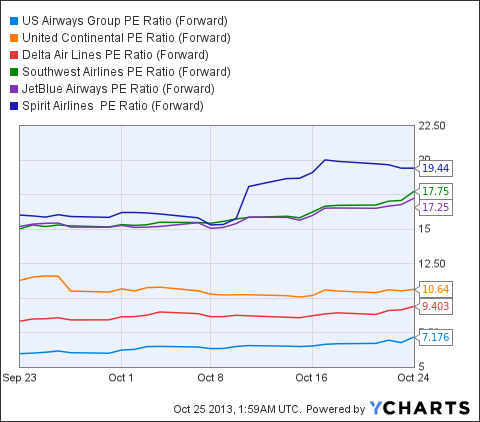 LCC PE Ratio (Forward) data by YCharts
2. Business Strength
LCC just reported record pre-tax earnings. This company is not struggling. Furthermore, the airline industry as a whole is doing quite well. Delta, the world's most valuable airline, recently said that it will report record earnings for 2013. LCC does not need to be turned around.
3. Cash
Right now, LCC is sitting on $3.6 billion or $18.86 per share in cash. LCC's large cash holding makes a buyout easier to accomplish. Take for example, Dell, the computer manufacturer recently taken private by a group led by founder and CEO Michael Dell. Dell was sitting on a lot of cash prior to the buyout.
Carl Icahn
This is just my personal opinion, but I think Carl Icahn could be a potential bidder for LCC. Of course, Icahn is well known for the TWA debacle that began when he took over the airline in 1985. Without question, Icahn has proved the most succesful activist investor in history. Icahn may view LCC as more than a financial opportunity. LCC represents an opportunity for Icahn to show that he is serious about actually running an airline business, not just selling off the pieces as was the case with TWA.
Potential Buyback
If the merger fails, I believe LCC would announce a large buyback program. If large enough, say $3 billion, a buyback has the potential to send shares surging. Given LCC's market cap of $4.5 billion, a $3 billion buyback would mean that 66% of the company's shares would be bought back. This has the potential to send shares surging. If the merger takes place, a buyback still might occur but it would be much less powerful given the increased share count.
Conclusion
A merger with American will likely send LCC shares higher. That said, LCC shares may have more upside if the merger fails. In its current state, based on its valuation, business strength, and cash on hand I believe LCC is a leveraged buyout target. Carl Icahn's name comes to mind but any private equity player is a possible buyer. If a buyer for LCC does not emerge, I expect the company to use its cash to buyback shares. This event also has the potential to send shares sharply higher. Merger or not, I believe shares of LCC are headed higher.
Disclosure: I have no positions in any stocks mentioned, and no plans to initiate any positions within the next 72 hours. I wrote this article myself, and it expresses my own opinions. I am not receiving compensation for it (other than from Seeking Alpha). I have no business relationship with any company whose stock is mentioned in this article.