Capstead Mortgage Corp. (NYSE:CMO) is a mortgage REIT. It has a leveraged investment portfolio of exclusively Agency ARM RMBS. The ARMs (adjustable rate mortgages) reset to more current interest rates within a relatively short period of time. It generally results in a smaller fluctuation in portfolio values from changes in interest rates compared to fixed-rate RMBS portfolios. CMO is recognized as the most defensively positioned Agency mortgage REIT. It is self-managed; and its management team is experienced. Its top four executives have over 85 years of combined mortgage finance industry experience. CMO is not a newcomer to the industry. It was started in 1985. It has a five-year compound annual total return of 18.0%, which exceeds that of the NAREIT Mortgage REIT Index. It is currently paying a very respectable 10.5% annual dividend.
Q3 2013 was very bizarre for CMO. It saw its average CPR (constant prepayment rate) balloon to 25.5% for the quarter (over 26% in July and August). This is not so strange when you remember that both the 10-year US Treasury Note yield and mortgage rates were rising in the first two months of Q3 2013 after an even greater spike in May and June of 2013. This probably pushed many people into thinking that they had to convert their ARM mortgages to fixed rate mortgages right away due to the increasing uncertainty of how quickly interest rates would rise. Since CMO does not even have any 7/1 ARMs, its 3/1 and 5/1 ARM holdings were even more likely to succumb to the pressure of rising mortgage rates. The rise in rates also negatively impacted the book value of CMO's ARM holdings. All told the negative factors led to Q3 earnings of only $0.23 per diluted common share as the net interest spread was negatively impacted. The net interest income was far below the dividend rate for Q3 2013 of $0.31 per diluted common share. The problems also led to a decrease in book value from $12.80 per share at the end of Q2 2013 to $12.35 per share at the end of Q3 2013.
The casual observer might be alarmed by this performance. He/she might think the dividend was sure to get cut dramatically. He/she might be very worried by the unexpected loss in book value. Most primarily Agency fixed-rate RMBS mortgage REITs did not see the rise in average CPR. They generally saw their CPRs fall. CYS, which reported recently, had only a $0.10 loss in book value.
Investors should not be alarmed. The CPRs, which ballooned from a much higher than average 23.1% for Q2 2013 to 25.5% for Q3 2013, abruptly settled back down to about 17.1% in October 2013; and CMO's management expects the average CPR to remain at approximately this level throughout Q4 2013. If CMO's management proves to be correct (and logic says that they should be close to correct) then the $39 million in total premium amortization seen in Q3 2013 should decrease by approximately one third to about $26 million for Q4. If you add an extra $13 million to the net interest income of Q3 2013, you get approximately $28.7 million + $13 million = $41.7 million. With 95.76 million shares outstanding, this amounts to about $0.435 net interest income per share. This would easily cover the current dividend of $0.31 per share. Therefore, it is unlikely the dividend is in danger; and this explains clearly why CMO did not lower its dividend, although failing to do so accounted for some of the book value loss in Q3 2013. Further, the management team asserts that a significant portion of the book value losses in Q3 2013 (-$0.45 per share) have already been regained.
Yields on CMO's residential investments averaged 1.36% during Q3 2013. This was down 17 bps from yields for Q2 2013 (15 bps due to additional premium amortization) due primarily to a $5.4 million increase in investment premium amortization charges. An extra $13 million less in amortization charges will translate into an approximate 36 bps increase. This means a much better yield of approximately 1.72%. This is another sign of health for CMO.
For those interested in the nitty-gritty details, the following is the table of CMO's portfolio.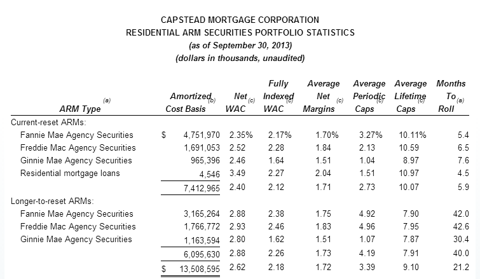 Click to enlarge
In sum after a closer examination of the details, CMO is a great buy. It should hold up well in a troubled market. Analysts who may downgrade CMO on this earnings release simply have not done their homework. The US 10-year Treasury Note yield is currently at 2.51% as of October 25, 2013. It was at 2.49% on June 28, 2013 (the last trading day of Q2 2013). All of the Q3 2013 book value losses may not have been regained, but investors can be relatively sure a good portion of them have been. This means CMO at a book value of $12.35 per common share and a probable current book value of approximately $12.55+ per common share is a good value that has proven its stability in the troubled environment of 2013. When many of the Agency only mortgage REITs lost 10%+ to 20%+ of their book values in Q2 2013, CMO only lost -5.9%. Even this was really only -3.8% without the extraordinary item costs of calling and refinancing at a lower rate some of its Senior debt. This move saved CMO -$8.3 million annually for many years to come.
To repeat CMO is an excellent investment. It should do well in the near term. It should do well in the long term. Agency ARM investments are known to perform well in almost any type of market. CMO has about as safe a portfolio of Agency ARMs as you can have. Investors should not have to worry unduly about this stock. It is a buy.
The two-year chart of CMO provides some technical direction for this trade.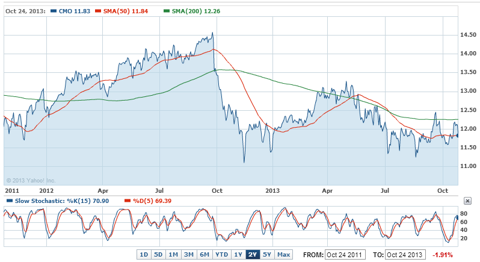 Click to enlarge
The slow stochastic sub-chart shows that CMO is near overbought levels. The main chart shows that it has been in a consolidation pattern for over a year. I don't see a huge impetus for a move upward. However, it is trading at an approximate 6% discount to my estimate of its book value. It should be able to gain much of this distance between now and its Q4 2013 earnings report. Plus it is paying what seems to be a stable 10.5% dividend.
CMO represents much less risk than the primarily Agency fixed-rate RMBS mortgage REITs. It did not cut its dividend as most of them have recently; and it does not appear likely to soon. It did not have huge book value losses in Q1 and Q2 of 2013 as the others did. For instance, American Capital Agency Corp. (NASDAQ:AGNC) lost -11.82% of its book value in Q2 2013. ARMOUR Residential REIT (NYSE:ARR) lost -18.8% of its book value in Q2 2013. CMO lets investors sleep at night. The bizarreness of the temporary CPR situation in Q3 2013 was just that, a bizarre anomaly; and it should not change the long-term book value or the dividend for CMO. CMO is a buy. The average analysts' recommendation is a bit weaker than my recommendation at 2.4 (a low buy); but it still generally agrees.
NOTE: Some of the fundamental financial data above is from Yahoo Finance.
Good Luck Trading.
Disclosure: I have no positions in any stocks mentioned, but may initiate a long position in CMO over the next 72 hours. I wrote this article myself, and it expresses my own opinions. I am not receiving compensation for it (other than from Seeking Alpha). I have no business relationship with any company whose stock is mentioned in this article.