The latest speeches by Bank of Japan governors as well as BoJ economic assessments seem to suggest that the BoJ is not interested in increasing the QE program anytime soon. On the other hand, we must recall that Federal Reserve governors appeared to be hawkish before heading into the Sept 18 FOMC meeting. In this article I will try to expound on two points: (1) Japan's only way out of its debt problems is another asset price boom and (2) The BoJ is also likely to increase its QE commitment whenever market confidence wavers (which is happening right now.)
This article will be composed of three parts: where we are now, what's going on, and what might happen going forward.
Where Japan Is Now
Japan's public debt issues can be summarized in one chart.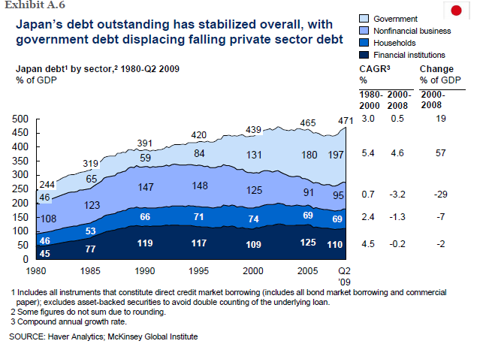 Click to enlarge
Source: McKinsey Global Institute Report on "Debt and Deleveraging"
While some exceptional countries deleveraged with massive economic growth (thereby lowering debt/nominal GDP), very few countries have successfully deleveraged without a lot of inflation. For example, between 1948 and 1960, UK average inflation was 4.3% while average GDP growth was 2.8%. The numbers are similar for post-WWII US. Unless you are experiencing a sea change in productivity growth due to new industries and a rapidly growing labor force, it is just unreasonable to expect really high real GDP growth.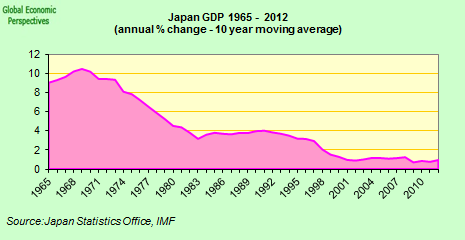 Source: "The A.B.E. of Economics"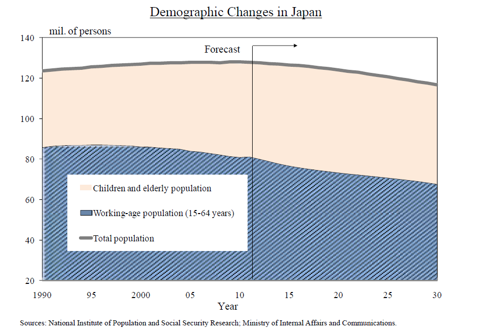 Source: Same as above.
In the past 10 years, Japanese real GDP growth has been around 1% with negative growth in the labor force. It stretches imagination to believe that this will pick up substantially. Even a 2% growth rate (1% from labor force growth and 1% from technology) with 0% inflation means Japan will need 36 years to reach 100% debt-GDP, if it can even hold things together for that long.
Since the "lost decades" are leading to a dead-end, Japan only has one solution: print money, hopefully get a 2% base growth rate + 2% CPI + one-time bonus from weaker yen + bubble growth from higher asset prices (wealth effect etc), a.k.a Abenomics.
The main worry so far has been a potential crash in the bond market if yields rise too rapidly, which is why the BoJ became more conservative in June. This calmed down the bond market and Japanese 10 year yields are at 0.6% (compared to 0.9% peak).
What's going on
The latest comments by Japanese officials (government as well as BoJ) have suggested that Japan won't increase its QE commitment in the near future. The following choice quotes come from Twitter and other assorted sources.
Oct. 15: Japan's Honda (Eco. Adviser to PM Abe) speaking in Tokyo mentions that BoJ will wait until after April before any further monetary easing
Oct. 21: PM Abe speaking in the Parliament says finances can't be improved without raising nominal growth (via Bloomberg) (note the emphasis on nominal, not real growth. Economists would say real growth is what's real.)
Oct. 22: BoJ's Sakura Report on economic conditions in regions: 9 out of 9 domestic regions reported an upward revision to their economic assessment. (if economy is doing better, maybe wait and see before printing more)
These are significant backtracks to the ambitious "we'll print if Abe hikes taxes" tune we were hearing in September.
Going Forward
The latest disturbance in Chinese interbank liquidity market has driven participants to flee to safety, with the yen surging. I believe this may actually increase the odds of the BoJ easing in the near future. With stronger Fed QE expectations, tepid Japan QE expectations and increasing risk aversion, the yen is more likely to head higher than fall.
Under such a background it would be necessary to whack the yen bears and cement Yen depreciation expectations. Eventually Abenomics is just another asset price boom and a weaker yen is the linchpin that holds economic stimulus and appreciating asset prices together.
The main risk is from emerging market turbulence. We are seeing significant weakness in places like Mexico despite QEinfinty from the Fed. At some point, with or without Qeinfinity, those places will experience sharp slowdowns and depreciations and risk aversion will be back on. However, this will likely wait till the Fed signals a clear Qexit, so a large dip in the USDJPY (NYSEARCA:FXY) to 94/95 and/or Nikkei (NYSEARCA:DXJ) before the Oct 31st BoJ rate meeting may be a buy.
Disclosure: I have no positions in any stocks mentioned, but may initiate a short position in FXY over the next 72 hours. I wrote this article myself, and it expresses my own opinions. I am not receiving compensation for it (other than from Seeking Alpha). I have no business relationship with any company whose stock is mentioned in this article.
Additional disclosure: Will be looking for potential long entries into USD/JPY (i.e. long USD short JPY). Will post a comment in this article if I make an entry.