Traditional Real Estate Investment Trusts (REITs) own buildings and properties in a region or across the US. A few of the larger REITs have diversified with overseas investments. Generally they specialize in an area of real estate such as: apartments, stores, malls and offices. Even though they have good records of stock growth, REITs have been primarily thought of as high yield securities. In addition to reporting earnings per share, they report a larger income figure, FFO, Funds From Operations, that includes non-cash items such as depreciation. Dividends are paid from FFO and typically not all of dividends are taxed as ordinary income.
Yield securities sold off starting in May in anticipation of approaching higher interest rates. The 10-year Treasury bond had a 1.6% yield in early May. That shot up to 3% and backed off to 2.49% currently. Longer term, the rate has been above 4% and REITs were able to prosper. On the chart below, 40 on the right side scale refers to 4%.
10 Year Treasury Note Yield Index - 10 Years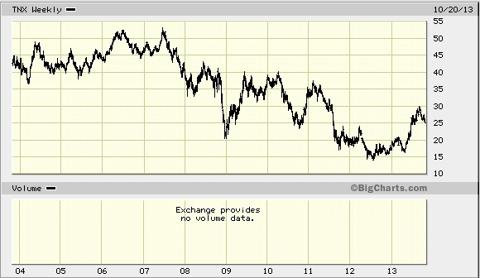 More than a decade ago, many REITs had double digit yields. Attracted by those high yields, investors bid up stock prices which sharply reduced yields to single digits. Some of the largest REITs saw their yields fall to 3% or less. However, there are still REITs with high yields for savvy investors seeking increased income.
This has been an unusually volatile year for REITs. The Dow Jones Equity REIT Index (DJR) reached a 6 year high of 315 in May and then sank to 256 in August followed by a rebound to 284. The selling came from fears about tapering bond purchases by the Federal Reserve and a subsequent increase in interest rates.
Dow Jones Equity REIT Index - YTD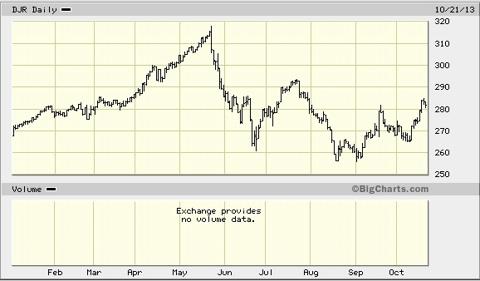 REITs own long-term assets financed with long-term debt (mortgages) and equity. They have been a major beneficiary of low interest rates. In recent years mortgages were refinanced to save interest costs and new loans were made at low interest costs. But that era is coming to an end resulting in a volatile year for REITs.
The pullback provides buying opportunities for investors seeking income and growth. Below are 5 excellent REITs. They have recovered from lows in recent weeks, but are still down around 20% from the highs in April-May. The yields have risen to roughly 6% and less than 65% of their 2012 dividends were taxable as ordinary income. They have significantly higher yields than many of the better known REITs because of a lack of understanding about their properties. Their properties are in niche markets: senior housing, medical facilities, leisure properties, recreational vehicles, manufactured housing and college student housing.
| | | | |
| --- | --- | --- | --- |
| Company | Price | Yield | Dividend |
| Campus Crest Communities (NYSE:CCG) | $10.24 | 6.4% | $0.66 |
| Senior Housing Properties (NYSE:SNH) | $24.82 | 6.3% | $1.56 |
| EPR Inc (NYSE:EPR) | $50.63 | 6.2% | $3.16 |
| Omega Healthcare (NYSE:OHI) | $33.35 | 5.8% | $1.92 |
| Sun Communities (NYSE:SUI) | $45.34 | 5.6% | $2.52 |
<1> Campus Crest Communities has ownership interest in 87 student housing properties with 46,000 beds (including a recent acquisition of a 33-story hotel in Montréal, Québec). CCG uses vertical integration through 3 brands targeting different segments of the college student population. The Grove properties offer more traditional apartment floor plans. The Copper Beech townhomes offer residential-type living. The Evo brand provides urban students with a luxury student housing option. The annual dividend was increased to 66 cents from 64 cents earlier this year and only 3% of the 2012 dividend was taxable. At midyear, CCG reaffirmed previous guidance for full year 2013 FFOA of 82-88 cents which easily covers the increased dividend.
<2> Senior Housing Properties investments are in 38 states and Washington, DC. SNH owns 249 senior living communities, 2 rehabilitation hospitals, 108 properties leased to medical providers and 10 wellness centers. Earlier this year, SNH had a successful offering of more than 11 million shares. The annual dividend was raised 4 cents to $1.56 last year. SNL has agreed to acquire 5 properties for about $100 million. Meanwhile it is selling 11 senior living communities and selling 7 medical related businesses.
<3> EPR Properties invests in entertainment properties (114 megaplex theaters), education properties (41 public charter schools) and 19 recreation properties. 98% of the properties are leased. Earlier this year the annual dividend was raised 16 cents to $3.16 and in April, EPR began paying that dividend monthly. At midyear, EPR increased FFO per share guidance as adjusted to $3.83-$3.93 from $3.79-$3.94 and it maintained 2013 guidance for investment spending of $300-$350 million. As I write, EPR has a stock offering of 3.6 million shares and the money will repay $160 million of unsecured revolving credit.
<4> Omega Healthcare Investors invests in properties for the long-term healthcare industry, largely in skilled nursing facilities. The company has mortgages on nursing facilities, assisted living facilities and other specialty hospitals located in 35 states and operates healthcare operating companies. The company sold 3 million shares at $30 earlier in October. The current dividend was just increased 4 cents to $1.92 (the 26th dividend hike since 2004) and that compares with the 72 cent dividend paid in 2004.
<5> Sun Communities leases land for manufactured homes and recreational vehicles. Additionally, it sells and leases homes to residents primarily in the Midwest, south and southeastern US. There are 183 communities in 24 states with 52,800 motor homes and 14,500 recreational vehicle sites. The dividend has been flat for 8 years. However, the dividend was maintained during the recession in 2009 when some famous REITs had dividend cuts. After Q2 results, SUI maintained 2013 FFO guidance of $3.19 - $3.29. About 60% of present capital expenditures are planned for RV properties on the eastern seaboard.
Current income on these stocks is excellent and high yields should help the stocks hold value if there is more selling ahead in the stock market. For those not needing current income, the compounding effect of reinvesting income will have extra value when saving to build income during or for retirement. Then it will not be necessary to sell stock with appreciation, pay capital gains tax and find a high yielding investment.
I'm closest to EPR after purchasing the stock 15 years ago, attracted by a double digit yield. The value has risen more than ten-fold. More importantly the annual income is about 6 times the original income. Such gains will be difficult to replicate since the starting yields today are far below the yield I first earned. But there is still opportunity for long-term growth.
Capital appreciation since 2000 has been less reliable than in the past. The Dow at 15,413 is only up 34% since the start of 2000. After its peak 6 years ago, it is up a measly 9%. But dividends have been paid by these companies. When reinvested, growth from more shares at higher stock prices can be substantial. For those who rely on current income, the yields are attractive without a great deal of risk. The income feels better and at tax time much better when all the income is not taxed.
The ultimate goal for the vast majority of investors is to grow an investment portfolio so it will provide income at retirement. For investors who are more concerned with current income, the yields are attractive with favorable tax treatment. Real estate assets are built to last for decades and will be profitable for investors looking forward to retiring and in retirement.
Disclosure: I am long EPR. I wrote this article myself, and it expresses my own opinions. I am not receiving compensation for it (other than from Seeking Alpha). I have no business relationship with any company whose stock is mentioned in this article.