Introduction
Cliffs Natural Resources (NYSE:CLF) has released a quarterly update yesterday, so I'm curious if the company was able to shrug off a horrible 24 months. I will provide my view on the financial results and the current state of the balance sheet, where after I will briefly discuss the company's outlook. This will result in my investment thesis at the end of this article.
My view on the financial results
Cliffs recorded a revenue of $1.45B in Q3, which is roughly in line with the reported revenue in the same quarter of last year, but the operating income three folded. This was caused by a much lower production cost (which was approximately $150M lower YoY), which has a direct impact on the bottom line. CLF reported a net profit after taxes of $104M or $0.66 per diluted share which is a 12% increase compared to the same quarter last year.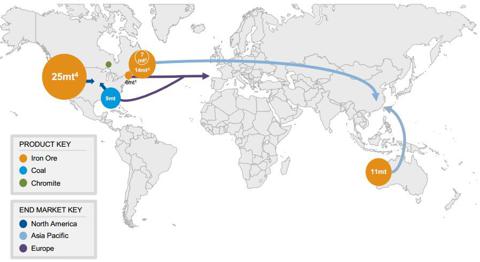 Click to enlarge
(Click to enlarge)
At first sight, these financial results definitely look good, but as I told in previous articles, it's usually not the net income statement but the statement of cash flows which give a better indication about the quality of the results.
There we see that the operations contributed not less than $686M in operational cash flow in the first nine months of this year, which is a stellar performance compared to the $275M in the same quarter last year. Unfortunately (or fortunately, in the longer run), all of this cash flow was being used to fund ongoing capex for $742M. Cliffs solved this funding gap by raising cash through issuing new common and preferred shares for a total of $995M, of which the majority was also used to repay $847M of outstanding debt.
I'm pretty happy with these quarterly results, but let's not forget the good numbers were fueled by a high iron ore price (averaging $130-135/tonne). If the iron ore price would drop by $10/tonne, Cliffs would see an impact on the quarterly revenues of $100M. It could be even uglier, because if you have a closer look at the breakdown of operations, one sees Cliffs is actually producing its Eastern Canadian Iron ore at a loss of $8/tonne if you add the depreciation costs. If you don't use the depreciation costs in the equation, the margin per tonne increases to $10, but would be zero or even turn negative if the iron ore price drops by 8%. As such, I'm very curious to see Cliffs making some announcements to fine tune its Canadian iron ore operations in order to boost its operating margins.

Click to enlarge
(Click to enlarge)
My view on the balance sheet
As I said in the previous paragraph, Cliffs issued new preferred and common shares, and reduced its debt by $847M. This obviously has a huge (positive) impact on the company's balance sheet.
Cliffs working capital position increased to a much healthier $609M, compared to a much tighter $269M at the end of last year. The total debt and liabilities of the company also decreased by $1.2B, mainly thanks to repaying the $847M in debt.
The current ratio increased to 1.57 from 1.19 at the end of last year (keep in mind a ratio higher than 1 means the company has sufficient current assets to cover the current liabilities), and this shows the company has more flexibility than a year ago, especially because the cash position also increased by 50%.
I'm personally happy with the strengthened balance sheet. I know raising $1B in equity through common and preferred shares is usually tough to swallow for investors, but in this case, I'm sure Cliffs did what was good for the company and its shareholders in the longer run. As you can see, the company's balance sheet is now much stronger and Cliffs' book value is now $1.15B higher than at the end of last year, despite raising 'just' $995M, meaning the company was able to add $155M in equity through its operations.
Investment Thesis
Cliffs Natural Resources isn't dead yet, and seems to be picking up steam, helped by the continuous strength in the iron ore prices. However, I cannot emphasize enough that investors and potential investors should closely watch the iron ore and coal prices, as two of Cliffs' divisions are considered to be 'marginal' producers because they are actually selling iron ore and coal at a loss if one adds the depreciation costs to the production costs.
If you think the iron ore price and coal price will remain at the current levels, Cliffs is an interesting investment to get exposure to those commodities. As most of my followers know, I prefer to write put options instead of outright buying stock. I think at this moment the most interesting option strategy might be to write a P20 January 2014 at $0.55 for an annualized yield of 11%, and for the daredevils amongst us who think the iron ore price will increase, a P24 April 2014 nets you an option premium of $3.25, which means your average buying price would be under $21/share if Cliffs is trading lower than $24 on expiration day.
Disclosure: I have no positions in any stocks mentioned, but may initiate a long position in CLF over the next 72 hours. I wrote this article myself, and it expresses my own opinions. I am not receiving compensation for it (other than from Seeking Alpha). I have no business relationship with any company whose stock is mentioned in this article.