It has not been an easy year for short sellers. Some of short sellers' favorite stocks have gone up significantly this year. Qihoo 360 (NYSE:QIHU) has gone up 200% YTD; Tesla Motors (NASDAQ:TSLA) has gone up 413% YTD; Herbalife (NYSE:HLF) has gone up 104%. At some point, one may wonder, with all these punishments, wouldn't short sellers just want to put down their swords and give up? If that happens, it's usually an alarming sign that the market has reached such a frenzy state that the valuations have gone so high that they deviate significantly from fundamental values and frustrate rational investors / short sellers. Fortunately, it appears the day has not come yet.
Over the past year I have seen a few Chinese reports accusing NQ Mobile (NYSE:NQ) to be a fraud. The thesis was simply that the company reports a large market share but few in China have heard of it. On October 24, Muddy Waters released its report titled "Muddy Waters Initiating Coverage on NQ - Strong Sell" and the stock price of NQ went down 47% immediately. Muddy Waters is back. And let the bear raid begin. Its timing could not be better - prior to the report, NQ was trading at $23 range and was up 281% YTD. Any time you pour ice water on a stock that hot, the downside is relatively limited on the short side. More importantly, it's nice to know that Muddy Waters is alive and well and doing their hard work.
I have read Muddy Waters' 81-page report and although the language may be a bit extreme, the substance isn't without merit. This report is much better than its previous American Tower (NYSE:AMT) report, Olam International report, or New Oriental Education (NYSE:EDU) report. The previous reports were a bit subpar - the due diligence was superficial and there wasn't much to support the scary claims. The NQ report is different. It achieves the essential goal of a bear raid - the claims are scary and there are evidences indicating that they may be true. It states that "NQ is an obscure company in China with minimal brand recognition; our research estimates that fewer than 1.5% of smart phone owners presently have a NQ security app." To my knowledge, NQ's claimed 55% market share sounds way too high. Its name recognition is low.
Downside
Big picture first. NQ Mobile's main business is providing mobile security software and mobile Internet services. It means that it's directly competing against Qihoo 360 and Tencent (OTCPK:TCEHY) and Baidu (NASDAQ:BIDU). In my opinion, any company directly competing against BATQ (Baidu, Alibaba, Tencent, and Qihoo 360) should be applied a steep price discount, because the Internet and mobile service industry, in spite of its high growth and bright prospect, is generally a winner-takes-all industry, and the competition is cut-throat. There isn't a moat that those tough and well-capitalized BATQ could not conquer. And they play dirty in addition to being tough. So it's really a gamble that any of these smaller competitors, including NQ Mobile, can survive and prosper after 5-7 years.
That's probably why Muddy Waters called NQ's apps and software "scare ware" and malware. Under intense competition, small companies like NQ have to apply extraordinary tactics to retain customers and to survive. It has to play dirty too. It is not surprising that in the CCTV video, it's almost impossible for users to remove the NQ app from their phones. And the NQ app removes competitor apps secretly. Similarly, it's difficult to remove Qihoo 360 apps and software.
I do think Muddy Waters' claim that NQ is forging cash on its balance sheet may be a bit far-fetched. It could be that PwC is just being conservative here. It is common for SAIC financials to be materially different from SEC disclosures - they are filed for different purposes under different accounting rules. PwC is NQ's auditor, and may be criminally liable if it did not do its job. There is a chance that PwC may resign. If that happens that would be the ultimate triumph of the bear raid. That will be the end of NQ.
Upside
On October 25, NQ Mobile strongly refuted the allegations and issued a report and held a conference call to answer the questions raised in the Muddy Waters report. During the lengthy conference call, NQ executives explained their positions and provided bank accounts information. They gave an explanation on why their cash is classified as Level 2 asset. They are willing to provide bank statements to prove their cash. I do like their head-on approach, and the executives sounded passionate.
Most importantly, I think PwC needs to hang on. As long as the auditor is in place, NQ can fight and grow. Most Chinese technology companies use aggressive tactics and short sellers use them to scare shareholders, taking advantage of the cultural differences, communication gap, and absence of research coverage. NQ Mobile is a company that is growing at 100% in its recent quarter, although the revenue figure is questioned. It has a Dallas co-headquarter. It recently launched a new web platform NQ Live and planned to grab users from Baidu and Qihoo and take a slice of the rapidly growing mobile sector. Malware or not, if NQ can grab a lot of users using its "viral expansion", it will be a very valuable company.
New Oriental Education
Last year Muddy Waters accused New Oriental Education to be a fraud, and its share price dropped to below $10. Today it's trading at $28, representing a 180% gain. In my opinion, the key was that New Oriental's auditor did not resign. In spite of some accounting irregularities, New Oriental today is trading at 26.5x earnings.
Other Muddy Waters targets: Focus Media (NASDAQ:FMCN), Fushi Copperweld (NASDAQ:FSIN), and Spreadtrum (NASDAQ:SPRD), were ultimately privatized with decent price gains.
By comparison, Sino-Forest shareholders weren't so lucky. Its auditor resigned and its shares were delisted. Years later, some insiders explained that there was miscommunication between the company and its auditor. Had they straightened out their disagreements regarding accounting irregularities, and the auditor stayed on, Sino-Forest could be alive and well today. Ultimately, confidence is an important asset over the short term, and short sellers attack the confidence during the bear raid so companies may fall into a liquidity / confidence crisis. And the rumors may become the reality.
Another example: Bill Ackman launched his bear raid on Herbalife and until the end of 2012 it was a successful raid. Shareholders were fearful. The key is, if enough people believe it's a pyramid scheme that will go down, then the company will go down. Then something changed - Carl Icahn and George Soros stepped in and restored some confidence. Herbalife is up 104% this year.
Fabulous Nine Update
NQ is one of nine companies (Fabulous Nine) that I followed and previously I summarized the performance of these companies and here is an update.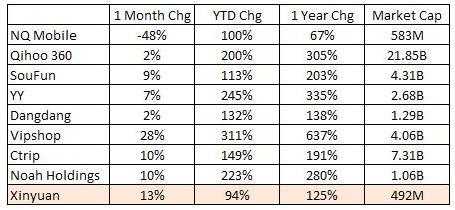 Note that after the 47% one-day decline, NQ is still up 100% YTD - not bad for any investor stepping into an alleged fraud. Some of the Fabulous Nine may be overvalued, but a few of them are still trading at bargain levels.
Xinyuan Real Estate
I remain bullish on Xinyuan Real Estate (NYSE:XIN) and believe it's the most undervalued of all. It's currently trading at 3.8x P/E, not counting its enormous cash position, and growing at 20% per year. It pays consistent dividends and does share buybacks aggressively. Last month, TPG invested $109 million in the company after thorough due diligence. Afterwards TPG forced the company to split board chairman and CEO positions to improve its corporate governance. Has there been another Chinese company chairman willingly give up the CEO position? Rarely. And generally, Chinese companies that consistently pay dividends are the good ones.
I do think the Chinese real estate market is a bit overheated - in September, home prices in China jumped the most since January 2011. Xinyuan has been sitting on its large cash position, waiting to take advantage of opportunities from a future market downturn. And the government is expected to loosen its restrictions curbing the property market if there is a downturn. After its 47% one-day decline, the alleged fraud NQ still beats Xinyuan's stock performance on a YTD basis.
Disclosure: I am long XIN. I wrote this article myself, and it expresses my own opinions. I am not receiving compensation for it (other than from Seeking Alpha). I have no business relationship with any company whose stock is mentioned in this article.