Caterpillar, Inc. (NYSE:CAT) shares have been stuck in a trading range for many months and have generally underperformed the rest of the stock market. That trend appears likely to continue especially since recent financial results show little reason for optimism. Let's take a look at the chart which shows a stock that appears to be going nowhere, as well as at the fundamentals: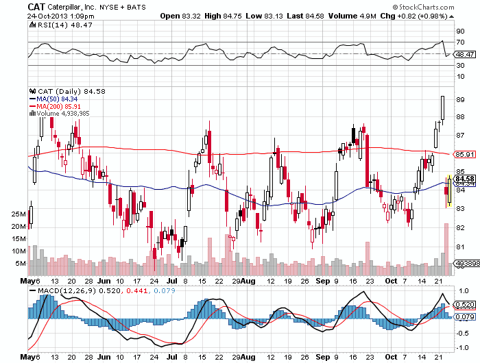 As the chart above shows, this stock has been trading in a fairly tight range between the low and upper $80s level. It has paid off to trade Caterpillar by buying shares when trading for about $80, and sell when optimism peaks at nearly $90 per share. Since May alone, the opportunity to buy in the low $80s and sell in the upper $80s has repeated itself about five times. Investors who have traded this range have done very well, but "buy and hold" investors have little to show for their investment in Caterpillar in 2013. A recent quarterly report seems to confirm that this stock could remain mired in a trading range into 2014 as financial results and forward guidance give little reason for meaningful upside in the coming months.
Caterpillar announced a third quarter profit of $946 million, or $1.45 a share. Global sales fell by 18% to $13.4 billion. These results are disappointing based on consensus earnings estimates of $1.66 per share and even more so when compared to profits of $1.7 billion or $2.54 per share for the same period last year. In addition, a recent Reuters article details the downbeat outlook for full-year 2013 results and guidance for 2014. It states:
"We're restaging our business, in construction, mining and energy, in a way to reduce costs so that when we see a return to revenue - which we will see - it's going to be a very nice time for us and we'll all be smiling again," Oberhelman told CNBC.

"But right now, we're looking at mining continuing to falter into 2014."

With no uptick in orders expected, Caterpillar said it now expects a full-year 2013 profit of $5.50 a share on sales of about $55 billion, down from an earlier forecast of $6.50 a share on sales of $56 billion to $58 billion. It is the third time the company has cut its full-year forecast.
This brings up another point which seems to be increasingly relevant, which is that Caterpillar management seemingly continues to over-promise and under-deliver. A company that cuts its full year forecast three times in a single year appears to either have little ability to forecast or is giving investors an overly optimistic view. Either way, this brings up major credibility concerns which are only further highlighted when you consider that Caterpillar bought Bucyrus near the height of the mining super-cycle as well as the fact that it acquired a Chinese firm which later turned out to have significant accounting issues that caused Caterpillar to take a $580 million goodwill impairment charge. This has even recently resulted in a lawsuit against some Caterpillar executives by at least one shareholder. These management missteps have undermined investor confidence and it gives me little reason to believe in current forecasts.
I believe this stock will remain range-bound for these reasons, unless the CEO is replaced. If the board of directors wanted to create shareholder value, I think the best thing they could do is replace the current CEO and appoint someone like Alan Mulally, the current CEO at Ford (NYSE:F) and a former executive at Boeing (NYSE:BA). He has been a tremendous asset for both of those companies and has been recently rumored to be a CEO candidate at Microsoft (MSFT) since Mr. Ballmer has announced he will resign. Mr. Mulally seems to be the perfect choice for Caterpillar since it is a great American brand and because he has been so successful at industrial giants like Ford and Boeing. There's nothing more than hope on my part that Mr. Mulally or someone like him would join Caterpillar, but there is also little doubt on my part that the stock will probably remain lackluster until there is a change in management. Until that happens, this is probably a stock to trade, not own, for the long-term.
Here are some key points from Yahoo Finance for CAT:
Current share price: $83.74
The 52 week range is $79.49 to $99.70
Earnings estimates for 2013: $6.20 per share
Earnings estimates for 2014: $6.97 per share
Annual dividend: $2.40 per share which yields 2.7%
Data is sourced from Yahoo Finance. No guarantees or representations are made. Hawkinvest is not a registered investment advisor and does not provide specific investment advice. The information is for informational purposes only. You should always consult a financial advisor.
Disclosure: I have no positions in any stocks mentioned, and no plans to initiate any positions within the next 72 hours. I wrote this article myself, and it expresses my own opinions. I am not receiving compensation for it (other than from Seeking Alpha). I have no business relationship with any company whose stock is mentioned in this article.