Admittedly, I didn't have a clue what the hell potash was up until probably 6 months ago, when the stock passed through one of my radar screens, and I started to take a look. I'm not a chemistry guy and things involving big industry, chemistry, the commodity markets, and engineering don't usually play to my strengths. My experience in trading commodities is limited to occasionally laughing like an 11 year old when the "Pork Bellies" ticker would occasionally scroll by on CNBC.
For those of you not intimately familiar with the fertilizer industry, (read: 99.99% of the world), Potash Corp. (NYSE:POT) is a Canadian company that produces potash - one of the primary crop nutrients used to make fertilizer. Potash itself is any of several types of salts that contain potassium in water-soluble form. The company also makes nitrogen and phosphate, also used in fertilizer production. Excited yet? I am.
Potash Corp. hasn't fared too well for recent investors, down 17% in the last three months alone, and down 23.1% in the last 12 months - in the midst of an otherwise bullish macro market. However, over the past 5 years, Potash Corp hasn't fallen through the $20 mark.

Click to enlarge
(Click to enlarge)
Much of Potash's decline over the past X months was due to an announcement by Uralkali (OTC:URALL), another major potash player from Russia, of a coming price war - and in general, the company "not playing well with others". In other words, Uralkali was the kid in grade school that never shared the good building blocks. Bloomberg reported:
OAO Uralkali (URKA), the world's largest potash producer, upended the $20 billion-a-year commodity market by abandoning limits on output that underpinned prices while halting cooperation with Belarus that controlled supplies from the former Soviet Union.

The announcement of the decision yesterday sent shares of potash miners plunging as much as 27 percent from Israel to Germany to Canada and the U.S. as investors speculated a flood of supplies will lead to lower prices for the soil nutrient that strengthens plant roots. Uralkali, part-owned by billionaire Suleiman Kerimov, said it exited its marketing venture with Belarus after its neighbor undermined sales accords.
Uralkali is totally harshing my potash market mellow, man. Nonetheless, many analysts, including myself, are having trouble finding this macro issue becoming a major material stopping point for investing in Potash in the long-term. The facts are that commodity sectors go through these type of ups and downs, and that sooner or later the market will correct and balance out from this chaos.
On Thursday morning, Potash reported earnings that were anything but ceremonious. The company posted a 45% year over year drop in 3rd quarter profit and lackluster sales, as the macro market uncertainty loomed over the sector. In addition, the company slashed its forecast for the year to $2-$2.20/share, from $2.45-$2.70. The current guidance is below what many analysts were expecting from the company. The stock reacted by moving down towards $30 on the news.
But, hey, it can't all be bad - right?
After earnings, I decided I was going to take a long position in the company right around $30/share; so let's talk about why.
First and foremost, I believe that Potash is technically oversold and has already shaken out from its price what it's going to shakeout from the Uralkali mess. The stock had already been hit to the tune of 25% on the news of Uralkali not playing nice, so it's my argument that the news that came with earnings was already going to be priced in. The ensuing dip after earnings, I saw as overselling again - and a good place to make a buy.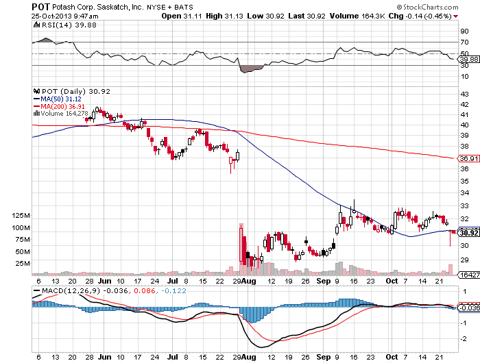 Click to enlarge
(Click to enlarge)
In addition, Potash has a very strong balance sheet, which is one of the first items I look for in a long investment. I don't want there to be too much debt/equity leverage, and I like companies that have plenty of cash to do their business with. Potash hits these requirements right on the head for me. The company also generates a significant amount of cash, offers a nice dividend and trades near its book value.
In addition, Potash has an awesome dividend yield, currently around 4.35%. The dividends are heading in the right direction, and I have one of my patent pending, archaic looking Windows 95-esque homemade Excel charts to prove it!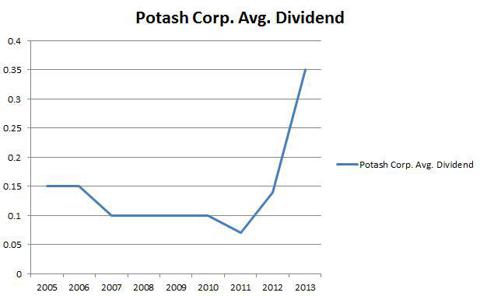 Click to enlarge
(Click to enlarge)
In addition, as pointed out by several articles, Potash is expecting significant decreases in capital spending in coming years, as they wrap up a spending program that was put in place to expand potash capacity to 17.1 million tons. This will help to further "right the ship", keeping cash in the company for use on dividends and other shareholder-friendly items; while also allowing the company to ramp up production.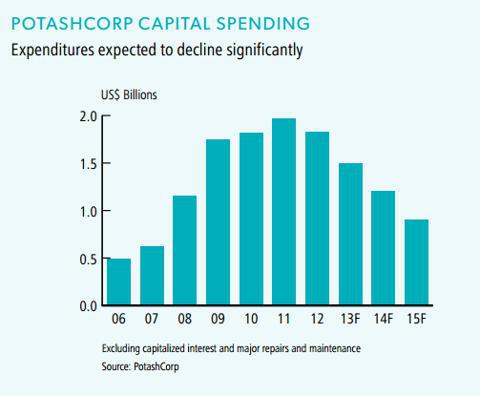 Again, it's worth noting that the Uralkali argument of a price war in the sector doesn't seem to be holding water with lots of analysts. For example, SA contributor CJ Capital Research reminds us of three key points on why Uralkali's Impact on the market could be overestimated:
Three key points to understand are as follows:

1. Even if Uralkali produces at full capacity, it will only be an addition 1.5 to 2.5 million tonnes of potash annually. Uralkali's CEO predicts that 2014's global potash demand will grow by 10% to exceed 60 million tons.

2. Only 23% of Potash's revenues and an estimated less than 23% of gross margins will be fully impacted by Uralkali's actions. Remember, POT dominates the North American market and is a diversified business.

3. JPM estimates that the modeled price drop caused by Uralkali's actions will only lead to a small drop in POT's earnings per share from $2.50 to $2.35 EPS.
Urakali's CEO, who was recently arrested, should be taken with a rather large grain of salt that contains potassium in water soluble form (my first fertilizer joke!). It's like he's got the "Kim Jong Un Guide to How to Run a Potash Company like a Fundamentalist Jackass" and he's following it step-by-step. Volatile, yes. A long-term threat, probably not.
I'm backing our horse, Potash CEO Bill Doyle, who, judging by his actions here, would rate incredibly high on my list of Top 10 CEO's I'd like to drink a six pack with. Here, he is addressing the Uralkali problem head on. Financial Post reported:
On a conference call to discuss third quarter results, the chief executive of Potash Corp. of Saskatchewan Inc. ripped into OAO Uralkali, the Russian producer, saying its decision to collapse a cartel-like marketing company and max out production was "probably the single dumbest thing" he has ever seen in the fertilizer business.

"Certainly they've upset customers around the world, with many of those customers forced to take writedowns on their inventory," Mr. Doyle said.

"Customers don't forget that type of leadership, or lack thereof in this case. And many of them regard Uralkali as being irresponsible."
The facts are that I'm betting on this attitude from Mr. Doyle. I like my CEOs like I like my women; no BS, tough, to the point, and with great common sense skills. Mr. Doyle seems to meet all of these criteria, and I'm glad he's leading the Potash management team.
Like my argument for Bank of America (NYSE:BAC), the fundamentals come first. I like that this company isn't over leveraged and has a strong balance sheet with very impressive dividends.
Finally, I do not foresee the Uralkali mess going on for all of eternity - the market will bounce back once some type of resolution occurs, and when it does, Potash Corp. will as well. QTR is long Potash Corp here.
Good luck to all investors.
Disclosure: I am long POT. I wrote this article myself, and it expresses my own opinions. I am not receiving compensation for it (other than from Seeking Alpha). I have no business relationship with any company whose stock is mentioned in this article.