Introduction
Banco Santander (NYSE:SAN), together with Banco Bilbao Vizcaya Argentaria (NYSE:BBVA) one of the largest banks in Spain has just reported its quarterly results. A lot of investors will have been looking forward to today to see if the company still had to record charges on real estate. I will discuss the financial results and the company's outlook, as well as giving my opinion about the Spanish real estate sector.
As Santander reports in Euro's, I have converted the most important numbers into USD, using an EUR/USD conversion rate of 1.38.
My view on the financial results
In Q3, Santander recorded a revenue of 9.5B EUR ($13.11B) which resulted in an operating profit of 4.875B EUR ($6.73B) and a net profit of 1.055B EUR ($1.45B). This might seem disappointing, but I would like to emphasize that Banco Santander wrote down another 2.6B EUR ($3.6B) on bad loan provisions, which brings the year-to-date total at 8.6B EUR ($11.9B).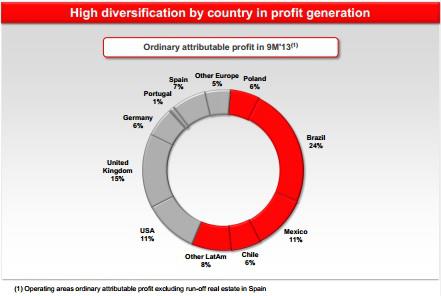 Brazil and the United Kingdom are still the company's main profit generators as both countries are contributing 39% of the total attributable profit over the first nine months of the year. As such, it is wrong to look at Banco Santander as a 'Spanish' bank, as just 7% of its net profit was generated in Spain. This number should increase a bit when the economy picks up again in that country, but I expect the total contribution of the Spanish operations will stay relatively modest and that further growth and profits will be fueled by a strong performance in the UK, Brazil and Spanish speaking South American countries such as Mexico and Chile.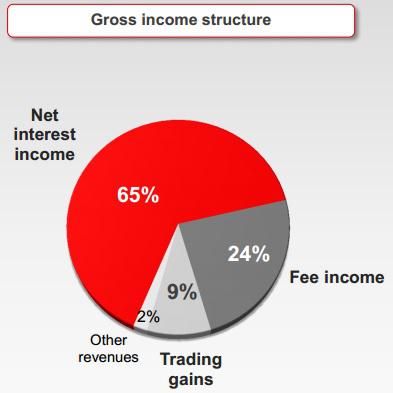 I'm still very pleased with the stable business model of the company, as 65% of its gross income is generated by net interest income. The net interest income has been under some pressure as net lending has dropped by a high single-digit percentage. So investors will have to monitor these numbers very closely.
If we look at how the situation would be without the bad loan provisions, a back-of-the-envelope calculation learns us the net profit would have been approximately 2.8B EUR ($3.9B), or roughly 0.27 EUR/share ($0.37/share) based on the current amount of shares outstanding.
How is the company's capital position evolving?
Santander announced a 0.45% increase in its core capital ratio under the Basel II principles to 11.56% (and a Tier 1 ratio of 12.44%) which is a strong performance.
I think this is a great achievement, as in less than two years, the company managed to increase its capital ratio from 10.02% to 11.56% thanks to keeping the majority of its profits in-house and converting reserves by issuing shares as dividend. Because of the additional shares, the company book value also dropped a bit to 7.58 EUR/share.
My outlook
The company doesn't give an official outlook, but it's clear the provisions for bad loans will be extremely important for the quarters and years to come. Last time I was in Spain, I noticed banks were taking a 40 to 60% haircut on the real estate they foreclosed, and the big question is whether or not the current provisions will be sufficient to cover for those haircuts. I think we will see bad loan provisions for the foreseeable future, but I expect these provisions to be lower. If Santander would be able to decrease the bad loan provisions by 50%, its net profit would almost double. I am expecting the company to lower the provision rate to approximately 1.5B EUR ($2.1B) per quarter in 2014 and 1B EUR ($1.38B) per quarter from 2015 on, until there are clear signs about a healthier real estate market in Spain.
Investment Thesis
I am a shareholder of Santander and will continue to keep my shares. I consider the management team to be some of the smartest cookies in the business and am still confident they will steer the Santander-ship through this difficult period. I will also continue to reinvest the quarterly dividend of 0.15 EUR ($0.21) into new Santander shares as long as the shares are trading less than 7 EUR ($9.66). The share dividend is an attractive possibility to increase your position in Banco Santander, as there are no transaction costs involved, and what's better, you don't have to pay Spanish withholding tax on share dividends.
Disclosure: I am long SAN. I wrote this article myself, and it expresses my own opinions. I am not receiving compensation for it (other than from Seeking Alpha). I have no business relationship with any company whose stock is mentioned in this article.