We now have sales data for the first 19 weeks of Belviq sales. Belviq is the anti-obesity medicine brought to market by Arena Pharmaceuticals (NASDAQ:ARNA), and marketed by Eisai (OTC:OTCPK:ESALY). This week Belviq sales, according to unadjusted IMS Health data came in just below 4,300 an improvement of about 8%. This is a good move considering the week from which this data was derived included a federal holiday (Columbus Day). Being up despite the existence of a holiday is good.
Last week I discussed the dynamic of the script numbers vs. expectations. We can clearly see by the action in the equity (ARNA is up) that it no longer takes a massive week over week improvement to see the equity respond in a positive manner. As expectations for sales have finally come down to reality, and the equity has bottomed out, we can begin to move on the more gradual growth we have been seeing.
The charts now reflect the initial analysts expectation line in yellow, my model in green, $150 million in sales by the end of June of 2014 in red, adjusted IMS Health numbers in orange, and adjusted Symphony Health numbers in pale green. Typically I list several qualifiers with respect to this chart. Rather than cloud this article, readers can find qualifiers on my Instablog here.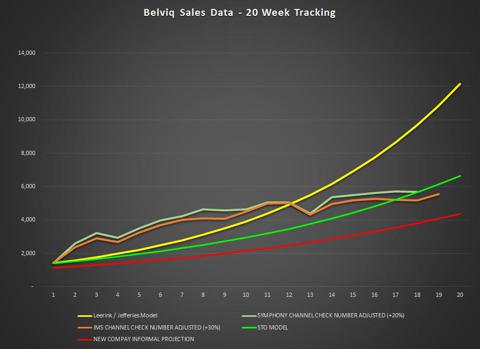 As stated, this week the unsdjuated IMS scripts came in at just below 4,300. This represents a week over week gain. While the number falls short of delivering a "wow factor", the 8% upward move does deliver positive stock traction. My adjusted IMS script number is 5,558.
The 30-week chart below outlines the overall pace and projected paths through the end of 2013. The current pace for script sales is pointing toward about $30 million in gross sales to consumers by the end of this year. It would take roughly $68 million in gross sales to garner Arena the $10+ million in revenue analysts were looking for in establishing $12 per share valuation targets. Pooling analysts models together, the new expectation is between $5 million and $6 million in "royalty revenue" to Arena with about an $8 price target. As you can see, we are pacing below the original territory and above my territory.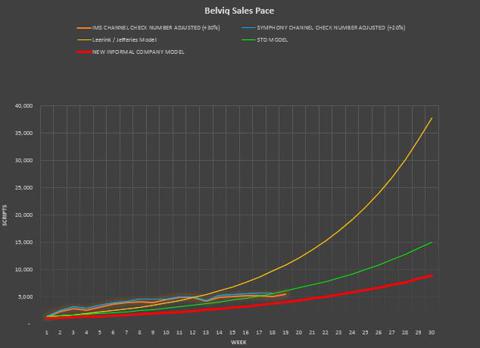 Investors need to remember that Arena is paid based on net sales, not gross sales. My analysis is that, based on a $199.50 per bottle gross sales figure, it would take about $35 million in gross sales to achieve $5.5 million in sales revenue to Arena. I apply a $100 per bottle net figure to the number of scripts sold to calculate a running total on theoretical revenue to Arena. Investors should note that Arena and Eisai recognize revenue when the wholesaler buys the drug, not the consumer. The data in this chart is reflective of consumer purchases of Belviq.
I want to reiterate that investors need to remember that there is an active traders dynamic to Arena and weekly scripts as well as sales pace play a major role here. When script numbers are low, the equity will suffer. What we are seeing is that it will take some doing to get scripts substantially higher in the weeks ahead. Getting to 5,000 (unadjusted) is likely a month and a half away at minimum.
Summary
· Weekly IMS numbers are up 8% week over week
· Current unadjusted IMS sales are at 60,475
· Current 30% adjusted IMS numbers are at 78,617.
· Estimated YTD gross sales (to consumers) is $15,686,191*
· Estimated YTD net sales (to consumers) is $7,861,700*
· Estimated YTD Arena share (from sales to consumers) $2,476,436*
*Arena is not using sales to consumers to book revenue. It is using sales to the wholesaler to account for revenue. Eisai books sales to wholesalers as well. Weekly scripts are tied to actual consumer sales, thus the translation in revenue modeling.
Disclosure: I am long ARNA. I wrote this article myself, and it expresses my own opinions. I am not receiving compensation for it (other than from Seeking Alpha). I have no business relationship with any company whose stock is mentioned in this article.
Additional disclosure: I have no position in Eisai