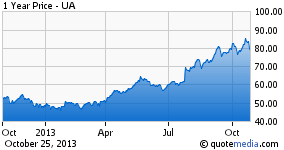 Under Armour (NYSE:UA) has just about been golden since its IPO in 2005, but following four years of incredible performance, many are beginning to wonder if it's time for a larger pullback. After earnings, the stock traded lower by nearly 5%, but this fact doesn't necessarily mean that it is a bad investment.
4 key areas of growth
If you hadn't seen Under Armour's stock performance on Thursday, then chances are you'd be calling the third quarter rather impressive. Not only did the company beat both top and bottom line estimates (comfortably), but it also posted its 14th consecutive quarter of 20% plus revenue growth.
Obviously, Under Armour's revenue growth is strong, but with over $2 billion in annual revenue investors are now paying close attention to four specific areas to determine whether or not such growth is sustainable. These areas are footwear, women's business, international, and direct-to-consumer sales. These areas are not only important to investors, but also important in Under Armour holding its premium valuation.
Under Armour produced Q3 sales of $723 million, and of those sales only $44.25 million came from international markets. Clearly, maintaining this percent contribution of total sales will not produce long-term growth, but does demonstrate a large opportunity. In theory, Under Armour's international growth percentage must exceed that of its total growth in order to gain market share, and in this last quarter international revenue saw gains of 37.8%. Thus, growth in this area must be seen as a key performance indicator.
Under Armour made known that the third quarter is historically weak in shoe sales. But much like international sales, shoe growth needs to exceed overall revenue in order to become a larger piece of the Under Armour puzzle. And in the third quarter, Under Armour was able to deliver footwear growth of 28.3% to $81 million. While this growth is only marginally greater than overall sales, it is still progress in a slow period, and must be viewed positively.
Next, direct-to-consumers sales are important because these sales drive margins higher, by essentially eliminating the middleman and shared revenue to vendors. Under Armour has excelled in this area over the last few years, and in the third quarter direct sales accounted for 25% of net revenue, and grew 34% year-over-year.
Finally, if there's one negative that I can find with the company's report it is with the women's business. The reason it's negative is not due to sales, but rather the lack of information regarding the business. The company gave no specific figures and was very vague in discussing this particular segment. During the Q&A on UA s conference call, the very first question from Barclays asked CEO Kevin Plank to clarify the performance of UA's women's division. Plank gave a bunch of numbers; he explained that UA's total women's sales have gone from 16% to 30% of total sales in the eight years since their IPO, and proclaimed that sales for women could eventually surpass men's sales. Moreover, he discussed new hires, holiday excitement, new stores for UA women, but like I said, was very vague in providing year-over-year growth, leading me to think that women's sales might have struggled.
Should you buy?
Overall, I give Under Armour's quarterly performance an "A", and might have been an "A+" if more clarity had been provided regarding women's apparel. Under Armour delivered on all of the key areas that are important to future growth and that the fundamentals were stellar. However, after a five-year 780% gain, is it still a buy?
Without question, Nike (NYSE:NKE) is the most closely compared company to Under Armour, and given UA's growth in footwear and entrance into emerging markets, many believe that now is time for Nike to acquire Under Armour. However some believe Under Armour is too expensive, but it really depends on the metrics used for valuation.
Personally, when valuing high-growth companies I tend to ignore P/E ratios, as so much of the company's gross profit is reinvested back into the business for growth. For proof, consider the fact that UA reinvested 76% of its gross profit into SG&A during 2012; its competitor Lululemon (NASDAQ:LULU) only reinvested 50% of its gross profit into SG&A. Therefore, we have reason to believe that once Under Armour slows expansion and has a stronger ecosystem in place, operating margins of 10.8% might increase, thus suggesting that its P/E ratio of 64 is irrelevant.
As a better guide of valuation, I like to look at a company's price/sales ratio, and Under Armour trades at 4.4 times sales. In comparison, Nike trades at 2.6 times sales and Lululemon trades at 7.0 times sales. Hence, Under Armour is right in the middle. With that said, Under Armour has the greatest growth, about 2%-5% greater than Lululemon and three times greater than Nike. In my opinion, this combined with its earnings performance might suggest that Under Armour is presenting a good long-term investment opportunity.
Conclusion
Under Armour had a really good quarter. The company exceeded expectations, raised the bottom level of guidance, and gave impressive performance on three of the four key areas of future growth. The company is not an expensive stock when you consider its growth and valuation compared to its peers. While there is always risk that growth is not sustainable, and that emerging markets will not perform long-term, I think management has given us more than enough reasons to be optimistic in their ability to grow this company. Already, Under Armour has grown beyond many investors' expectations, and this last quarter makes me more confident in buying shares on the dip.
Disclosure: I am long UA. I wrote this article myself, and it expresses my own opinions. I am not receiving compensation for it. I have no business relationship with any company whose stock is mentioned in this article.