Himax Technologies Inc.(NASDAQ:HIMX), according to Yahoo Finance, "Designs, Develops, and markets semiconductors for flat panel displays. The Company Operates in two segments. Driver IC and Non-Driver Products." Recently a deal was announced that Google would be purchasing 6.3% in Himax's display subsidiary. The proceeds of the sale will be used to fund production facility upgrades so that HIMX will be suitable to produce the LCOS component for Google Glass. Google Inc. (NASDAQ:GOOG) also has the option to buy up to 14.8% in Himax within one year of the deals closing date. Once the deal was announced and even months before it was announced shares of Himax experienced very strong gains.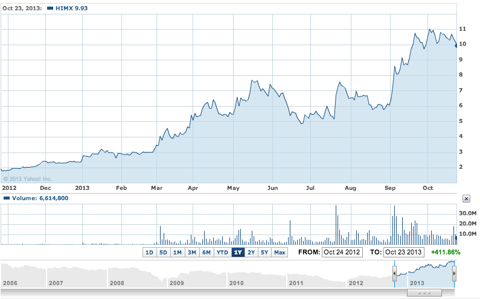 Click to enlarge
Over the past year (October 24, 2012 to October 23, 2013) shares of HIMX have soared 411.86%. The rise in the beginning of the year was due to solid sales and earnings growth combined with speculation that the company may be working with Google. Then since late July of 2013 (when the deal with Google was announced) shares have doubled going from $5 to $10.
A typical investor would look at Himax's recent run-up and be doubtful on whether it is too late to jump on board. My answer to those investors is "NO", it is not to late and here's why:
HIMX had below industry average Forward PE's
The possibility of new deals and/or speculation of new deals
HIMX has great fundamentals accompanied by a generous annual dividend
PE Mystery
Himax's forward PE based on 2014 expected annual earnings is currently 15.6. Here's the mystery; the average one year forward pe of stocks in the same industry of HIMX is 17.5. In order to get an accurate average I excluded stocks with a market cap under 250 million and their one year forward pe must be positive but less than 100. (Data provided by AAII and calculated in Equities Lab) People may not feel the same way, but i was astonished to discover this fact. We have a small cap technology firm that has great sales and income growth, very solid fundamentals, a great annual dividend, and one that just signed a deal with one of the world's largest technology companies have a one year forward pe lower than its industry average. In the forward pe's based on annual earnings for 2015 we see the same story. Himax has a two year forward pe of 12.7 while the industry average is 13.8.
The mystery enhances when comparing HIMX's price to sales to others in its industry. Himax's current price to sales ratio in 2.2. The industry average currently sits at 2.9. In order to get an average I excluded stocks with a market cap under 250 million and their price to sales ratio must be between 0 and 20.
This data tells me that Himax Technologies, despite its recent run-up, still has at least 30% upside in the near term.
The conservative pe and price to sales ratio is not the only reason that I believe HIMX still has at least 30% upside. One other reason is the company's great annual dividend. In the middle of this late year HIMX paid a $.25 annual dividend which at its current price and income represents a 2.58% yield and an 18.8% payout ratio. In 2012 they paid a $.06 annual dividend which translates to a 21.3% payout ratio. So HIMX decreased its payout ratio by about three percent while increasing its dividend payment over 400% from 2012 to 2103. This tells me the company, even before the Google deal was announced, has had great sales and income growth over the past year.
Income Statement Score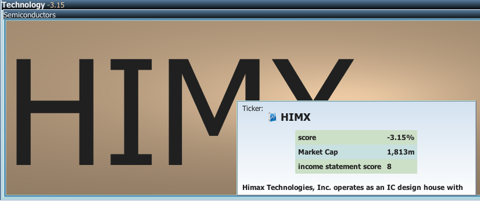 Click to enlarge
Himax Techologies currently has an Equities Lab Income Statement Score of 8 out of 10. Stocks with an income statement score of 8 have produced a 250% total return since mid-2003 the while the S & P 500 has produced about a 230% total return since mid-2003. The return is calculated based on if you would have bought all stocks with an income statement score of 8 and a market cap greater than 100 million then sold the stocks when they no longer had an income statement score of 8. The income statement score is calculated using a range of 10 criteria taken from a stock's income statement. For each criteria the stock passes it is awarded 1 point.
Conclusion
Wearable technology is expected to become very prevalent in the next couple of years which is great news for Himax. HIMX has already earned the trust of Google to produce the LCOS component for their highly anticipated technology Google Glass. I expect more high profile companies, possibly Microsoft, to be using Himax's to produce components for their own technology. The speculation surrounding HIMX combined pe and price to sales mystery outlined earlier in the article combined with Himax's solid fundamentals and great and sustainable annual dividend make me confidently say that there is still minimum 30% upside for Himax Technologies. Shorts beware!
Disclosure: I have no positions in any stocks mentioned, but may initiate a long position in HIMX over the next 72 hours. I wrote this article myself, and it expresses my own opinions. I am not receiving compensation for it (other than from Seeking Alpha). I have no business relationship with any company whose stock is mentioned in this article.