BlackBerry (NASDAQ:BBRY) finally got its BBM messaging application into the hands of iOS and Android users as a free application. I am a long time BBM user and can't think of anything I would miss more if it were not available. Now that it is available cross platform, those of my family and circle of friends who use Android or iOS devices can connect with me and each other over BBM. For many, the lack of this messaging service on other platforms made BlackBerry devices less attractive since they could not rely on BBM to engage their contacts on other platforms. Instead of creating demand for BlackBerry, it drove them to devices with WhatsApp or Viber for example so they could all stay in touch. To a certain extent, it added to the downward pressure on demand for BlackBerry devices.
I think it is well past the point where BlackBerry devices are likely to enjoy a resurgence in demand to anything but a niche market. BBM on the other hand should be immensely popular.
BBM has a feature set that sets it apart. The chart below compares it to Whatsapp, Viber and Skype. None of those platforms have all of the features of BBM.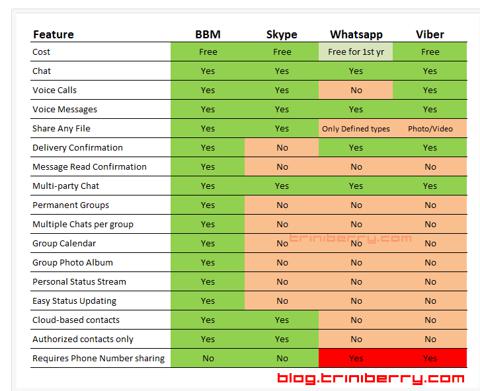 Now that the application is cross-platform and the market can see there is demand for it, I believe BlackBerry would do well to spin this part of its operations off into a separate company. A start up messaging service with 50 to 60 million users would be well received if investors could see it with potential for rapid growth and not lost in the sea of other issues faced by BlackBerry.
The value of BBM could be interesting. In April this year, Google (NASDAQ:GOOG) was rumoured to be negotiating to buy Whatsapp for $1 billion.
More recently, there has been talk of Whatsapp being both worth $2 billion and in some respects a threat to Facebook.
I don't know what Whatsapp is worth. The point is that today's markets put values on social communications networks with millions of subscribers. BBM is such a network and has some real advantages. One of those advantages is security. A recent criticism of Whatsapp is an apparent design flaw that lets intruders hack messages. I don't know if it has a design flaw or otherwise. But I am confident of BlackBerry security and my choice of BBM is in part a result of that confidence.
Another valuation milestone is the $8.5 billion Microsoft paid for Skype. At that time Skype had 170 million users. A pro rata value for BBM if value is related to number of users would put it in the range of $3 billion. Maybe the value is not directly correlated to the number of users but it has some significance.
The point is that BlackBerry has a market capitalization of only about $4 billion today, and even that is at risk if it is not purchased by Prem Watsa or one of the other suitors and continues to shed market share and customer confidence like a dog sheds fleas.
But BBM could be a spinoff that lets BlackBerry investors have a direct play on a very attractive messaging system that is capable of growth and offers a rich platform for creative minds to expand its capabilities. It would be good for BlackBerry, good for Prem Watsa and good for the long suffering BlackBerry shareholders waiting anxiously for a "greater fool" to at least ease their suffering if not end it.
I hold BlackBerry calls. They are a residual of a day when I was a big fan of the company and do not reflect my views on the investment merits of BlackBerry today. I expect they will be of value only as a tax loss.
Disclosure: I am long BBRY. I wrote this article myself, and it expresses my own opinions. I am not receiving compensation for it (other than from Seeking Alpha). I have no business relationship with any company whose stock is mentioned in this article.