We've written before about how Hyundai (OTC:HYMLF) and its Kia sibling have benefited from cash-for-clunker schemes and a smart marketing strategy geared to the economic downturn. Recent indications are that the Korean automakers' success was no clunker-fueled flash in the pan. Hyundai's sales in the US surged 46% in November, raising its US market share for the year by a third to 4%.
Reflecting their improving fortunes, Fitch Ratings on Wednesday upgraded the outlook for Hyundai Motors and Kia Motors to Positive:
"HMC and its affiliate Kia have shown robust growth in sales and gained market share in major markets year to date, despite the onslaught of one of the most serious downturns in auto industry's history last year," said Jeong Min Pak, Director in Fitch's Corporate Ratings team.

…their competitiveness in smaller fuel efficient cars, well diversified geographical sales base, improving brand equity and product cycle, were the key factors underpinning their success. (Click to enlarge)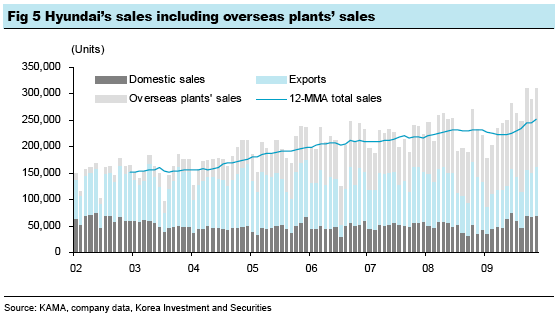 Moody's upgraded Hyundai and Kia to Stable from Negative on Nov 11.
Korean Investment Securities in its December Auto Report said it views the recent price correction as an excellent opportunity for bargain hunters to accumulate Hyundai and Kia shares.
JPMorgan in a Dec. 1 report said: "We expect Hyundai Motor to be one of the biggest beneficiaries of the US market recovery and capacity reduction," and maintained its Overweight rating.
Morgan Stanley on Nov. 16 said: "We believe the share price will rise relative to the industry over the next 60 days," and kept its Overweight rating.
Nomura and Citi on Nov 13 both maintained a Buy rating, as did UBS on Oct 30, citing its confidence in Hyundai's quality improvement.
"Hyundai is now the equal of the top Japanese companies," according to Aaron Bragman, research analyst in the Troy office of IHS Global Insight.
IHS predicts Hyundai's U.S. sales surge will continue from around 762,000 this year — 12.8% above 2008 — to 826,000 in 2010 and more than a million in 2011.
"The people who are most concerned about Hyundai are not the (U.S.) domestic automakers, but Toyota (NYSE:TM) and Honda (NYSE:HMC)," Bragman said. "Hyundai's big gains have been in the passenger-car market. That's Toyota's bread and butter."